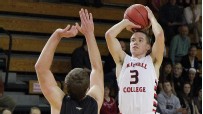 Jack Taylor scored 138 points in a single basketball game, but is he good enough to make your team?
Who would you want on your All-SportsNation team?
This past year was full of competitors who produced when it mattered most in their respective sports. Michael Phelps became the most decorated Olympian of all time, Gabby Douglas the first American gymnast to win both the team and individual all-around gold in the same Olympics, and Miguel Cabrera the first batter to win the Triple Crown since 1967 -- just to name a few amazing feats. But do any of these athletes make your All-SportsNation team?
Choose FIVE athletes from the list below that you feel deserve all-SportsNation honors!
More: Top storylines | Top U.S. trending athletes | Predictions in review | Predict 2013