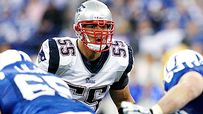 Seau has 56.5 career sacks.
Welcome to SportsNation! On Tuesday, New England Patriots linebacker Junior Seau will stop by to chat about the 2009 NFL season, New England's Monday night battle with the Saints and his new TV show.
Seau is in his fourth season with the Patriots, after re-signing with the team midway through each of the last two seasons. He started his career with the San Diego Chargers after they selected him with the fifth overall pick in the 1990 draft. He made 12 straight Pro Bowls with the Chargers, making the trip to Hawaii every year he was with San Diego but his rookie year. He was also named a member of the NFL 1990s all-decade team.
Prior to returning to the Patriots during the 2009 NFL season, worked with Versus on his new TV show Sports Jobs. The show is simliar to Discovery's Dirty Jobs, however with a sports spin. Seau takes on the less than glamorous jobs in the sports world, like cornerman in a UFC fight, batboy at a Dodgers game and pit crew member at an Indy Car race. The show premieres Dec. 2 at 10 p.m. ET.
Send your questions now and join Seau Tuesday at 3:30 p.m. ET!
More Special Guests: Previous chats | SportsNation
Buzzmaster
(3:31 PM)
Junior will be here in about five minutes, everyone!
Brandon (Florida)
Hey Junior, what do you think it will be like to do all those sport jobs? I cant wait to see the show!
Junior Seau
(3:37 PM)
We've already shot all ten of the episodes. It's exciting, and I'm very proud of it.
Sean Shields (Portland, ME)
Junior, what was more painful- Getting trampled by a bull or watching Brees shred the Patriot defense for 5 touchdowns?
Junior Seau
(3:37 PM)
Having Drew Brees throw five touchdowns.
Josef (Hungary)
Hi Junior!What are you going to do after you retire from football?Will you ever retire?
Junior Seau
(3:38 PM)
I will retire soon, and I'd love to be part of a TV network. TV is something that draws a lot of interest for me.
StanJ (Watertown, MA)
A lot of games are close..and the menatl aspect to me is so important... Do you think this team can regroup and be strong for a January playoff run?? (And good luck on the show!!)
Junior Seau
(3:39 PM)
We will definitely bounce back. Something about our coaching here with the Patriots is that we have short-term memory with losses. Thanks for the good luck wishes.
Brad (Gadsden,Alabama)
Junior, Do you have any pre-game rituals?
Junior Seau
(3:40 PM)
I need to be in the stadium four hours before game time, I need a shower and shave two hours before game time, and other than that, I just make sure I'm prepared before I leave the locker room.
Aaron (Trumbull, CT)
Thanks for joining us today, Junior. Fans debate this all the time, and I was wondering a player's take on the question: which is a tougher pill to swallow and harder to rebound from: a close defeat like the Colts game, or an eye-opener like the Saints game?
Junior Seau
(3:40 PM)
They both hurt in equal amounts.
sam flannery (westford, ma)
how good do you think Jerod Mayo can be. Anything like you?
Junior Seau
(3:41 PM)
Only time will tell. Obviously he has great upside and a great supporting cast around him. I call him J-Rod and really like him, and I really look forward to seeing his transition and development through the years.
Teri D (Wellington)
Can you smell fear?
Junior Seau
(3:41 PM)
No.
AR (MN)
Besides Peyton Manning and Drew Brees, who is the toughest quarterback that you have opposed or will oppose this season?
Junior Seau
(3:42 PM)
Obviously we have a few games left to go, and those two rank at the top. They're probably two of the best quarterbacks that ever played the game.
Pete (LA)
I know you saw the USC-UCLA game... What did you think of that late touchdown?
Junior Seau
(3:44 PM)
That was a reaction to the timeout call that UCLA made toward the end of the game. It was a retaliation more than anything else.
Stan the Man (Meredith)
Mr Junior.....Which Pats rookie are you paying attention to the most?
Junior Seau
(3:45 PM)
As far as I'm concerned, there aren't any rookies; we're so deep into the season that we need every player playing above the skill level they started at. If we all do that, it's a brighter day for all of us.
Junior Seau
(3:45 PM)
Aloha!