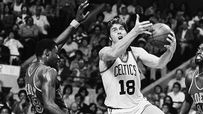 Cowens was the fourth overall pick in the 1970 NBA draft.
Welcome to SportsNation! On Thursday, we'll be talking about the NBA Finals with hall of famer Dave Cowens. Game 2 airs Thursday on ABC at 9 p.m. ET.
Cowens, a member of the 1991 Hall of Fame class, won two NBA titles as a member of the Boston Celtics, with whom he played for 10 seasons. The Florida State product won the MVP following the 1972-73 season, while also being selected to seven all-star teams during his career.
For his career, Cowens averaged 17.6 points and 13.6 rebouncds per game. His rebound average is ninth best in NBA history.
Send your questions now and join Cowens at 2 p.m. ET!
More Special Guests: Previous chats | SportsNation
Randy (Miami)
Hi Dave, does Miami win tonight???
Dave Cowens
(2:02 PM)
I don't know. LeBron James is playing so well and I don't see how he will allow anyone to beat him but I do think Dallas will shoot better and win Game 2.
Nathan (Kentucky)
Dave, what was your favorite moment in your career?
Dave Cowens
(2:02 PM)
My favorite moment of my career would have to be winning the 1974 championship against the Milwaukee Bucks.
Kevin (Jersey)
I had a friend tell me Shaq wasn't that good and that Cowens could easily cover him. I told him in spite of being a Celtic fan he was nuts. Any thoughts?
Dave Cowens
(2:03 PM)
I think he's nuts too. I believe one-on-one, Shaq would have an advantage as a low post player but I would give him problems on the outside. I think I can hold my own rebounding.
Kevin (Manhattan)
Magic says Jordan was the best player ever. Barkley says Jordan too. Kareem said it was Russell. I am interested to know who you believe is the greatest NBA player ever and why. Thanks Dave,
Dave Cowens
(2:05 PM)
I think the greatest all-around player was Michael Jordan. The greatest winner was Bill Russell. Right after those two I would have to say LeBron and Kobe are the closest. LeBron is just a powerful player and Kobe has the offensive talent along with rings.
Nathan (Kentucky)
Dave, who impresses you the most in the NBA today?
Dave Cowens
(2:06 PM)
There are quite a few players. LeBron, Dirk, Paul Pierce and the list goes on. They come in so many different packages but they are all great players. For me LeBron has moved to the top of the heap.
Michael C. (Westport, CT)
Do you think your all-out physical style of play would be acceptable in today's NBA, where hard fouls are so often technicals?
Dave Cowens
(2:08 PM)
Of course. It's all about what the fans resonate with and players going out there giving all they have. I think the playoffs have been so popular because of the intense play and the skill level of these players.
Cheesehead Sports Nut (Chicago, IL)
I am not trying to get you trouble here but if you could change one thing about the NBA, what would you change and why?
Dave Cowens
(2:10 PM)
I would just tweak it a little bit buy suggesting they take the three-point line away until the fourth quarter. This would force teams to play tough down low and allow teams to have a chance at making a fourth quarter comeback if they are down. I would also be a little more strict about calling traveling.
Stuart (Brooklyn, NY)
Hey Dave. I always admired your talent with the Celtics although I was a big Knicks fan. I just wanted to say that almost 40 years ago outside MSG, I asked you for an autograph, but you were talking to Jo Jo White when your mother chimed in, "Hey Dave, give that kid an autograph!" Thank you Mrs. Cowens and you Dave for taking the time to do that.
Dave Cowens
(2:11 PM)
(Laughing) I'm glad my mom told me to do the right thing.
Jason J (NYC)
Artis Gilmore is being inducted in the Basketball Hall of Fame. How tough was he to play against?
Dave Cowens
(2:12 PM)
Artis was one of the strongest players I've ever played against. I played against him in college while he was at Jacksonville and I was at Florida State and then a couple times while in the league. I think he's an underrated player by folks who had to guard him.
Chris Fiegler (Latham,NY)
Who do you think will be the NBA Champions?
Dave Cowens
(2:13 PM)
From what I've seen, I think the Heat will win although I would like to see Dallas win.
Jason J (NYC)
Hi Dave,You played with Hondo and Jo Jo and a lot of great players over your career. How soon did you realize Larry Bird was realize special when he joined up?
Dave Cowens
(2:15 PM)
Immediately you could tell he had a great understanding of the game. He was very talented, strong, made tough shots, was a good passer and had a great work ethic. From those things, I knew he was going to have a great career.
Devin (Cary)
In game #2, who do you think will need to help James and Dirk?
Dave Cowens
(2:16 PM)
I think the the two guys for Dallas has to be their combination forward/center position and Marion. They also need to play tough defense under the basket. Kidd and Terry have been solid. For the Heat, they have to get really good production from Miller.
Dave Cowens
(2:17 PM)
Thanks for all the questions. No lockout. Kill the golden goose.