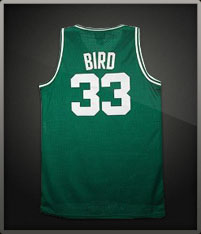 Larry Bird
Celtics (1979-1992)
Red Auerbach was once asked if he had to pick a player to start a team, would he choose Bill Russell or Larry Bird? Auerbach thought it over and said he'd take Russell. Then, he quickly added, "Then I'd trade for Bird."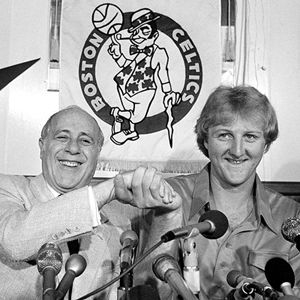 ESPN
Celtics president Red Auerbach and Larry Bird shake on it in June 1979 just before Bird, the sixth overall selection in the draft, signed a $3.25 million five-year contract to play basketball for Boston.
It was Russell who helped make the Celtics the international institution they now are by winning all those titles in the 1960s. But it was Bird who helped restore the reputation of the franchise, not to mention the NBA as a whole, with his play in the 1980s, when the Celtics won three titles. Prior to Bird's arrival (and that of Magic Johnson in L.A.), the NBA was viewed by many as toxic -- a collection of drug abusers. The league didn't even show the NBA Finals in prime time when Bird won his first title in 1981. That would all soon change dramatically; from 1980-89, either the Celtics or the Lakers (and sometimes both of them) would make it to the NBA Finals. By that time, thanks in large part to Bird and Magic, the NBA was on much firmer footing and waiting to anoint a Michael Jordan. In the mid-1980s, also known as the NBA's Golden Years, no one did it any better than Larry Bird. The Celtics won titles in 1984 and 1986 and lost in the Finals in 1985 and 1987. Bird had plenty of company in those years, but those Celtics were unequivocally his teams, just as the Celtics of the 1960s unequivocally were Russell's teams. Bird won three consecutive most valuable player awards, a first for a non-center. (Only Russell and Wilt Chamberlain had won three straight.) Bird was from a small town in southern Indiana and came to the Celtics only because Auerbach gambled and picked him with the sixth pick in the 1978 draft. Bird still had a year of college eligibility left -- and intended to stay at Indiana State. The 1978-79 Celtics were terrible, winning only 29 games, hardly an incentive for Bird, whose college team won more games that season. In Bird's first pro season, the Celtics won 61 games and he was named rookie of the year. A year later came the first of three titles. Bird was first-team All-NBA for nine seasons. He won the first 3-Point Shot Contest, then followed that up by winning the next two. He has an Olympic gold medal from 1992. (He even was named the NBA's Coach of the Year with Indiana in 1998, after his first season as a coach at any level.) When Bird retired as a player in August 1992 due to back woes, he was only 36 (and hadn't had a real, healthy season in three years). The Hall of Fame came calling in 1998, which was no surprise. Like Russell, Bird had, the year before, been named one of the 50 Greatest NBA players of all time. In Boston, he and Russell are 1-2. Or maybe 2-1. How about 1 and 1A? Red would probably go for that.
2011 Boston Hall of Fame classmates: Ted Williams | Bill Russell | Bobby Orr | Red Auerbach