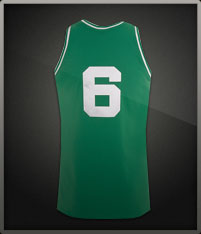 Bill Russell
Celtics (1956-1969)
Let's be blunt about this. Bill Russell not only is a slam-dunk for the inaugural class of the ESPN Boston Hall of Fame, he also rises above the other four enshrinees in terms of merely being the single, greatest winner in the history of North American team sports.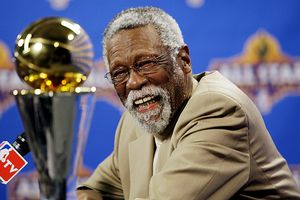 ESPN
Bill Russell reacts in February 2009 to a league announcement that the NBA Finals Most Valuable Player Award had been renamed in his honor.
No one else comes close. Russell played 13 NBA seasons, and in 11 of those he walked off the court as a champion. It may well have been 12 had he not been injured during the 1958 NBA Finals. The final two championships he won as a player-coach with teams that finished eight games out (1968) and nine games out (1969) of first place. Until Russell came around, no one had seen anyone quite like him. He was an outrageously quick, fast, athletic big man (he was a high jumper in college), whose strengths were on the defensive end: rebounding, shot blocking and outlet passing. He was as intimidating as he was intelligent, with a basketball IQ that was off the charts. He was utterly selfless. That the Celtics started compiling championships when he arrived and went into a tailspin when he retired is not coincidental. In that 13-year stretch of dominance, Russell collected five MVP awards, although individual honors mattered not at all to him. At that time, the award was voted upon by the players. These days, the media votes. What mattered was winning. Period. Russell was at his best when the chips were on the line. Over the course of his college, Olympic (1956) and NBA careers, Russell played in 21 games in which the winner advanced and the loser went home. His record in those games was 21-0, including 11-0 in the NBA. Hard to top that. In 2009, the NBA finally came around to recognizing Russell's greatness in clutch performances by naming its Finals MVP award after the great Celtic. Paul Pierce, the MVP of the 2008 Finals, missed by a year, but Russell was there for the championship celebration and bonded famously with the defensive-minded, unselfish Kevin Garnett. Russell also belongs in the conversation when the topic turns to athletes who advocated and fought for social change. Boston was not an easy place to live for African-Americans when Russell played there, and he always noted he played for the Celtics, purposely omitting "Boston" from the team's name. Yet he remained a vocal advocate for civil rights, even if the words were painful to some ears. In February, Russell was awarded the Presidential Medal of Freedom, with President Obama calling him "someone who stood up for the rights and dignity of all men." He was smart and outspoken. He didn't suffer fools and he refused to sign autographs (or would sometimes do so if the autograph seeker gave him his or hers). He had an unwavering commitment to winning and team play. When he was inducted into the Hall of Fame in 1975, he refused to attend the ceremony.
2011 Boston Hall of Fame classmates: Larry Bird | Ted Williams | Bobby Orr | Red Auerbach