New York • Dallas • Chicago • Boston • L.A.
ESPN Boston Hall of Fame
The five inductees to the inaugural class of the ESPN Boston Hall of Fame (with percent of the nearly 50,000 fan votes):

1. Larry Bird (73.8%)
2. Ted Williams (69.0%)
3. Bill Russell (64.0%)
4. Bobby Orr (50.2%)
5. Red Auerbach (46.4%)
And here are the next five, the early favorites for the 2012 Hall class:

Rocky Marciano (24.1%)
Carl Yastrzemski (19.4%)
Ray Bourque (18.0%)
Pedro Martinez (16.2%)
Bob Cousy (12.5%)
So ... how do you think you did?
Note: The panel considered only players, coaches and executives who are retired or inactive.
---
• Photo gallery: Meet the Hall of Fame nominees

• Chris Forsberg: About the Boston Hall of Fame
---
FEATURES, OPINIONS
• Howard Bryant: Transformative moments

• Mike Reiss: Saving a spot for Brady & Co.

• Bill Simmons Sr.: Larry Bird tribute

• Gordon Edes: Curious case of Clemens

• Jackie MacMullan: The Buckner moment

• Hot Button: Who's No. 1, Russell or Orr?

• Joe McDonald: O'Reilly was original dirt dog

• Chris Forsberg: Beyond the franchise players

• Media wing: They connect us with games

---
PANELISTS DEFEND THEIR TOP 5
• Jackie MacMullan: Red did it all

• Howard Bryant: Parcells laid foundation

• Mike Reiss: Boston Sports 101

• Chris Forsberg: Yaz filled Ted's shoes

• Joe McDonald: Cousy a game changer

---
TEAM-BY-TEAM TOP 5s
• Red Sox: Greats from Cy to Pedro

• Patriots: Bledsoe, Bruschi make list

• Celtics: Plenty to choose from

• Bruins: Orr, Neely lead way

• Best of: High schools | Colleges
• Top 10 teams of last 10 years | Rank 'em
---
VIDEOS
• Which recent championship was greatest?

• Worst moments in Boston sports

• Potential media wing nominations

• Narrowing the field down to 20

• Where is the love? Who got left out

• Where are the championship Patriots?

---
McDonald: Cousy a game changer

By Joe McDonald
ESPNBoston.com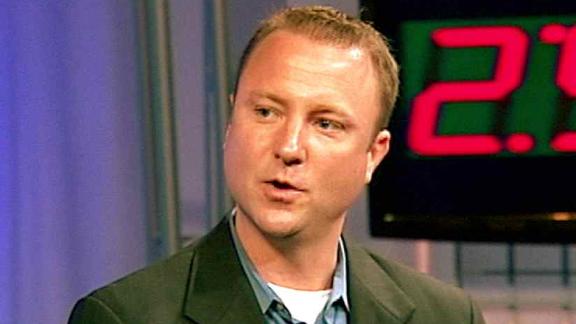 ESPNBoston.com
Joe McDonald talks about his top five
Watch

I know it's hard to believe that, being a hockey guy, I have three basketball players in my top five.
I was as shocked as anyone. I've had this discussion not only with my ESPN Boston colleagues, but with many others, and it's been a fun and interesting one to have. For me, a lot of it comes down to winning championships, which certainly Bill Russell, Bob Cousy, Larry Bird and Bobby Orr accomplished during their careers. Ted Williams is the one exception on my list. During my conversations with family, friends and colleagues, the biggest reaction I've received on my picks is from the inclusion of Cousy. It's simple, really, because I compare what Cousy accomplished on and off the court to Orr's impact on and off the ice.
Video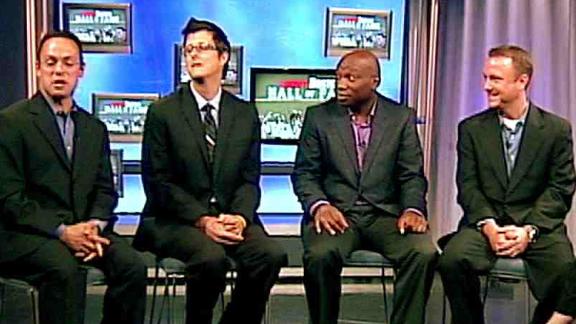 Our panel discusses some of the omissions. Watch

Photo gallery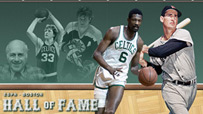 Check out the 20 candidates for the
ESPN Boston Hall of Fame: Gallery

I'm passionate about hockey and have always been a big fan of Orr. I know firsthand the impact he had on hockey in this region. I first met him when I was 8 and playing Mite-A hockey in my hometown of Cranston, R.I. He had just retired and was traveling around New England and skating with different youth organizations, and my team was fortunate enough to be selected to practice with Orr. I still have the autographed, black-and-white picture of my team taking a knee around Orr as he explained how to stick handle. Since that time, I've talked with him occasionally. And now that I've covered the Bruins for more than a decade, I can honestly say that Orr is the most genuine professional athlete I've come across. I have never met Cousy, however, and I never saw him play. A good friend and former colleague at the Providence Journal, Bill Reynolds, knew how strongly I felt about Orr's impact on hockey. Reynolds once told me Cousy's impact on basketball was similar. Naturally, I read and watched all I could on Cousy, including Reynolds' book "Cousy," and it didn't take me long to realize Reynolds was right. As Orr did with hockey, Cousy changed the way the game of basketball was played, watched and promoted. Cousy was one of the reasons why the NBA was finally televised, because everyone wanted to see his flashy and effective style of play. The more I read about his background, his career and his life after retirement, it became easy to compare his legacy in Boston to that of Orr's. That's why he's in my top five.