New York • Dallas • Chicago • Boston • L.A.
ESPN Boston Hall of Fame
The five inductees to the inaugural class of the ESPN Boston Hall of Fame (with percent of the nearly 50,000 fan votes):

1. Larry Bird (73.8%)
2. Ted Williams (69.0%)
3. Bill Russell (64.0%)
4. Bobby Orr (50.2%)
5. Red Auerbach (46.4%)
And here are the next five, the early favorites for the 2012 Hall class:

Rocky Marciano (24.1%)
Carl Yastrzemski (19.4%)
Ray Bourque (18.0%)
Pedro Martinez (16.2%)
Bob Cousy (12.5%)
So ... how do you think you did?
Note: The panel considered only players, coaches and executives who are retired or inactive.
---
• Photo gallery: Meet the Hall of Fame nominees

• Chris Forsberg: About the Boston Hall of Fame
---
FEATURES, OPINIONS
• Howard Bryant: Transformative moments

• Mike Reiss: Saving a spot for Brady & Co.

• Bill Simmons Sr.: Larry Bird tribute

• Gordon Edes: Curious case of Clemens

• Jackie MacMullan: The Buckner moment

• Hot Button: Who's No. 1, Russell or Orr?

• Joe McDonald: O'Reilly was original dirt dog

• Chris Forsberg: Beyond the franchise players

• Media wing: They connect us with games

---
PANELISTS DEFEND THEIR TOP 5
• Jackie MacMullan: Red did it all

• Howard Bryant: Parcells laid foundation

• Mike Reiss: Boston Sports 101

• Chris Forsberg: Yaz filled Ted's shoes

• Joe McDonald: Cousy a game changer

---
TEAM-BY-TEAM TOP 5s
• Red Sox: Greats from Cy to Pedro

• Patriots: Bledsoe, Bruschi make list

• Celtics: Plenty to choose from

• Bruins: Orr, Neely lead way

• Best of: High schools | Colleges
• Top 10 teams of last 10 years | Rank 'em
---
VIDEOS
• Which recent championship was greatest?

• Worst moments in Boston sports

• Potential media wing nominations

• Narrowing the field down to 20

• Where is the love? Who got left out

• Where are the championship Patriots?

---
Bryant: Parcells laid foundation

By Howard Bryant
ESPN.com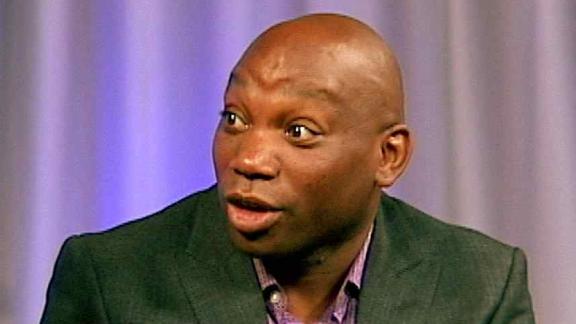 ESPNBoston.com
Howard goes on the clock to explain his top five.
Watch

Who's in my Boston Hall of Fame class? Russell, Orr, Parcells, Williams and Bird. And here's why:
Bill Russell
He was the greatest winner in the history of sports. He revolutionized defensive concepts. He was a pioneer and he did it all in Boston, a place that held bitter contradictions. There isn't much to say here, except that when Bill Russell retired, it was with a ring on every finger, with one to spare.
Bobby Orr
You had to be there to see. Yes, Bobby Orr was that good, but he was so much more than that. The Bruins hadn't won a Stanley Cup since 1941, hadn't been .500 but once in the 10 years before the arrival of the greatest player in the history of the game.
Video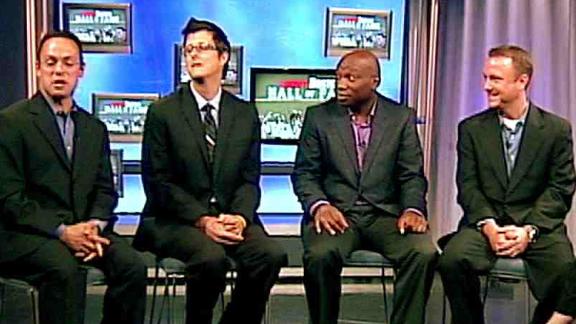 The panelists go to bat for one of their nominees Watch

Photo gallery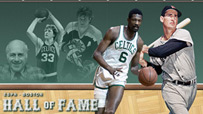 Check out the 20 candidates for the
ESPN Boston Hall of Fame: Gallery

His significance might have been greater to the sport than to the city itself, but even that is debatable when you consider that shortly after Orr arrived, the city built hockey rinks throughout the region. Orr won two titles and did for hockey in Boston what Tiger Woods did for golf: citizens of all classes, all races and all backgrounds came to the sport because of him. No other athlete in the city's history can say that.
Bill Parcells
The toughest thing for any sports franchise isn't to win, but to permanently remake itself. The Florida Marlins won the World Series twice, in 1997 and 2003, but are no more important to baseball than if they had not. The Chicago Bulls won
six
championship with Michael Jordan, but the post-Jordan Bulls are exactly what they were pre-Jordan: just another basketball team.
When Bill Parcells arrived as coach of the Patriots in 1993, it was the first time the franchise had a coach who was to be taken seriously. He drafted seriously (Drew Bledsoe, Curtis Martin, Willie McGinest, Terry Glenn, Ty Law), and turned the Patriots from laughingstock to football team. Brady and Belichick won the titles, but Parcells laid the foundation, and the Patriots haven't looked back since.
Ted Williams
Here's a question: How do you go 86 years between championships and still become one of the most iconic franchises in your sport?
Without Ted, the Red Sox are the White Sox: a flagship franchise that never won, that had some good players and was around a long time. With Ted, the Red Sox were the folly to New York, offered a star-powered balance to DiMaggio and Mantle, and gave the city of Boston both a superstar that created the template for real stardom and the Red Sox an enduring face. Oh, and he was, as advertised, the greatest hitter who ever lived.
Larry Bird
Every franchise needs a second act, especially if it is to be considered a legitimate dynasty, fortified by longevity and lineage. The Celtics thought it had its second act in the mid-1970s when the Cowens-Havlicek-White club won two titles under Tommy Heinsohn. But when the bottom fell out a few years later, the Celtics were on life support. The team was awful. Red Auerbach was inches away from joining the Knicks. Ownership was unstable.
Then Larry Bird arrived and the dynasty was rejuvenated, as were the rivalries with the 76ers and Lakers, as was the entire league. The Celtic link from winning a title each decade from the 1950s to the 1980s was assured in Bird's second year. Boston went to the Finals five times, won three, and played four tremendous playoff series with Philadelphia, three with the Lakers. Bird was the engine that restored the car. Without Bird, the Russell link fades deeper into memory, unconnected. Too bad he's not around Boston anymore to enjoy it.
Howard Bryant is a columnist for ESPN.com.