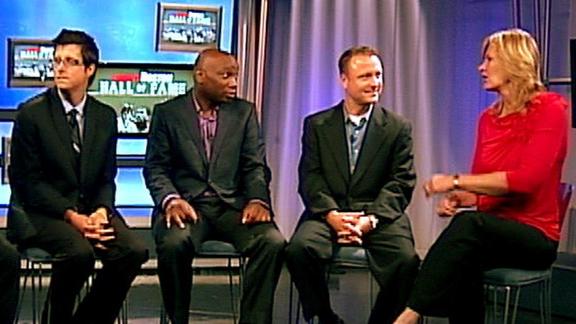 ESPNBoston.com
Our panel looks back at some of Boston sports' lowlights Watch

What I remember most was the waiting.
I couldn't help but wonder, "What is taking so long?"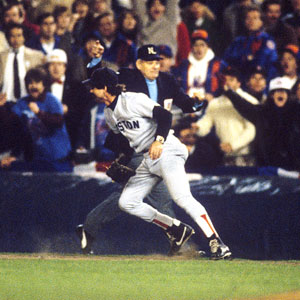 ESPNEven after two Red Sox world championships in the 25 years since, it's impossible for one writer to lose sight of Bill Buckner's boot and Boston's gut-wrenching loss to the Mets in the 1986 World Series.

When I left the press box at Shea Stadium on Oct. 18, 1986, the Red Sox were about to win the World Series. They had a 5-3 lead in Game 6 and my boss, Vince Doria, dispatched me to Boston's clubhouse so I could be one step ahead of the hordes of media which would swarm World Series MVP Bruce Hurst once the final out was secured.
I wasn't the only one who got a jump on it. Larry Cancro, employed by the Sox, was also in the clubhouse, busily preparing for the epic celebration that was about to follow. Television sportscaster, Bob Costas, who everyone agreed was a rising star in the business, was there, too.
Sox officials attempted to coax aging owner Jean Yawkey out of her box and into the clubhouse to beat the rush, but she refused to budge. It was bad luck, she reasoned. She had been around too long, seen too much.
She knew better.
At the time, I was 26 and working for the Boston Globe as general assignment reporter. Although I was not born in Boston, I had grown up chronicling the local nine, dutifully lugging my lefty glove to Fenway each precious night my father (ironically, a Yankees fan) was able to secure tickets. My desk was stacked with Sox scrapbooks, my brain bursting with Sox statistics. As I grew older, my dream was to sit in the press box at Fenway and write the same kinds of stories I had so lovingly taped into my scrapbook binder.
Now here I was, about to chronicle baseball history. While I waited for the biggest story of my young journalistic life to unfold, I watched people wheel in carts of champagne to the Red Sox clubhouse. I saw them carefully place the T-shirts that proclaimed "World Series champions!" on the backs of each chair. There were balloons -- red, white and blue ones -- wrapped in a net, ready to be released ... except ... where was the team? Why hadn't the game ended?
We could hear the roars. There were two outs, but Boston reliever Calvin Schiraldi gave up one hit, then another, then another. The Red Sox brought in Bob Stanley, but there was a wild pitch, a run scored. The game, suddenly, was tied.
Mookie Wilson was at the plate, and the count ran full. The Red Sox were one strike away from erasing an excruciating baseball curse. Wilson slapped a rolling grounder to first. Bill Buckner went to meet the ball but it bounced up, then under his glove. As the ball trickled slowly to right field, Ray Knight bombed home from second, leaping into the arms of his euphoric teammates as he crossed the plate and scored the winning run.
By then I had left the Sox clubhouse and walked back toward the field, just in time to witness one of the most infamous blunders in Boston history.
Photo gallery
Check out the 20 candidates for the
ESPN Boston Hall of Fame: Gallery

My story was no longer Bruce Hurst. My assignment was to wait for Buckner, no matter how long it took, to chronicle his misery, his heartache.
The devastated first baseman, who had knocked in 102 runs that year, whose ankles were so ravaged from injury he wore high-top shoes, stood in the shower and sobbed. He finally emerged shortly before 1 a.m., his eyes bleary, his voice barely above a whisper.
By then the champagne had been long been removed, the T-shirts confiscated, the balloons popped, the dreams of a baseball nation shattered.
I wrote about Bill Buckner, how he faced us all with dignity and grace, how he made no excuses, how he agonized over a new and sudden legacy that would haunt him for the remainder of his career.
Once I ran up from the bowels of Shea Stadium back to the press room, I had only a handful of minutes to file my story. There was no time to mention the champagne, the T-shirts or the balloons.
And after the Red Sox lost Game 7, those symbols of winning became moot.
Still, I have never forgotten that night, even after I watched the Red Sox win it all in 2004 and again in 2007. The anguish of 1986 lingers with me, still.
Nearly a quarter-century later, I still wonder the same thing: What happened to those T-shirts?