Establishing a high school wing in the ESPN Boston Hall of Fame generated a lot of discussion and reminiscing for our staff. Here's who we came up with. Tell us who we snubbed in the comments section.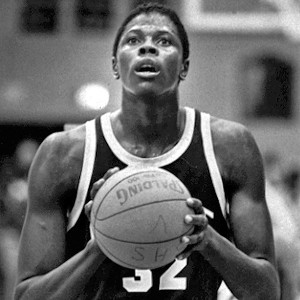 Associated PressPatrick Ewing led Cambridge Rindge and Latin to three consecutive Division 1 state titles.

Patrick Ewing, Cambridge Rindge and Latin '81
One of the most underappreciated talents in Bay State high school hoops history, Ewing led the Falcons through the most dominant run in MIAA history: three Division 1 state titles from 1977 to 1979 and just one regular-season loss to an out-of-state opponent. After winning a national championship with Georgetown in 1984, he went on to a decorated professional career, from being the No. 1 overall draft pick in 1985 to earning 11 All-Star nods with the Knicks and winning two Olympic gold medals. Ewing was inducted into the Basketball Hall of Fame in 2008.
Tom Glavine, Billerica '84
Arguably the most accomplished two-sport star to come out of the Merrimack Valley (if not beyond), Glavine led the Indians to a Division 1 baseball state championship in 1983. The next year, he was taken in the fourth round of the NHL draft by the Los Angeles Kings and the second round of the MLB draft by the Atlanta Braves. He turned down a hockey scholarship with the University of Lowell to turn pro in baseball, and the rest is history: two Cy Young awards, 10 All-Star selections, 305 wins, a World Series title in 1995 and what ought to be a first-ballot Baseball Hall of Fame induction when he's eligible in 2014.
Rebecca Lobo, Southwick-Tolland '91
Considered a pioneer in women's basketball, the 6-foot-5 Lobo was unstoppable in her high school career, setting the state's scoring record for either gender with 2,740 points -- a record that stood for 18 years. She had a career for the ages at UConn, leading the Huskies to the historic 1995 NCAA title and winning Naismith Player of the Year honors. After winning Olympic gold in 1996, she signed on with the New York Liberty of the newly founded WNBA and played seven seasons. She was elected into the Women's Basketball Hall of Fame in 2010.
Photo gallery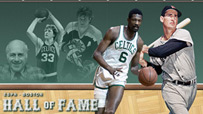 Check out the 20 candidates for the
ESPN Boston Hall of Fame: Gallery

Harry Agganis, Lynn Classical '47
There is only one "Golden Greek." Agganis went 21-1-1 as starting quarterback for Classical, accumulating more than 60 touchdowns and 4,000 passing yards, and was named an All-American as a senior. College recruiters from across the country literally camped out in his front yard, but he stayed close to home. At Boston University, he set numerous school records as a quarterback, punter and defensive back, and was the school's first All-American in 1952. He was taken in the first round of the NFL draft by the Cleveland Browns but opted to sign with the Red Sox, where he had a modest rookie season in 1954. Midway through his sophomore season, he died from pulmonary embolism, forever leaving us wondering what could have been. He was elected to the College Football Hall of Fame in 1974.
Bobby Carpenter, St. John's Prep '81
Called "The Can't-Miss Kid" when he memorably graced the cover of Sports Illustrated as a 17-year-old, Carpenter was the first American-born player to jump from high school to the NHL when he was taken third overall by the Washington Capitals in 1981. He was the first American player to score 50 goals in a season (53, in 1984-85) and retired in 1999 as one of the leading all-time American scorers (728). He won a Stanley Cup as a player with the Devils in 1995, and two more while on their coaching staff in 2000 and 2003. Carpenter was elected to the U.S. Hockey Hall of Fame in 2007.
BEST OF THE REST
Jeff Adrien, Brookline '04;
Kelly Amonte Hiller, Thayer Academy '91;
Tony Amonte, Thayer Academy '88;
Tom Barrasso, Acton-Boxborough '83;
Dana Barros, Xaverian '85;
Sarah Behn, Foxborough '89;
Mark Belanger, Pittsfield '62;
Angelo Bertelli, Springfield Cathedral '39;
Travis Best, Springfield Central '91;
Rick Brunson, Salem '91;
Nick Buoniconti, Springfield Cathedral '58;
Mickey Cochrane, Bridgewater '21;
Tony Conigliaro, St. Mary's (Lynn) '62;
Bill Curley, Duxbury '90;
Medina Dixon, Cambridge '79;
Ted Donato, Catholic Memorial '88;
Mike Eruzione, Winthrop '72;
Mark Fidrych, Algonquin '73;
Doug Flutie, Natick '81;
Robbie Ftorek, Needham '70;
Hal Gill, Nashoba '91;
Matt Hasselbeck, Xaverian '94;
Chris Herren, Durfee '94; Jamal Jackson, East Boston '92;
Jeff Juden, Salem '89;
Ronnie Lee, Lexington '72;
Howie Long, Milford '77;
Joe Morris, Ayer '79;
Tom Nalen, Foxborough '89;
Scoonie Penn, Salem '95;
Max Quinzani, Duxbury '06;
Jeff Reardon, Wahconah '74;
Dan Ross, Everett '75;
Jeremy Roenick, Thayer Academy '88;
Alberto Salazar, Wayland '75;
Fred Smerlas, Waltham '75;
Brianne Stepherson, Masconomet '98;
Keith Tkachuk, Malden Catholic '90;
Jim Unis, Gloucester '01;
Jamila Wideman, Amherst '93;
Kara Wolters, Holliston '93;
Nicole Woolf, Walpole '02.
Brendan Hall is a high school editor for ESPNBoston.com.