Rank 'Em: 25 Greatest Fenway Moments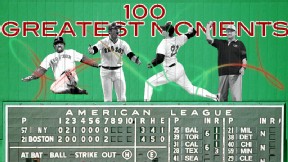 ESPNBoston.com Illustration
Building our list of the 100 Greatest Moments in the history of Fenway Park was no simple task. We commissioned a group of nine experts and came to a consensus after a comprehensive ranking process.
We picked 100 -- now we're asking you to create your own ranking from our top 25. Did we get it right -- or would you scramble it up? Set your ranking below. Our Top 100 Moments


25 Greatest Fenway Moments

Fisk Waves It Fair
OCTOBER 21, 1975: Carlton Fisk's 12th-inning HR gives the Sox in win in Game 6 of the World Series.
---

Impossible Dream
OCTOBER 1, 1967: Red Sox clinch the pennant after beating the Twins, 5-3, then waiting for Detroit to lose to the Los Angeles Angels.
---

2004 ALCS G4 Walk-Off
OCTOBER 17, 2004: Just after the 5-hour mark in Game 4 of the ALCS, David Ortiz sent the Fenway Faithful into a frenzy with a 12rh-inning homer.
---

The Steal
OCTOBER 17, 2004: Facing elimination against the Yankees in Game 4 of the ALCS, the Red Sox rallied against Mariano in the 9th. After Millar walked, pinch runner Dave Roberts stole second before being singled home by Bill Mueller with the tying run.
---

1999 All-Star Game
JULY 13, 1999: After Ted Williams is surrounded by All-Stars on the Fenway infield, Pedro Martinez strikes out five of the six NL stars he faces and is named the game'¨"s MVP.
---

Williams HR in Last AB
SEPTEMBER 28, 1960: Ted Williams homers on what turns out to be the final at-bat of his career. The moment was immortalized in John Updike's '¨SHub Fans Bid Kid Adieu.'¨?
---

2004 ALCS G5 Walk-Off
OCTOBER 18, 2004: Sox beat the Yankees, 5-4, in a nearly 6-hour, 14-inning ALCS Game 5 marathon that ends with a second straight walk-off hit by David Ortiz.
---

1912: Sox Win Series
OCTOBER 16, 1912: Sox rally to tie Game 8 and then then win it in when Larry Gardner knocks in Steve Yerkes with a sacrifice fly.
---

1986: Clemens Fans 20
APRIL 29, 1986: Roger Clemens sets a major-league record by striking out 20 batters in a 3-1 win over the Seattle Mariners.
---

1967: Lonborg's 1-Hitter
OCTOBER 5, 1967: In Game 2 of the World Series, Jim Lonborg throws a one-hitter.
---

1975: Tiant's WS Shutout
OCTOBER 11, 1975: Luis Tiant pitches a five-hit shutout, singled and has an adventurous trip around the bases as the Red Sox beat the Reds, 6-0, in Game 1 of the World Series.
---

2004: Bloody Sock II
OCTOBER 24, 2004: Curt Schilling allow one run and four hits over six innings after having the tendon in his ankle repaired for the second time of the postseason.
---

1912: Wood Vs. Johnson
SEPTEMBER 6, 1912: Smoky Joe Wood and Walter Johnson pitch opposite each other in a much-ballyhooed contest between baseball's two best pitchers.
---

2004: Varitek's Facewash
JULY 24, 2004: Jason Varitek confronts the Yankees' Alex Rodriguez, shoving his mitt in his face, to set off a brawl before Bill Mueller'¨"s walk-off home run.
---

1969: Tony C Returns
APRIL 14, 1969: Tony Conigliaro, playing his first game at Fenway since his beaning 18 months earlier, singled in what proved to be the winning run in a 5-3 Red Sox win.
---

1946: 'Red Seat' HR
JUNE 9, 1946: Ted Williams hits what is regarded the longest home run in Sox history, a drive estimated at 502 feet commemorated by a red seat in the right-field bleachers.
---

1946 All-Star Game
JULY 9, 1946: Ted Williams hits Rips Sewell's eephus pitch into the right field stands in the 1946 All-Star game.
---

1979: Yaz's 3,00th
SEPTEMBER 12, 1979: After going hitless in his previous 12 ABs, Carl Yastrzemski grounds a single past Yankees second baseman Willie Randolph for his 3,000th career hit.
---

1986: Bruno's Catch
OCTOBER 3, 1990: In the final game of the season, Tom Brunansky makes a diving catch down the right-field line that clinched the AL East title.
---

2004: ALDS Walk-Off
OCTOBER 8, 2004: David Ortiz's walk-off home run off Jarrod Washburn gives the Sox a three-game sweep of the Angels in the ALDS.
---

1973: Fisk Vs. Munson
AUGUST 1, 1973: Carlton Fisk and Yankees counterpart Thurman Munson brawl after Munson barrels into Fisk on a botched suicide squeeze.
---

1912: First Game
APRIL 20, 1912: Red Sox play their first major-league game at Fenway and despite committing seven errors, rally to beat the Yankees, 7-6, in 11 innings.
---

1918: WS Clincher
SEPTEMBER 11, 1918: Carl Mays pitches a complete-game three-hitter and scores one of two unearned runs on an error by Max Flack as the Red Sox beat the Cubs, 2-1, to win 1918 World Series.
---

2004: WS Slugfest
OCTOBER 23, 2004: The Red Sox beat the Cardinals, 11-9, in Game 1 of the World Series with Mark Bellhorn's two-run homer in the eighth providing the winning runs.
---

2007: Drew's ALCS Slam
OCTOBER 20, 2007: J.D. Drew's first-inning grand slam sets the Red Sox off to a 12-2 win over the Indians to force a seventh game in the ALCS.
---
Your Rankings
1.

2.

3.

4.

5.

6.

7.

8.

9.

10.

11.

12.

13.

14.

15.

16.

17.

18.

19.

20.

21.

22.

23.

24.

25.