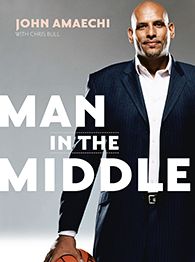 Welcome to The Show! On Wednesday, former NBA player John Amaechi, author of "Man In The Middle", a book about his life as a gay man in professional basketball, will stop by to take your questions.
Amaechi, the first pro basketball player to openly identify himself as gay, played center at Penn State and spent five years in the NBA with Utah, Orlando and Cleveland. After retiring from pro basketball in 2003, Amaechi became a television personality in his native Britain and helped fund the Amaechi Basketball Center in Manchester.
In "Man In The Middle", to be published by ESPN Books on February 20, Amaechi speaks candidly about his time in the NBA, his relationships with players and coaches and the homophobic atmospheres he encountered while playing.
Use the form below to submit your questions and join Amaechi in chat on Wednesday, February 14 at 1 p.m. ET.
This chat is exclusive to ESPN Insiders