Chat with former Florida QB Shane Matthews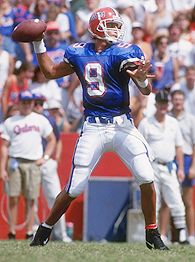 Shane Matthews played 14 years in the NFL after starring for the Florida Gators in college.
Welcome to The Show! On Thursday, former Florida Gators and NFL QB Shane Matthews will stop by to chat.
Matthews finished his career at Florida (1989-92) at, or near, the top of several categories in the Gators' record book. He finished second in career passing attempts (1,202), second in career completions (722), third in career yards (9.287), fourth in TD passes (74) and second in career 300-yard games (15).
The Gators went 35-13 in the four years that Matthews played at Florida. He acted as team captain in 1992 as a senior when the team went 9-4.
Matthews played 14 years in the NFL after college, spending seven of those years in two different stints with the Chicago Bears. He last played for the Miami Dolphins in 2006, before retiring this past March.
Matthews is teaming up with Alltel Wireless to give lucky fans across the country a chance to become heros on the football field in Alltel's "My Circle 1st & 10" sweepstakes.
Fans of 16 sponsored universities and pro football teams can enter to win a chance at football stardom by texting CIRCLE to 52191 or by logging onto AlltellFootball.com. One lucky fan from each sponsored team will be selected at random to take the field and attempt to complete a pass for $100,000.
Send in your questions now and join Matthews in The Show on Thursday at 2:30 p.m. ET!
MORE
Previous chat guests | SportsNation index
This chat is exclusive to ESPN Insiders