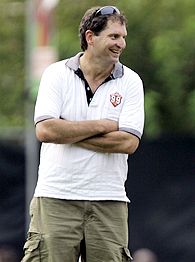 Kosar also spent time with the Cowboys and Dolphins before retiring after the 1996 season.
Welcome to The Show! On Monday, former Cleveland Browns quarterback and current Arena Football League part owner, Bernie Kosar, will stop by to take your questions on the announcement that the Las Vegas Gladiators franchise is moving to Cleveland and that he will serve as Club President
The Gladiators went 2-14 last season and have not had a winning campaign since 2002. But moving the team to Cleveland under the watchful eye of Kosar, a local favorite, is hoped to have a positive impact on the club. Kosar will join former NFL greats John Elway, Ron Jaworski and Mike Ditka as well as rocker Jon Bon Jovi as celebrities involved in the AFL.
Kosar, born in Youngstown, Ohio, was as instant fan favorite, choosing to join the hometown Browns in 1985 after they finished 5-11 the year before. Kosar would eventually lead the Browns to three consecutive AFC championship games from 1986-88 but lost to John Elway and the Denver Broncos each time.
Send your questions now and join Kosar in the Show on Tuesday at 3 p.m. ET.
This chat is exclusive to ESPN Insiders