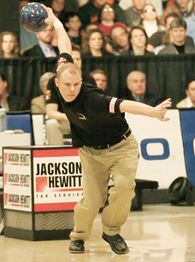 Jones has 20 career 300 games.
Welcome to The Show! On Tuesday, pro bowler Tommy Jones will stop by to take your questions from the USBC Masters tournament in Wauwatosa, WI!
Jones is coming off a tremendous year in which he broke the PBA record for shortest time between first and 10th titles by four days with his second title of the year and second career Major, the 2007 PBA Tournament of Champions. He eclipsed the $100,000 earnings mark for the third consecutive year and finished in the top 18 in eight of his first nine tournaments.
Jones has 19 career top-five finishes and is 28-7 with a 227.29 average in 17 career TV singles appearances, the highest TV winning percentage of all-time.
Send your questions now and join Jones in The Show on Tuesday, Oct. 24 at noon ET.
This chat is exclusive to ESPN Insiders