Chat with Nextel Cup winner Jimmie Johnson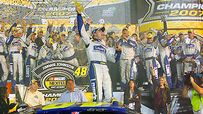 Jimmie Johnson captures back-to-back Nextel Cup titles.
Welcome to The Show! On Monday, we'll have a special chat when 2007 Nextel Cup champion Jimmie Johnson will stop by to talk about his big win.
Johnson won the 2006 title by 56 points over Matt Kenseth. In 2007, he blew away the competition, by racking up a career-high 10 wins heading into the final race of the season in Miami where he finished seventh, eleven spots higher than where he had to finish to secure the championship.
Send in your questions now and join Nextel Cup champion Johnson on Monday at 2 p.m. ET. to chat!
MORE
Previous chat guests | SportsNation index
Jimmie Johnson
(1:57 PM)
Thansk to all the fans, and welcome to the chat!
Johnathan (Portsmouth, VA)
Congratulations on 2 in a row! My question is do you feel you have a sense on what is the "winning formula" for winning the Cup?
Jimmie Johnson
(1:58 PM)
It changes from year to year, and right now we're doing the right things. I'm not sure I know how to keep it going, but we'll sure as hell try.
Adam, Quincy, IL
Great job on the championship. What a great streak to end the season on. So when are you going to sign that lifetime contract with Hendrick Motorsports. :)
Jimmie Johnson
(1:59 PM)
I feel like Hendrick is where I will drive my whole career. There hasn't been a discussion of a lifetiem contract, nor would I really expect to have one. It's flattering to hear people talk about it, and being at Hendrick Motorsports is like being part of a family. I feel like my career will always be there.
Tim Miller Frederick MD
Jimmie now that you have received a dominate status in Nascar's most elite series. What are your future goals?
Jimmie Johnson
(2:00 PM)
Just to keep it going, to try to win more races and win another championship.
Duchess-White Hall, MD
How does this win differ in the feelings you have after you won your 1st Championship win?
Jimmie Johnson
(2:01 PM)
I think I'm going to be able to savor this one more than the first one. There's so much pressure associated with the first one, I was more relieved than anything. This one, I'm just proud of our accomplishments.
Ben (Baton Rouge, LA)
So Champ, what did last night's/this morning's celebration entail? Details?
Jimmie Johnson
(2:01 PM)
I had a great party with my crew guys in South Beach.
Skip Tate (Cincinnati, Ohio)
Congratulations, Jimmie. I've been a fan of yours since 2002, and you've made the last six years a lot of fun. There's something I've been wondering about, though. It's your pit board. Other people have creative pit boards (Terry Labonte's is shaped like Texas); you have a stick figure carrying a tire. What's the story behind that? Anything more creative in the works?
Jimmie Johnson
(2:02 PM)
No, we tried to make something different to stand out from all the others on Pit Row. It may not look cool, but it's different.
Jeremy Whalen
Congrats Jimmie, My question is you have the trophy but does the crew members get anything like rings or something?
Jimmie Johnson
(2:03 PM)
They'll definitely get rings, and there are bonuses from the sponsors. Plus, everyone will go up to New York for a banquet week.
Casey Shakopee, MN
Jimmie, congrats on the double! What are your thoughts on the all the new drivers from open wheel racing? Do you think they will add to the competition or just get in the way?
Jimmie Johnson
(2:04 PM)
I think they ahve a lot to learn, but they will add a lot to our sport by coming in. They will make some mistakes learnign the new cars and tracks, but after a while, they will be good.
Bill, Hartford CT
Jimmie Congrats on 2 in a row. I remember watching you as far back as your ASA days and I have seen you take some hard licks. What was the hardest wreck you have been in and how long does it take to "heal up" from a crash you walk away from?
Jimmie Johnson
(2:06 PM)
I'd say Indy about two years ago, but the most frightening crash was Watkins Glen in my Busch car in 2000. If you're bruised up, it's just however long it takes for your bruises to heal. Fortunately, I haven't broken any bones, but I did have concussions for both of them, and that takes a while to heal up.
Todd Florence NJ
Jimmie congrats on a great year and another title. Lots of people were shocked to see you get so hot late in the year. Battling you car owner for a title had to be a little scary, Now in 08 you will have Jeff and Dale Jr as teammates will that change your approach to racing or your style of driving?
Jimmie Johnson
(2:08 PM)
It was heated, and I was surprised at how hot we got. It was what we needed to win the championship, and I'm glad it worked out as well as it did. I don't see us approaching anything different in the future, but hopefully Dale Jr. coming in will strengthen Hendrick Motorsports and really get things running like we want them to.
Louie, Mountain House, CA
Jimmie, congratulations on your second straight title. Which race track is your favorite to run at and why?
Jimmie Johnson
(2:09 PM)
I'd say Darlington. It's just such an intense track. You run right next to the wall. It's tough and abrasive. But now they've repaved it, so I'm not sure what to expect when we go back.
Maurice Knoxville,Tn
Whats your offseason preparation like and how will it change this year
Jimmie Johnson
(2:10 PM)
From my standpoint, no. The team will have some things to get used to with the CoT being used full-time next year, but for me, it's business as usual.
Lincoln, NE (but originally from San Diego, CA!)
After a winning race (or Championship!) when the officials stick their heads in your car - I'm sure they're telling you to do or not to do something, but do any of them ever say congratulations or anything like that?
Jimmie Johnson
(2:10 PM)
Definitely, they typically remind you to not get on the roof of the car while celebrating, it's a big no-no during post-race inspection.
Jeff (Sacramento)
Winning back to back championships is one of the hardest things to do in any sport. Has it really sunk in yet just what your team has been able to do in pulling off back to back championships?
Jimmie Johnson
(2:11 PM)
I don't think so, it's too new and too fresh for us, but we're really proud of what we've done, and we'll let it sink in this offseason.
Reagan (Waco,Tx)
Which race do you mostly remember most from this season.
Jimmie Johnson
(2:13 PM)
There are a lot of really memorable events, from winning my home state with the Jimmie Johnson Foundation car, winning at Richmond, which has been tough for me to figure out. I think I've won three in a row now at Martinsville, and then the season finale. I'm very luck that there have been a lot of high points this year, it's hard to pick just one.
Jimmie Johnson
(2:13 PM)
I'd just like to thank all the fans for logging in, and enjoy the offseason. we'll be back in Daytona doing it again all too soon!