Chat with Pittsburgh G Keith Benjamin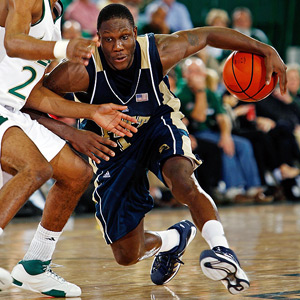 Keith Benjamin and Pitt are ranked No. 21 in the country.
Welcome to The Show! Thursday,
Pittsburgh
guard
Keith Benjamin
will stop by to chat about the Panthers' college basketball season as a part of "Student Spirit Week" here at ESPN.
Benjamin has seen a massive increase in his playing time -- more than doubling his minutes from a year ago -- and has responded by posting career highs in nearly every offensive category.
Benjamin, a senior, is posting his best career per game averages in points (9.4), rebounds (2.3), assists (1.9), FG% (47.6), FT% (78.3), and 3P% (42.0).
Send in your questions now and then join Keith at noon ET on Thursday!
MORE
Other "Student Spirit Week" chat guests:
Mon.: George Mason's Will Thomas | Tue.: Wisconsin's Brian Butch
Wed.: New Mexico's J.R. Giddens | Xavier's Drew Lavender

Previous chat guests | SportsNation index
Jim (Pgh)
What are the keys to beating UCONN on Saturday? Good Luck!!
Keith Benjamin
(12:12 PM)
They're a very fast and athletic team that is very well-coached. We just have to play tough, aggressive defense. We can't get out-rebounded or out-hustled.
Zach (Indiana)
Do you think that Duke is your best win of the season so for?
Keith Benjamin
(12:13 PM)
We've had a lot of good wins. Duke was a great win, but I think Georgetown may have had more significance.
woj pittsburgh pa
Keith, with Ronald in foul trouble last night you played a long stretch at the point, and I liked your aggressiveness and playmaking. Any chance of Coach Dixon starting you at the point?
Keith Benjamin
(12:14 PM)
Not really. Right now we're in kind of a rythym, and I don't think there's a chance of that.
Steven (NY)
What's it like to play in the Garden?
Keith Benjamin
(12:15 PM)
It was very fun to play in the Garden. I used to go there a lot when I was a kid to watch the Knicks play. Playing in front of family and friends was really great.
Brad (Gadsden,Alabama)
Keith, What do you think your strengths and weaknesses are?
Keith Benjamin
(12:16 PM)
I really feel like my strengths are penetrating and getting to the rim. Weaknesses, I need a more steady flow with the ball. I don't look at my shooting as a weakness. I've always felt I can shoot the ball, though I'm always working on my jump shot.
Adam (Pittsburgh PA)
What went wrong with the Rutgers game? Absolutely no one saw that coming.
Keith Benjamin
(12:17 PM)
A lot of things went wrong. Usually with teams like that, you can find a rythym and get back in it very fast. But they were very patient, our open shots weren't falling, our defense was terrible. It was a game we took for granted and should have never lost. Right now we just have to win every game we need to win from now on.
Diggs( Philly)
What was the main reason you ended up choosing to go to the U of Pitt?
Keith Benjamin
(12:18 PM)
The main reason was that, at the time, I had a couple offers on the table, and Pitt seemed like the best choice, as it was a winning program that would let me play right away.
Brian (Philadelphia)
What is the best thing about playing for Jamie Dixon?
Keith Benjamin
(12:19 PM)
Coach Dixon is a really great, funny guy. He's a soft-spoken guy who will let you hear it but won't chew you out. He really loves the team and this game. He's one of the best coaching minds in America and doesn't give up on us, so we won't give up on him.
Jimmy Mac, PA
What cd have you been listening to lately?
Keith Benjamin
(12:20 PM)
I have the new Jay-Z CD, American Gangster, but I've been listening to a lot of other things. It all depends.
Stuart (NY)
Favorite moment in your four years at Pitt?
Keith Benjamin
(12:21 PM)
Freshman year, coming back over Syracuse in our gym., that was a great moment for me. The other night against Georgetown was great as well.
Neil (Mt. Vernon, NY)
Favorite place to eat in Mount Vernon?
Keith Benjamin
(12:22 PM)
I used to go to the Chicken Hut a lot. McDonald's on Sheffield Boulevard, around the corner from my house.
Jon, Pittsburgh
I know you've got great ups and I've seen you throw some dunks in pre games, so who wins in a dunk contest between you, Sam Young, and Gilbert Brown?
Keith Benjamin
(12:23 PM)
I can do some dunks, but those guys have great wingspan. For my money, I'd say Sam, with Gilbert finishing a strong second.
Don (Pittsburgh, PA)
How is Levance Fields progressing? Can we expect him back as soon as everyone is saying?
Keith Benjamin
(12:24 PM)
He's progressing very well. I'm not sure when we can expect him back, you never know how quickly they will take. He looks fine to me, so maybe we will see him Februaruy 15th.
Max (NY)
What are you planning to do after you graduate Pitt?
Keith Benjamin
(12:25 PM)
I'm probably going to run with anything I can get, hope I get invited to senior camp, and hopefully do a couple workouts with some other teams. It could be an overseas path, or anywhere I can continue my career.
Zak (Pittsburgh)
What's the key to keeping the momentum Pitt has built as a program over the last half-decade or so going?
Keith Benjamin
(12:26 PM)
Just keep on recruiting the same type of guys, and hopefully acquire some McDonald's All-Americans. Guys that can be coached and that want to win. The guys we have now as freshmen are doing a great job, and they'll keep winning for many a year.
Keith Benjamin
(12:27 PM)
Thanks to everyone out there for their questions, and I look forward to doing this again.