Chat with Rhode Island G Parfait Bitee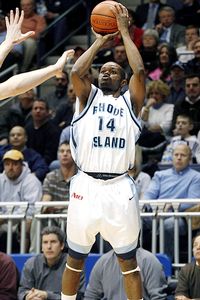 URI's Parfait Bitee has started all 20 games this season.
Welcome to The Show! Thursday,
Rhode Island
guard
Parfait Bitee
will stop by to chat about the Rams' college basketball season as a part of "Student Spirit Week" here at ESPN.
Bitee has Rhode Island off to a 17-3 record, the school's best mark after 20 games in over 10 years. As one of three seniors on the team, Bitee leads the team in assists (5.1 apg) and 3P% (50.0).
Bitee, a native of Yaounde, Cameroon, has shown marked improvement in his final year at Rhode Island. He has posted career highs in points per game (10.3), assists and field goal and three-point shooting.
Send in your questions now and then join Parfait at 1 p.m. ET on Thursday!
MORE
Other "Student Spirit Week" chat guests:
Mon.: George Mason's Will Thomas | Tue.: Wisconsin's Brian Butch
Wed.: New Mexico's J.R. Giddens | Xavier's Drew Lavender

Previous chat guests | SportsNation index
Alex (Madison)
Why has the A-10 been such a great league top to bottom this season?
Parfait Bitee
(1:00 PM)
Most of the teams improved all-around, which means the level of competition has improved greatly.
Andrew (Boston, MA)
Hello Parfait, you are doing a great job this season. Honestly, how far do you think this URI team can go? Do you see this team making a good run in the NCAA tournament if you guys make it?
Parfait Bitee
(1:01 PM)
Absolutely, that's our goal. It's to go as far as we can go. Everybody in the locker room believes in the same thing.
Parfait Bitee
(1:02 PM)
Nobody else is believing in us.
Josh Drouhard, Cincinnati, Ohio
Having visited Cameroon and recognizing that soccer is their national pastime, how did you gain enough serious competition in basketball growing up to excell to the point of where you are today?
Parfait Bitee
(1:04 PM)
Basketball was taken seriously back home even if it wasn't as big as soccer. Because of the lack of equipment, we only had outdoor basketball courts, so that caused people to push themselves to the limit and play hard. It's a question of commitment. You have to really want to play basketball and try hard to get to the States.
Jay (Kingston, RI)
First off, congrats on the season so far. Which team to do find to be the greatest threat within the A10 this year?
Parfait Bitee
(1:05 PM)
We haven't played everyone yet, but in the A-10 there are many good teams. Dayton was in the top 25, but if you don't come to play every night, you will get beaten against anybody. We take everyone seriously.
Parfait Bitee
(1:06 PM)
One game can cause us not to make the NIT or NCAA tournament, so we treat each game as the biggest of the season.
Cam (Braintree Ma)
What are your future plans after college?
Parfait Bitee
(1:07 PM)
I'm double majoring in communications and public relations, and I played for the Cameroonian national team in the competition in Angola. We're going to try to qualify for the Olympics in July. You never know. I'm mulling some options.
Dennis (Narragansett, RI)
Parfait congradulations on a great season. How hard was it to go from a 2 guard to the pt. position? You have done a terrific job at the pt this year. Good Luck against Dayton on Saturday, the game is sould out.
Parfait Bitee
(1:09 PM)
I played point guard back home, and in high school, so coming to Rhode Island, they didn't really have a spot open at the point. It was a hard challenge to go back and forth, as I really didn't under the position, so it's been easier to move back.
Albert (Cranston, RI)
What was your most memorable game in a Rhode Island uniform?
Parfait Bitee
(1:09 PM)
That's a tough question. I have a couple. I think our game against Syracuse at their place was very memorable, as was the one against Xavier last year.
Steve (Harrison, NY)
What's up Parfait. I've been to most of your games this season and want to congratulate you on the job you guys have done so far. I just wanted to know how the team feels about getting a chance to show the nation what URI is about when you play UMASS on ESPN?
Parfait Bitee
(1:11 PM)
I don't really look at it that way. We take things one game at a time. We're not thinking about who we're going to play a couple weeks from now, we're just thinking of playing the next game.
Fox (Boston Ma)
What is it like to play with Jimmy Barron? Are you in awe at some of the shots he can hit?
Parfait Bitee
(1:12 PM)
I think he's one of the best shooters in the country and it's a pleasure to play with him. I know when I pass him the ball, he'll make a shot. He's a good guy and he's shown me some things related to shooting in order to help me improve. I appreciate being around him.
Craig (Milwaukee, WI)
If you could face anyone in a game of 1-on-1, who would it be?
Parfait Bitee
(1:14 PM)
I'd say Chris Paul because I really look up to his game. I'd try to see where I could learn from him.
Fox (Boston Ma)
What is it like playing for Coach Baron?
Parfait Bitee
(1:15 PM)
It's great. It's a great experience for me. He's been like a father to me. He's not just worried about basketball. He's been a great head coach for me, and makes sure I'm doing the right thing on and off the floor.
Parfait Bitee
(1:15 PM)
We're just going to keep trying to get better every day. Thanks everyone!