Chat with Ohio F Leon Williams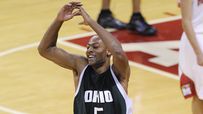 Leon Williams has his Ohio team in fourth place in a tight MAC.
Welcome to The Show! On Thursday,
Ohio
forward
Leon Williams
will stop by to chat about the Bobcats' college basketball season as well as his team's "BracketBusters" game coming up Saturday.
Ohio (17-9) hosts George Mason (19-8) Saturday (1 p.m. ET, ESPN2) as a part of ESPN's sixth annual BracketBusters weekend.
Williams has been averaging nearly a double-double all season. Right now he is averaging 15.6 points and 9.9 rebounds per game - both career highs. The 6-8 senior has led the team in scoring in 11 games and in rebouding in 22 games.
Williams is strong candidate for the MAC Player of the Year.
Send in your questions now and then join Williams at 2:15 p.m. ET on Thursday!
MORE
Previous chat guests | SportsNation index
Buzzmaster
(2:13 PM)
Leon is here!
Leon Williams
(2:15 PM)
Hey what's up? I am happy to be here to take all your questions!
SLS, Columbus OH
They say Ohio's 6th man is the O-Zone. Do you feel the strong student support is in a way responsible for your 10 consecutive wins at home?
Leon Williams
(2:16 PM)
Yeah, I think the O-Zone has a lot to do with it. I love the fans here. They give us a ,lot of energy and support. So I hope they keep coming in big numbers, and that they will be there on Saturday.
Rod (Youngstown, OH)
how does this season compare with the run you made as a freshman?
Leon Williams
(2:17 PM)
I do not think they really comprare. I was new as a freshman, just trying to fit in and contribute anyway I can. Now I am trying to take charge and help my tammates anyway I can, and really step up from a leadership standpoint.
Drew Athens, OH
Leon, describe some of the battles you had with George Mason's Will Thomas in high school, and what kind of matchup we should see from you two on Saturday.
Leon Williams
(2:19 PM)
It has always been tough playing against such a great player. We always battled in high school and Saturday should be another great match up. I cannot wait to play him.
Corey: Athens, Ohio
Hey Leon whats up? That DeVaughn Washington dunk was pretty sick on Tuesday...do you guys have dunk contests at practice?
Leon Williams
(2:20 PM)
Sometimes before practice. But I am not usually in those, because I cannot get up like him. So I usually watch and play the role of the cheerleader.
Corey T Athens, Ohio
Hey Leon...You guys have struggled on the road in MAC play...why is it so hard to get a win on the road in conference? and how important is it for you guys to grab that bye in the conference tournament?
Leon Williams
(2:22 PM)
It is always tough to get a road win in coference because everyone knows each other. It is hard to take teams by surprise. And obviously the home-court advantage is huge, because there are some intense atmopsheres to play in. The bye would be very nice as it would give us some time to rest our legs.
Rhonda, Athens, OH
Describe your ability to remain so even-tempered on the court, despite some pretty rough play inside.
Leon Williams
(2:24 PM)
It has been like that my whole life. I am used to it. My brother used to try to beat me up on the court growing up. I also don't want to give the opponent an advantage by letting him get in my head.
Steve Baltimore, Maryland
What's going Leon?? How good did it feel to come into College Park and beat the Maryland Terrapins in your home city? Did you feel like you had something to prove?
Leon Williams
(2:26 PM)
It felt great! To be able to go back to a place in which I grew up and watched growing up and play was great, and to beat them was even better. It was something I will not forget. And I did feel like I had something to prove to coach Williams, since he did not recruit me. I wanted to show him that he should not have passed up on me.
Justin (South Bend, IN)
Hey Leon, how's your eye feeling after taking that shot to the face at Toledo last week?
Leon Williams
(2:27 PM)
It feels good. It is still a little red, but I can see out of it, and everything is fine.
PJ, Coolville, OH
Leon, your eye looked pretty bad on Tuesday. Have you thought of wearing protective goggles/glasses like Horace Grant or Kurt Rambis?
Leon Williams
(2:28 PM)
Actually I had to play with goggles in one practice, just in case I had to wear them in a game, and I got made fun of a lot...my teammates said I looked like John Salley! And I decided not to wear them, because I was not comfortable wearing them.
John Mc (Chicago, IL)
Leon - What current or former NBA player could you best compare your own playing style? Alonzo Mourning comes to mind.
Leon Williams
(2:29 PM)
I do not know about Zo, maybe, except for the shot blocking, I do not do that too much. But I like that comparison. Or Elton Brand or Carlos Boozer or Jason Maxille.
Leon Williams
(2:31 PM)
That's all the time I have! But thanks for having me! I hope you are satisfied with the answers I gave. And do not forget to check out our game against George Mason on Saturday!