Chat with former NC St. S DaJuan Morgan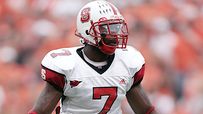 NC St.'s DaJuan Morgan is the second ranked safety in the draft.
Welcome to The Show! On Wednesday, NFL prospect and former North Carolina St. S DaJuan Wagner will stop by to chat about the NFL draft, his combine performance and his time with the Wolfpack.
Morgan led NC State in tackles in 2007 with 97. He also led the team in interceptions (3) and pass breakups (6). It was the second straight season that he led the team in INTs.
According to Morgan's Scouts Inc.'s draft profile, Morgan "is faster than quick and lacks ideal athletic ability so he may never develop NFL caliber man coverage skills. However, he is a tough and unrelenting run defender who can hold his own in zone coverage and should make an immediate impact on special teams."
Send in your questions now, then join Morgan on Wednesday at 4 p.m. ET!
MORE
Check what other draft prospects have said in chat!
Go to ESPN.com's 2008 NFL Draft index
Buzzmaster
(4:00 PM)
DaJuan will be here shortly, everyone!
DaJuan Morgan
(4:06 PM)
Hey everyone, I'll be happy to answer your questions!
Brandon (Raleigh, NC)
DaJuan, do you think you are the best safety prospect in this draft? If so, why?
DaJuan Morgan
(4:07 PM)
Most definitely. I make plays, I tackle well, and I bring a lot of passion and enthusiasm to the game. I can intercept the ball if need be, and I consider myself a difference-maker.
Mohamed (DE)
DaJuan, People often talk about what you didn't like about the combine, etc.... I want to know what you most enjoyed about the experience. Thank you
DaJuan Morgan
(4:07 PM)
Just being around a group of guys as talented as I am, and knowing that people before me were in the same position. I loved weightlifting, we got pumped up for the 225s.
Aaron Omaha NE
What kind of workouts did you do to get ready for the 225 benchpress at the combine?
DaJuan Morgan
(4:08 PM)
We did a lot of different metabolic workouts. 205s, as many as you can, to build up your endurance. We lifted heavy sometimes, but we didn't lift exactly 225 that often. Either over or under.
Scott Fillhouer
What was your greatest play in football?
DaJuan Morgan
(4:09 PM)
Probably a fake punt return against Virginia Tech my redshirt freshman year. They snapped the ball directly to me and I ran 44 yards.
Jordan (Slinger, WI)
Can you compare yourself to an NFL safety?
DaJuan Morgan
(4:10 PM)
It's kind of hard. Maybe someone like Brian Dawkins or the late Sean Taylor. I can't really say there's one safety that I play exactly like.
Raleigh, NC
Dajaun, enjoyed your career at NC State and wish you and your family the best, what teams seem to be the most interested in you at this point?
DaJuan Morgan
(4:10 PM)
I've talked it over with my agent; he's taking all the calls on that at this point. I don't really want to say.
Zach (Greensboro, NC)
what do you mainly see yourself doing in the NFL? mostly special teams specialist or hard hitting run stopper? what would you most prefer anyways
DaJuan Morgan
(4:11 PM)
I plan to come in right away and make an impact, whether it's on special teams or starter. Whatever I do, I'll give my best effort and love doing it.
Mark H. (Bowling Green, OH)
Who was the most difficult player you have ever had to tackle?
DaJuan Morgan
(4:12 PM)
Probably someone like Lorenzo Booker.
Tim, Greenville, NC
Who do you feel has been most important in your development as a player?
DaJuan Morgan
(4:13 PM)
My brother.
Jordan (Slinger, WI)
DaJuan: What will you miss most about the college experience?
DaJuan Morgan
(4:14 PM)
The atmosphere of the guys. I know it'll be more of a business in the next level. I'm going to miss the fans and our stadium.
Charlie ( Charlotte)
Carolina needs a good cover FS! Do you fit the bill?? Or do you consider yourself a SS?
DaJuan Morgan
(4:14 PM)
I'd most definitely fit the bill. I can play strong safety or free safety at the next level.
Bill (Boston)
DaJuan, How did you enjoy playing in the same secondary with your younger brother this past year? Would have loved to see you 2 back there together again next year. Best of luck to you on Sundays.
DaJuan Morgan
(4:15 PM)
It's an experience I can't explain. We were in Little League and football, but I was always leaving by the time he got on the team. The first time we started on the same time, we were able to say that we had one anothers' backs. I really can't explain it.
Kevin (Charlotte)
What do you predict for the Wolfpack in the upcoming years with O'Brien? Hoping for big things.
DaJuan Morgan
(4:16 PM)
I know there will be big things. Coach O'Brien is a great coach. The last half of the season just showcases what the future will be like. Our runningbacks are tenacious, and we have several players coming back from injury.
Jordan (Slinger, WI)
What has been your biggest accomplishment thus far in your carreer?
DaJuan Morgan
(4:18 PM)
Beating our rival school, North Carolina. To get a win in those games meant a lot.
DaJuan Morgan
(4:18 PM)
It'd have to be Wake Forest. They were a misdirectional team, and you would have to be very disciplined when you played them.
DaJuan Morgan
(4:19 PM)
Thanks for the time. I enjoyed the questions, and I'm looking forward to continuing my career in the NFL!