Chat with former NC St. S DaJuan Morgan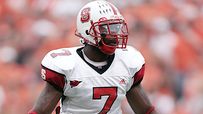 NC St.'s DaJuan Morgan is the second ranked safety in the draft.
Welcome to The Show! On Wednesday, NFL prospect and former North Carolina St. S DaJuan Wagner will stop by to chat about the NFL draft, his combine performance and his time with the Wolfpack.
Morgan led NC State in tackles in 2007 with 97. He also led the team in interceptions (3) and pass breakups (6). It was the second straight season that he led the team in INTs.
According to Morgan's Scouts Inc.'s draft profile, Morgan "is faster than quick and lacks ideal athletic ability so he may never develop NFL caliber man coverage skills. However, he is a tough and unrelenting run defender who can hold his own in zone coverage and should make an immediate impact on special teams."
Send in your questions now, then join Morgan on Wednesday at 4 p.m. ET!
MORE
Check what other draft prospects have said in chat!
Go to ESPN.com's 2008 NFL Draft index