Chat with former TCU S David Roach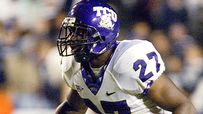 Roach started all 13 games this season and set a career high in tackles.
Welcome to The Show! On Wednesday, NFL prospect and former TCU S David Roach will stop by to chat about the NFL draft and his time with the Horned Frogs.
Roach finished fourth in tackles on his team this year with 76 tackles, which nearly double his previous season high of 41. Roach was second on the team with seven pass break ups.
According to Roach's Scouts Inc.'s draft profile, Roach "lacks elite agility and he's too inconsistent for a player with his experience but there's a lot to like about his upside. He's got the frame to develop into an effective in-the-box safety, the range to excel in zone coverage and the tools to develop into a valuable special teams' contributor."
Send in your questions now, then join Roach on Wednesday at 3:30 p.m. ET!
MORE
Check what other draft prospects have said in chat!
Go to ESPN.com's 2008 NFL Draft index
Buzzmaster
(3:32 PM)
David will be here soon, everyone!
Buzzmaster
(3:43 PM)
Keep sending in those questions, everyone, we're working on tracking down David!
David Roach
(3:47 PM)
Hey, everyone, how's it going?
Lane (Kukuihaele, HI)
Where will you be on draft day? Will you be having a draft day party?
David Roach
(3:47 PM)
Nope, I'm just going to be with my close friends and immediate family in Dallas, watching the TV!
Travis (Arlington, TX)
Knowing the importance of the safeties in Coach Patterson's defense, what advice do you have (if any) to the younger guys, who remain, in order to become successful? By the way, congrats on the Master's, and Go Frogs!
David Roach
(3:48 PM)
Basically, the thing to keep in mind is patience. It's a very complex system, and you have to make the plays you're supposed to make, rather than just the big plays.
Carlos (Houston, TX)
Who was the best receiver you went against in your career at TCU? As a drop back safety what do you feel are your stengths in coverage?
David Roach
(3:49 PM)
The best receiver I went against was a guy named Roddy White who plays for the Falcons. Fastest guy I've ever seen. He used to play at UAB. I think the most important thing as a safety in coverage is being able to read the QB--being able to read the receiver's hips as well.
JonC, Dallas, TX
David...Loved watching you play for the Horned Frogs and last year you really shined. What type of scheme do you think would best fit your style in the NFL? Go Frogs!
David Roach
(3:50 PM)
Really, I think the scheme we ran at TCU prepared us for any scheme. I was doing it all. It's almost like playing a corner, linebacker, and safety all at one time.
Brandon, North Carolina
whose the teams thats been giving you the most interest
David Roach
(3:50 PM)
You can't really tell which have been giving you a lot of interest. I've talked to several teams so far, so there's not really just one team.
Lane (Kukuihaele, HI)
You wear the number 27. Does it have any special meaning for you?
David Roach
(3:51 PM)
I used to wear 31 in high school, so they already had 27 set up for me. It's unique--not many people have 27.
Jrod (Fort Worth, TX)
David, thanks for representing the Frog Nation and for giving such great effort and defensive performances the last 4 years. Can't wait to watch you in the pros. Can you explain to everyone why you chose TCU over the BCS schools? And how TCU has helped in your development as not only a player but as a student athlete. Thanks!
David Roach
(3:52 PM)
It's close to home, two hours from my hometown in Abilene. It also gave me the opportunity to start a few games as a redshirt freshman, so I got a lot of experience. TCU is a great academic campus, in the top 9 for graduation rate. You get a lot of one-on-one attention because it's a smaller campus.
Brad (Gadsden,Alabama)
David, What nfl Safety do you compare yourself to? good luck in the nfl
David Roach
(3:53 PM)
Thanks for the good luck wishes. I like to compare myself a lot to Brian Dawkins. He's a smart safety who plays with his eyes and his brain.
Abilene, Texas
How did you do at the NFL scouting combine?
David Roach
(3:54 PM)
I did well, being listed on the top performers list on four different events. It helps a lot of people come to my pro day.
Colin (New orleans)
Would you prefer to play a Free safety or a strong safety up at the line more often? (with decent size 6' 210lbs and speed)
David Roach
(3:54 PM)
I kind of like being the deep safety, but I don't mind getting down and dirty. You get more opportunity to see the field as a a free safety, so i like it a little better.
Mark H. (Bowling Green, OH)
Who was the toughest RB to tackle that you faced in college?
David Roach
(3:55 PM)
I think the hardest guy would be garrett wolfe for Northern Illinois. We shut him down as a defense well, but the first guy would always miss the tackle.
Lane (Kukuihaele, HI)
Besides football what other interests do you have?
David Roach
(3:56 PM)
Really, I have a lot of interest in music. I'm teaching myself to play the piano on the side. It relaxes me.
Colin (New orleans)
Do you want to play for a local texas team (Cowboys or Texans) or do you want to try another location around the NFL?
David Roach
(3:56 PM)
Beggars can't really be choosers, so I'll play with anybody right now!
Brad (Dallas)
David, which defensive backs coming up behind you at TCU do you think will follow you into the NFL?
David Roach
(3:58 PM)
We've got a couple good defensive backs. One, Stephen Hodge makes a lot of big plays and is our biggest hitter. Another guy is Steven Coleman, an athletic safety who has the size and range to play a good NFL free safety.
David Roach
(3:59 PM)
I appreciate everyone's support, and look for me on draft day!