Chat with Ashton Kutcher, Cameron Diaz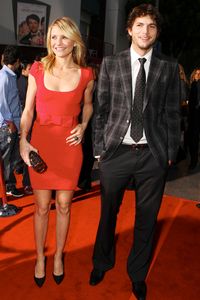 Ashton Kutcher and Cameron Diaz walk the red carpet for the premiere of their new movie.
Welcome to The Show! On Monday, we'll have actors Asthon Kutcher and Cameron Diaz on to talk about their new movie "
What Happens in Vegas
."
Kutcher and Diaz play two strangers who awaken together to discover they've gotten married following a night of debauchery in Sin City. One of them has won a huge jackpot after playing the other's quarter. The newlyweds devise ever-escalating schemes to undermine each other and get their hands on the money -- only to find themselves falling in love amid the mutual backstabbing.
"What Happens in Vegas" is Kutcher's 15th movie. He is probably most well known for his work as the producer of the TV show "Punk'd."
The movie is Diaz's 32nd movie. She got her break in the film industry with "The Mask," starring opposite Jim Carrey. She became more well known in the 1998 movie "There's Something About Mary."
The 20th Century Fox film "Whatever Happens in Vegas" hits theaters May 9.
Send your questions now and join Kutcher and Diaz in The Show Monday at 12:20 p.m. ET.
MORE
Other chat guests | SportsNation home page
Buzzmaster
(12:13 PM)
We've got Ashton and Cameron!
Henry (Buffalo)
Ashton, while working with Cameron on the movie, did you have a chance to "Punk" her?
Ashton Kutcher
(12:15 PM)
No. Punking on movie sets is illegal. There's actually a law. I think Cameron got it passed.
Dave Staten Island,New York
Hi Cameron, Love your work and wish you continued success! My two children love you from your character in Shrek! lol Is that fun to do the voices of characters? best wishes, Dave
Cameron Diaz
(12:16 PM)
Love it. I appreciate your support and I am glad you like my work. I love playing the voice of Fiona. I love her. It makes me so happy to bring smiles to the faces of kids.
Wes (Idaho)
What was the best part about making this movie?
Ashton Kutcher
(12:17 PM)
It was the company I kept while making it. It was just a pleasure in going to work every day. Spending time with Cameron, the producer, the director. It was the best.
Evan Phillips
On a scale of 1-10, how much do you hate the papparazzi?
Cameron Diaz
(12:17 PM)
I love the papparazzi. They're my friends. I don't hate anyone.
Ashton Kutcher
(12:18 PM)
I go with 8.
Ashton Kutcher
(12:18 PM)
And a half.
Cameron Diaz
(12:18 PM)
I feel bad for the papparazzi myself. I've gone to compassion.
Stevie P.
Are either of you gamblers? Ashton, you seem like the gamblin' type.
Ashton Kutcher
(12:19 PM)
I was once the front for one of the largest sports syndicated gambling in the country. I really enjoyed it. I don't mind throwing down loot on a game. But I don't win. So I don't pay taxes.
Jason (Charlotte)
Cameron, do people ever call you Mary on the street because of "There's Something About Mary"? And if so, how annoying is that?
Cameron Diaz
(12:19 PM)
Yes, people do come up to me and say, call me Mary. It's not annoying. I love that Mary is someone that people enjoyed and had a good laugh with.
Ashton Kutcher
(12:20 PM)
She also likes to be called Cindy and June.
Cameron Diaz
(12:20 PM)
I just appreciate that. It makes me happy.
Ashton Kutcher
(12:20 PM)
And Ron, bizzarly, she likes to be called.
Wiley
Have either of you ever done something in Vegas that you regret?
Ashton Kutcher
(12:20 PM)
If I regret it, why the heck would I tell you about it. So the answer would be, I don't know.
Jordan (Slinger, WI)
What are your favorite sports teams?
Cameron Diaz
(12:22 PM)
Because I live in Los Angeles, I grew up in LA. Lakers are my basketball team. I'm really excited about them at the moment. We're about to win another championship. Then, because I live in LA, I can basically pick whatever football team I like. That usually goes with whoever is winning. It's always more fun to have a winning team. I've been with the Pats the past few years. They're just the greatest.
Ashton Kutcher
(12:23 PM)
I am, first and foremost a Bears fan. Chicago Bears. Bears, Bears, Bears. I'm a little bit of an overly....I want to be the Bears. I want to be the equipment boy for the Bears. If they called and told me they wanted me to quit my day job, I would do it.
Cameron Diaz
(12:23 PM)
So, how do you feel about the Bears?
Ashton Kutcher
(12:23 PM)
I love them.
Timo (Philly)
Cameron, any more football movies up your sleeve or was Any Given Sunday it?
Cameron Diaz
(12:24 PM)
If there's a football movie that wants me, I would totally do a football movie if it was good. If Ashton had a football movie...I would love to. I love sports.
Tim (Iowa)
Ashton, you are from Iowa so does that make you a Hawkeye or Cycolones fan?
Ashton Kutcher
(12:25 PM)
I'm a Hawkeye. I went to the University of Iowa, so I'm a Hawkeye. Even though we stink right now.
victor monroe,louisiana
cameron i Liked charlies angels full throtolle. Do you and lucy lu still keep in touch with each other?and what do you think of the los vegas movie?
Cameron Diaz
(12:26 PM)
Yeah, Drew and I live in LA. Lucy moved to NY so we don't see each other much. They're my girls.
Manik, Philly
Considering the current QB situation with the Bears, do you think you can beat out sexy Rexy or Kylie Orton?
Ashton Kutcher
(12:27 PM)
Boy, I don't know if I could beat them out. I tell you what, I did play some football with John David Booty, this last season. We went out and threw the football around. I never really had the arm. Even seeing how he threw compared to me. I don't think I'm cut out for playing QB in the NFL. Everyone's down on them, but don't forget that we got to the Super Bowl with them a couple of years ago.
Shane B., Marshall, TX
Cameron, your golf swing at "SAM" looked pretty solid. What's your handicap? Ever made a hole-in-one?
Cameron Diaz
(12:28 PM)
When I was on Mary, I didn't play golf yet. I just learned to swing for the shot. I haven't played golf because I've been working. Golf requires time and I haven't had the time. I have only really taken it up the last few years and I've taken it up on the course and really understood the game. I haven't played enough to acquire my handicap. I love it. I am really obsessive.
Cameron Diaz
(12:29 PM)
I would love for you to see the movie. If you want to have a good time and party with me and Ashton in Las Vegas. I hope you enjoy it.
Ashton Kutcher
(12:30 PM)
I love the peoples. I love me some peoples.