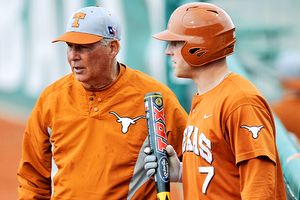 Garrido has led five teams to College World Series titles.
Welcome to The Show! On Monday, University of Texas baseball manager, Augie Garrido, will stop by to talk about starring in a new documentary, the College World Series and more.
Garrido is the centerpiece of famed director Richard Linklater's latest movie -- "Inning by Inning: A Portrait of a Coach." The documentary follows the University of Texas baseball team during the 2006 season and focuses on Garrido, the winningest coach in all of college sports, and his philosophical approach to the game. Garrido has led teams from two different schools (California State University, Fullerton and Texas) to national titles, and is the first coach to guide squads to national championships in four different decades.
The film will air on ESPN2 on Sunday, June 15 at 10 p.m. ET.
Send in your questions now and then join Garrido at 11 a.m. ET on Thursday!
MORE
Read the chat with director Richard Linklater
Previous chat guests | SportsNation index
This chat is exclusive to ESPN Insiders