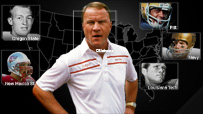 Heather Dinich examines the face of each Division I program.
Welcome to The Show! On Friday, ESPN.com's college football reporter Heather Dinich will stop by to talk some football.
Dinich helped choose ESPN.com choose who or what represents each Division I program in the "Face of the Program" feature, which debuted this week.
Send your questions now and join Dinich in The Show at 3 p.m. ET on Friday.
MORE
Friday's other Face of the Program chats:
1:30pm- Chris Low | 2pm- Ted Miller | 4pm- Adam Rittenberg
Dinich archive | College football index
Heather Dinich
(3:01 PM)
Hey guys. I'm here to talk about the Faces project. Let's chat.
Fred: Chicago
Are both Bobbie Bowden & Joe Paterno still coaching only because the other is? Are they both hoping to outlast the other and end with the most wins?
Heather Dinich
(3:02 PM)
Ok, let's not talk about Faces ... No. Paterno is still coaching because he's stubborn and doesn't have anything else to do, and Bowden is coaching because he wants to ressurect his program before he hands it over.
Jon (Charleston, WV)
ok, do you feel that the Big East gets less respect than it deserves
Heather Dinich
(3:04 PM)
Definitely not. Not sure what you want, but I think there was plenty of attention on it last season.
Mr Movie Phone (NY, NY)
The other chat hosts picked Bear as the face of college football - who do you have as the next face in line? (Hint: he has a library and an ice cream named after him)
Heather Dinich
(3:05 PM)
Haha yeah, I've had my share of Peachy Paterno in the Beaver Stadium press box. He's got my vote.
evan (orlando)
which school was the easiest for you to come up with a face for?
Heather Dinich
(3:05 PM)
Well, since I did the ACC it was Bowden. No brainer.
Jon (Charleston, WV)
Respect and attention are two diffrent things
Heather Dinich
(3:06 PM)
Ok Jon, fair point. And since you're from West Virginia, I'll say you guys got your share of both. Except for that one game. That hurt.
Josh (New Castle, In)
Will IU have two cnsecutive winnng seasons?
Heather Dinich
(3:08 PM)
Since I'm an IU grad who suffered through four rough seasons (Antwan Randle-El heroics aside), I'd like to say yes, but I'd be surprised.
Jimmy (Jimmy's home town)
Jimmy's got a question: Who was the toughest school to come up with a face for?
Heather Dinich
(3:09 PM)
Heather's got an answer: N.C. State was pretty tough. Limited options at Duke, too.
Ryan (Pittsburgh)
Oh I love the embittered Mountaineer fans. You've gotta love losing the biggest game they have had in years to their arch-rival. It was heaven for me at that game...
Heather Dinich
(3:11 PM)
Thanks Ryan. I've got tickets to the Yankees game next week. Maybe I'll see you in the 'burgh.
Steiny (NYC)
What do you expect from Arrelious Benn this season?
Heather Dinich
(3:14 PM)
Amazing things, I'm sure. Since he's from my area, I've heard nothing but good things, and he's obviously lived up to the hype.
Diego ((Chicago))
Yanks play in Pittsburgh next week?
Heather Dinich
(3:15 PM)
First time since the Maz hit the homer in 1960, baby.
RAY GORDON REID (HOLLYWOOD FLA 32277)
QUESTION HEATHER DINICH SEC WEST LSU OR AUBURN
Heather Dinich
(3:15 PM)
LSU
Zach(Tenn)
were would you rank tennessee's traditions and pagentrys amognst other college teams
Heather Dinich
(3:17 PM)
It's got to be one of the best, which is why we picked it.
Puddy (staring)
Where did you go to school and what school has the best day-of-game atmosphere?
Heather Dinich
(3:18 PM)
Indiana (see above post) and not the Hoosiers.
John (Boston)
What's new with BC this season...I'm still not over the drubbing your Terps gave them last year, we beat Maryland every year but the one that we REALLY need too!
Heather Dinich
(3:20 PM)
Um, I'm going to go ahead and say the QB is new. Seriously, though, BC is going to have a lot of question marks.
Ralph (Houston)
Is your name pronounced Din-ik, or Din-ich?
Heather Dinich
(3:20 PM)
Like spinach.
Chris (Atlanta, GA)
What's your thought of PSU owning the recruiting scene in MD these last couple of years? Does Maryland not have a football team to attract these players?
Heather Dinich
(3:22 PM)
Ouch. Maryland will be quick to point out it's gotten a fair share of players from PA, and I'm pretty sure a handful of the guys Larry Johnson plucked from Ralph's backyard haven't exactly been model citizens lately.
Mike (Cincy)
Wow Heather, are we glad to see you! Forget football. What about Tom Crean? How ugly is it going to be this year?
Heather Dinich
(3:22 PM)
hahaha uuuuggglly. And never. ever. forget football.
John (Boston)
Thanks, real helpful...do you even know anything about BC? I thought you were an ACC reporter.
Heather Dinich
(3:26 PM)
Well, ok, if you insist: They need to replace their punter. They've got to replace both of their defensive ends. Who's gonna replace Andre Callender and L.V. Whitworth at RB? Steve Logan tweaked the offense for Chris Crane, and I talked to Chris. He thinks he'll be ok, but admits he's not Matt Ryan. The left side of the offensive line is gonna be good, and they've got depth at linebacker. But don't expect to see Brian Toal used on offense again in short yardage situations. We'll see how good Jagz can coach this year.
Nick (Gainesville, FL)
I saw that Steve Spurrier is the face of Florida football. If Tim Tebow wins another Heisman and/or another national title, do you think he supplants Spurrier as the face of the program?
Heather Dinich
(3:26 PM)
Nick, seriously. No. And he's not gonna win the Heisman again.
Newman (USPS)
You are a IUP grad. oooh, I'm sorry. So you don't like Penn State because you couldn't get in?
Heather Dinich
(3:27 PM)
No, I couldn't get into Northwestern. Thanks for reminding me I suck at math.
scott (miami)
how many wins do you see miami getting
Heather Dinich
(3:28 PM)
Just enough to get to a mediocre bowl.
John (Boston)
Nice breakdown, thanks!
Heather Dinich
(3:28 PM)
I try.
Diego ((Chicago))
Will Michigan challenge Ohio State in the big ten this year?
Heather Dinich
(3:29 PM)
Challenge? Sure. Win? Nope.
Paul (Akron)
Haha, a little harsh, Newman, but made me laugh. Is Missouri the best in the Big 12 or is it the same old story with OU and TX?
Heather Dinich
(3:32 PM)
I think five teams - starting with Missouri - have legit chances at the conference title. Missouri has Daniel and Maclin, though, and I think that might give them the preseason edge.
Michael (Pittsburgh)
Does Maryland have any chance to be anything other than mediocre under Friedgen? I can't help but think that the Orange Bowl appearance was an abberation. WVU and the rest of the ACC has lapped us. Rough time to be a Terps fan...
Heather Dinich
(3:33 PM)
I think the Terps should be one of the better teams in the league this year, Michael. I like Chris Turner, and their defense. James Franklin was a good hire. Plus, the rest of the league (Clemson and Wake aside) isn't all that threatening.
Christian (El Dorado)
Do you think Texas Tech will make a run for the National Championship this year or atleast a BCS Bowl
Heather Dinich
(3:34 PM)
A BCS bowl, yes. I saw them play last year in the Gator and was impressed. Crabtree is great.
Glen, Pensacola, Florida
Heather....SEC East...Gators or Dawg? Chomp!
Heather Dinich
(3:35 PM)
I'm going with Georgia.
Matt (Grand Rapids)
Which team will beat Ohio State in the National Championship game this year?
Heather Dinich
(3:36 PM)
Georgia. Maybe.
Kellen (Boston)
Hate to break it to you, Heather, but OU owns the Big XII (and Missouri). Reference: Results from 2000-2008.
Heather Dinich
(3:37 PM)
Hmm. And how will OU recover from that second straight Fiesta Bowl loss?
Scott (Indy)
Boiler UP! We've had a few good years in Boiler country! Do you see Tiller going out with A. A Bang (better than usual) B. The Usual (around 8 wins and second tier bowl) or C. A Whimper (no bowl and early retirement)?
Heather Dinich
(3:39 PM)
I'd say B., the usual.
John (Lawrence)
I call it now. Kansas upsets Mizzou.
Heather Dinich
(3:40 PM)
You heard it here first, folks.
Kyle (South Bend)
How bout Notre Dame? Can Claussen pull it together this year, I can't bear to watch another stinker of a season again!
Heather Dinich
(3:41 PM)
Who can? Awful.
Ryan (Pittsburgh)
Does Coach Wanny finally get over the hump this year thanks to the amazing Shady McCoy and yet another stellar recruiting class?
Heather Dinich
(3:42 PM)
I think he should, yes.
J.B. (Dunmore, PA)
I can actually watch ND play poorly year after year with a smile on my face. NBC has to be counting the days until they can get out of that contract.
Heather Dinich
(3:44 PM)
Actually, J.B., NBC just renewed its contract through 2015.
Scott (Indy)
How can Joe Tiller and his run of success not be the face of Purdue? And does he go out with a bang or a whimper this year?
Heather Dinich
(3:46 PM)
Wow, finally a question about the Faces. Thanks. Obviously we went with Keyes, but if you're going to make an argument for somebody different, I'd go with Brees.
Cullen (Texas)
All this hype about the Big 12 North, South is still by far the better half.
Steiny (NYC)
Do you expect Hunter Cantwell to have a good season?
Heather Dinich
(3:51 PM)
Yes, he had a good spring game, and last I checked, Mel Kiper had him as the top-rated qb in the 2009 draft. I'll trust Mel on this one.
Dan (Albany)
Who's the face of Kansas football?
Heather Dinich
(3:51 PM)
Dude, click and find out.
Ben (Atlanta)
Being in Maryland, you've seen a lot of Paul Johnson. Why are people so quick to dismiss him and the Jackets in the ACC Coastal?
Heather Dinich
(3:52 PM)
I don't think people are, I just think it's going to be a transition year. There were a lot of fumbles this spring. Not to mention a lot of transfers. Overall, I think that staff got an upgrade.
Ted (North Carolina)
Why wasn't Steve Logan chosen for ECU on the faces of the program?
Heather Dinich
(3:54 PM)
Well, the best qb in school history is certainly a legit pick, but if you look at what you (as in the fans) voted, Logan didn't win there, either. No doubt he's a heckuvua coach, though. None of these (well, few of them) were easy picks.
Andrew (Lansing)
What do you expect for Michigan State this year?
Heather Dinich
(3:56 PM)
Eh. They need a playmaker and Ringer needs to stay healthy. I'm guessing lower half of the Big 10.
James (Hilton Head)
I was surprised to see that you thought Miami would barely get a bowl w/ an offense that returns 9 and the new offensive coordinator Patrick Nix from GT?
Heather Dinich
(3:58 PM)
Sorry, I'm just not convinced. Inexperienced QB. Lotta young guys with high expectations. No doubt there's talent on the roster, just not sure how quickly it will translate into Saturday wins. The hire I like there is Bill Young.
Heather Dinich
(4:00 PM)
Alright guys, my time is up. Thanks for helping me get my off-season football fix in. Lata.