Chat with actor John C. McGinley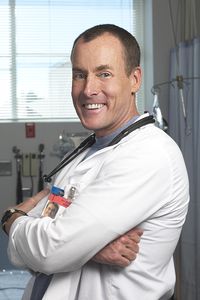 Scrubs' Dr. Cox will be the grand marshall for NASCAR's Allstate 400 at the Brickyard on Sunday.
Welcome to The Show! On Tuesday, we'll be joined by a special guest when actor John C. McGinley stops by.
McGinley plays the sarcastic Dr. Perry Cox in the comedy TV series "Scrubs." He will serve as the Grand Marshal of NASCAR's Allstate 400 at the Brickyard race (Sunday, 1 p.m. ET, ESPN). His duties as Grand Marshal include waving the green flag at the start of the race at Indianapolis Motor Speedway in front of more than 200,000 fans. The race will be the first attended by McGinley. The race celebrates its 15th year, with Allstate in its fourth year as the sponsor.
McGinley is best known for his work on Scrubs, which enters its eighth season this fall and makes a switch from NBC to ABC. He has also appeared in several movies, including "Platoon," "Wild Hogs," "The Rock," "Nothing to Lose," "Seven," "Office Space" and "Point Break."
He is also a big sports fan, with his favorite team being the Detroit Red Wings. He can often be seen wearing a Chris Chelios jersey on Scrubs. McGinley and Chelios are good friends and neighbors in Malibu, Calif. and are members of the "Malibu Mob" - a group of friends and neighbors that live in the area. The group includes surfer Laird Hamilton, ex-tennis star John McEnroe, Tony Danza and John Cusack, among others. The "Mob" makes its way to local arenas to see Chelios in action when the Red Wings are playing in California.
Send in your questions now and then join McGinley at 5 p.m. ET on Tuesday!
MORE
Previous chat guests | SportsNation index
Buzzmaster
(4:58 PM)
John is just minutes away! Send in your questions NOW!
Buzzmaster
(5:05 PM)
We've got him!
Zach Rastall (Marinette, WI)
Welcome to Sportsnation John! You may be the most anticipated guest in the history of Sportsnation. How does it feel to be the Grand Marshall at the Allstate 400 at the Brickyard.
John C. McGinley
(5:06 PM)
I've been equating it to throwing out the first pitch at Yankee Stadium. You only have a chance to do this one time. It's one of the greatest sport venues on the planet.
Jake (Indy)
Will this be your first time at the brickyard?
John C. McGinley
(5:07 PM)
Yes, it will be my first time at a NASCAR event. To go as Grand Marshall is a heckuva way to be introduced to the sport.
Huge Scrubs fan (Miami, FL)
Hey John, I am a HUGE fan of yours and of Scrubs. Would it be at all possible for you to call me a girl's name and go off on a rant on me like Dr. Cox does?
John C. McGinley
(5:08 PM)
No, unless they write them down, I can't do them. Not when I'm in Grand Marshall mode. Grand Marshall's don't have rants, they have flags.
Mike, Ohio
What led to you becoming the Grand Marshall for the Brickyard race?
John C. McGinley
(5:08 PM)
The folks at Allstate contacted me. We put the dates together, so I could have this day away from Scrubs to go on this tour. We just had to get travel for this weekend. I worked it out with my family. Everything's been smooth and pain free.
Matt
Office Space has become a certified classic. Does this surprise you?
John C. McGinley
(5:10 PM)
Yes, it did. Because I went to the opening night screening for cast and crew. I thought the game was hilarious. A vast majority of the film, I hadn't seen, because I had a small part. As I was watching it, it was laugh out loud. When it went to the theaters, it tanked. Then to have my sensibilities vindicated by the film gaining some traction over the last 10 years or so, has been wonderful.
Drew (Lexngton, KY)
Have you ever met Hugh Jackman before? Is he aware of his reputation on Scrubs?
John C. McGinley
(5:11 PM)
I don't know. Hugh is a great actor. The creators of Scrubs seems to have a man-jealousy. The genesis of Cox having a problem with him is from the creator. It's a triple threat, he sings, dances and is a stud.
Kevin (Germantown, WI)
John, is the best part of working on "Scrubs" getting to call Braff girls names, constantly?
John C. McGinley
(5:12 PM)
The best part is getting to work with him and having someone with the ability to hit the ball back to you and be consistent over the years. The hardest part is being consistent over eight years. The best part is just getting to play with that ensemble.
Michael (Houma, Louisiana)
What up, John? How long does it take you to memorize your lines when the script calls for one of your diatribes? By the way, you're awesome.
John C. McGinley
(5:12 PM)
It depends. It's situational specific. If I have it over the weekend, I get to marinate it. Sometimes I get it on Monday and I have 45 minutes to get it into my noodle.
Derek (Cleveland)
Are you excited for the move to ABC? I'm just happy that the last episode on NBC isn't the last episode period. Keep up the good work!
John C. McGinley
(5:13 PM)
Yeah. In no small part because we had a guest star Courtney Cox that will be on. It will give something for ABC to spin and give it the fresh takes that Courtney brought.
Derek (p'burgh)
What is the origin of your Malibu Mob? Are you a founding member?
John C. McGinley
(5:14 PM)
Chris Chelios is the defenseman on the Detroit Red Wings. He's the godfather. Yes, I am one of the founding members. It doesn't expand much. There's not a lot of new entries. I would say Kid Rock is the latest entry.
Preston (Oklahoma )
Who is your favorite NASCAR Sprint Cup driver?
John C. McGinley
(5:15 PM)
I'm loving watching Kasey Kahne and Sadler. I'm pulling for those guys this weekend. I was a Rusty Wallace fan, but that's old school.
Rob (Boston)
Would you punch Cusack in the face for me? The way my girlfriend obsesses over his movies and constantly compares me to his characters...I'm really beginning to hate him.
John C. McGinley
(5:16 PM)
Sounds like a good problem to have, if you're being compared to Johnny, you're running in good company. but as far as taking him out, that's not going to happen.
Ryan (Crystal City)
Did you ever get a chance to drink from Lord Stanley's Cup?
John C. McGinley
(5:16 PM)
I did when Chelly brought it out here 4-5 years ago, but he didn't bring it out here this year.
Jeff (Iowa)
How difficult was your role in Platoon? It looks like from a physical and mental standpoint, it had to be pretty taxing on the cast.
John C. McGinley
(5:17 PM)
It was pretty incredible. They put us through a boot camp for 2-3 weeks. The whole thing paid off when the film was done, but that was the hardest film I've ever been on.
Nick (Indianapolis)
What's your favorite Scrubs episode of all-time?
John C. McGinley
(5:18 PM)
I have a couple. I like the one where Brandon Fraiser did one where his character passed. Then one organ donor came in and died and we harvested that patients organs to three different patients. Then it turned out that the organ donor had rabies and those patients died. Then the musical was special.
JK (CR Iowa)
Mr. McGinley ? you are great as Dr. Cox but I hope that people know that you were a very accomplished actor prior to Scrubs; for example, you were brilliant in Platoon. Do your sports interests extend beyond hockey? My Chicago Cubs could use all the positive vibes they could get. I would get a Cubs shirt to you if you?d wear it on the show?.
John C. McGinley
(5:19 PM)
I would say my favorite thing to do is stand up paddle surfing. I'm an avid jump roper and I have a 6 month old that I haul around.
John C. McGinley
(5:19 PM)
Without you guys, Scrubs doesn't exist. Thanks.
Buzzmaster
(5:24 PM)
Thanks John!