Chat with Nate Robinson, Joakim Noah, Ron Artest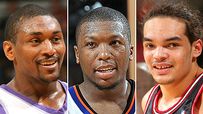 Can an Average Joe and his two buddies defeat Ron Artest and two other NBA stars in a Wii game of 3-on-3?
Welcome to The Show! On Friday, we'll have three NBA players stopping by for a special chat, thanks to
ESPN MobileTV
.
Nate Robinson of the New York Knicks, Joakim Noah of the Chicago Bulls and Ron Artest of the Sacramento Kings will all be chatting. The trio will be at ESPN in Bristol, Conn. Friday to play a game of Wii 3-on-3 with the winner of the ESPN MobileTV sweepstakes. The winner of the sweepstakes and two friends will be flown to Bristol to play against the NBA stars.
Last season, Artest averaged 20.5 points per game, the highest total of his career when he's played a full season. He was a bright spot for a Kings team that finished 38-44 and in fourth place in the Pacific Division.
In his third year in the league, Robinson set several career highs. He increased his scoring for the third straight year, finishing at 12.7 ppg. He also averaged 3.1 rebounds and 2.9 assists per game.
In his rookie year, Noah started about half the games in which he played. He averaged 6.6 points and 5.6 rebounds per game.
Send in your questions now and then join Robinson, Noah and Artest at 1:30 p.m. ET on Friday!