Chat with Oakland Raiders DB John Bowie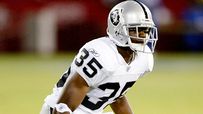 Bowie chats football with SN on Friday.
Welcome to The Show! On Friday, Oakland Raiders CB John Bowie will stop by to chat about the Raiders and the NFL.
Bowie is entering his second year in the NFL, and will look to contribute to an impressive Raiders secondary, which includes Nnamdi Asomugha at corner, as well as new additions DeAngelo Hall and Gibril Wilson.
Bowie played football at Cincinnati and was drafted in the fourth round by the Raiders in the 2007 NFL Draft.
Send your questions now and join John in The Show Friday at 4 p.m. ET.
And don't forget to check out ESPN.com's Camp Confidential on the young Raiders!

MORE
Other chat guests | SportsNation home page
John Bowie
(4:03 PM)
Hey what's up everyone? I hope you are ready for the game tonight.
Josh (Houston,Tx)
Whos your favorite teammate?
John Bowie
(4:03 PM)
Johnny Lee Higgins, we both were drafted in the same class and we have a very good time hanging out together.
Lyla
What was your favorite football team growing up?
John Bowie
(4:04 PM)
It was actually the Raiders. I was a Bo Jackson fan. So I have always been a fan.
Allen Walker (Oakland, Ca)
Today's a big day! What's the energy like?
John Bowie
(4:04 PM)
Everyone is very excited. We have been in camp for a few weeks, so everyone is ready to go out and show the coaches what they can do.
Austin (Cape Girardeau, MO)
Have you been able to pick off any of JaMarcus's throws so far during training camp?
John Bowie
(4:05 PM)
No, he has been pretty good with ball security in camp. I have 2 INTs, but none on him.
Clint (Georgia)
Who is the funniest guy on the team?>
John Bowie
(4:06 PM)
It would be Sands. He is a big jockster. He is a big guy and always playing a practical joke.
Allen Walker
Let's say you bingo one and are looking 40 yards of open field... Do we get some high stepping crackin'?
John Bowie
(4:07 PM)
Of course. You have to do it. You have to showcase a little bit.
Chris (Oakland)
What are your goals for the season?
John Bowie
(4:07 PM)
My goals are to develop into a great player. I really want to work on my technique and get on the field a lot.
Mitch (LA)
Are you hoping to contribute on special teams this year? Is that something you will look at doing?
John Bowie
(4:08 PM)
Yes, that is the plan to contribute on special teams and the defensive backfield as much as possible.
Brad (Gadsden,Alabama)
John, Do you have any pre-game rituals?
John Bowie
(4:09 PM)
Not really. I pray before every game and get myself mentally focused. That is all I really do.
Stephen (Oakland)
Do you play Madden???
John Bowie
(4:09 PM)
Yes I do.
Steven Lang (Las Vegas, NV)
Are you confident that the Raiders will have a winning season this year?
John Bowie
(4:09 PM)
Yes I am very confident. We have been working very hard and hopefuly that work will pay off.
Jimmie Stallings (Louisville, Ky)
Whats up with Michael Bush? Health? status? watched him all threw his career here. i KNOW what a beast he can be.
John Bowie
(4:10 PM)
I played against him in college and he was a beast then. And seeing him now, after the injury, he is still a beast. He is having a very good camp.
gail (Georgia)
I know the defense will be on point this year. How do you think the offense will do? How about Darren?
John Bowie
(4:11 PM)
Darren is looking very explosive. It is going to be very exciting to watch that offense this season.
Josh (Duluth,MN)
What's your team on Madden?
John Bowie
(4:11 PM)
I have been playing with the Raiders and the Bengals a lot. 50-50 on that.
Brian (Cincinnati)
J-Bow! What up man! How will we do this year (Cincy)?
John Bowie
(4:12 PM)
Cincy will do very well. While I was home I went to watch them workout and I think the Bearcats are going to have a very good season.
Manuel V(Tulare, California)
How good are the Raiders compared to last year?
John Bowie
(4:13 PM)
We are a lot better. No knock against last year;s team, but we are buying into the system and geling as a group.
SprungOnSports (Long Island)
Explain to us why the Raiders defense should be feared this season?
John Bowie
(4:14 PM)
Because we have the top group of defensive backs, and some of the top players in the front seven and we play very hard. As long as we stick together we should be able to stop anybody.
John Bowie
(4:15 PM)
Thank you very much! Cheer us on tonight as we go out and battle the 49ers and throughtout the season!