Chat with Washington Capitals owner Ted Leonsis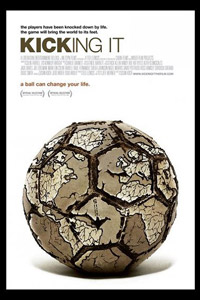 Kicking It airs Sept. 9 on ESPN2 at 9 p.m. ET and on Sept. 10 at 10 p.m. ET.
Welcome to The Show! On Thursday, Washington Capitals owner Ted Leonsis will stop by to chat about the release of his new documentary "
Kicking It
."
The film tells the story of seven athletes as they push to play in the Homeless World Cup. With the rest of the world focused on the 2006 World Cup, 500 homeless players from 48 nations ultimately represented their country in Cape Town, South Africa to play in the Homeless World Cup.
Leonsis was a long-time AOL executive, before retiring in 2006. He is the founder and chairman of the company Lincoln Holdings LLC, which owns the Washington Capitals and Washington Mystics. He also writes his own blog.
He entered into film making in 2007 when he produced Nanking and it premiered at the Sundance Film Festival.
Send in your questions now and join Leonsis at 2 p.m. ET on Thursday!
MORE
Previous chat guests | SportsNation index
Buzzmaster
(2:02 PM)
We've got Ted!
Ted Leonsis
(2:04 PM)
Hi everyone, I'm here at the Kettler Capitals Iceplex getting ready for the new season and I wanted to talk about anything that's on your mind. And in exchange, you'll let me talk about our new film called "Kicking It" which shows on ESPN2 on Sept. 9 at 9 p.m.
Bryan: Morgantown, WV
This film looks amazingly interesting! The combination of the world's game and the world's problem (also coupled with hunger) will hopefully draw more people into helping or gathering more awareness. With more opinionated angles of blogs and documentaries, I was curious to what your honest opinions on battling homelessness are?
Ted Leonsis
(2:07 PM)
Thank you. There are one billion people in the world that are homeless. There are also a billion people that follow the game of soccer. So this film focuses on how a ball can change someone's life. When you see the movie, you'll learn about the many reasons for homelessness on a country-by-country basis. But you'll see that a charity called the Homeless World Cup could bring people together and through teamwork and competition, get these folks back into the mainstream.
Ted Leonsis
(2:07 PM)
In fact, 77 percent of all participants after these competitions end up going to school or being employed or moving back in with their families.
bill (ga)
what got you into film making?
Ted Leonsis
(2:10 PM)
I never had an ambition to be a film maker. I believe that serendipity led me to this field and to a new category of film called filmanthropy. Film can be used to inform and entertain but it also can shine a light on a very tough subject and also help activate volunteerism and even charitable giving. This film "Kicking It" along with my other film called "Nanking" are good examples of high quality films, but I hope they're movies that really matter.
Ted Leonsis
(2:11 PM)
And as someone who loves sports, "Kicking It" is a movie that focuses on the "good" around competition and team work not on the headlines like steroids or dogfighting or any other lead news item we see these days.
Ted Leonsis
(2:12 PM)
There's a higher calling in sports and competition and this film really gets to that and you feel the sheer joy and transformative powers of competition and, yes, even winning.
Tim (TeamT, IRC)
Ted - congratulations on the mlvie, but I must ask a question regarding the Caps. Is there anything new and exciting this year that you plan to do for fans (not STH events) that go above and beyond last year. Follow up: what are you expecting in terms out output this year on the ice.
Ted Leonsis
(2:13 PM)
I'd like to win a Stanley Cup. I think we're at the point now where our franchise will rely on two simple things for success: I promised we would build a team that could be very good for a long, long time and could compete and win a Stanley Cup. I believe that our team has now reached the point where we can have expectations where we can be one of the best teams in the league and we can honestly compete for a Stanley Cup.
Ted Leonsis
(2:14 PM)
I also want us to be a team that works the hardest, is the most honest in their dealings and is the most interactive with their fans. You should friend me on Facebook. You should e-mail me at washingtoncaps@aol.com or read my owners corners or come hang out with me at the arena, because I sincerely believe that if we are connected with our fans and we have a great product on the ice, we'll have very happy fans and they'll believe in the players and the organization.
Ben (VA)
what do you enjoy more...being the owner of the Caps or making movies like this? or is it two completely different things for you?
Ted Leonsis
(2:17 PM)
I have many interests but I never want to be a dilletant. To own a sports team is a major civic responsibility and I am passionately committed to our team and my partners and most importantly our fans. However, winning a championship in sports is, I believe, the hardest thing to do in business. You must have talent, plus chemistry; you must have health; you must have luck; you must have officiating go your way; and you must beat 29 other people as focused and as committed to winning as you are.
Ted Leonsis
(2:20 PM)
As an owner, you do as much as you can, but you can't score a goal or stop a goal or hit a 3-point shot or block someone's shot. To a hands-on person, like myself, that can be very frustrating. In film making, on the other hand, you can conceive of the idea, put the team together, make the film, get a great partner like ESPN to show it and it has a beginning, middle and an end. If you like the film, you usually give kudos to the director and the producer. The buck stops with us and that's what I liked about film making. It's over, you make the film and it's over. With sports, you compete every day, every game, every season, year after year, after year.
Ted Leonsis
(2:20 PM)
I'm bless and lucky to be able to do things that I both love and enjoy.
Oscar, Woodbridge VA
Ted, will the Caps retire Peter Bondra's jersey anytime soon? He certainly deserves the kudos.
Ted Leonsis
(2:22 PM)
As you may have heard, we decided to retire Mike Gartner's jersey and number next season. He was a long-term great player for the Capitals and is now in the Hockey Hall of Fame. Retiring numbers is a very difficult process, especially for a team like the Capitals who have never won a Stanley Cup. We need to be thoughtful on whose numbers we retire and why and when.
Ted Leonsis
(2:23 PM)
Certainly Peter Bondra is one of the all-time greats in our team. He is also a great man and I consider him a personal friend.
Ted Leonsis
(2:23 PM)
When the time is right, I am sure things will work out the right way and Peter Bondra will have his day, but he just retired last season so we all need to give this some time.
Ted Leonsis
(2:24 PM)
Susan Koch, the director of "Kicking It," and I hope you will tune in a watch the film and tell us what you think. Some critics have called the film Rocky meets the Fisher King. I am very proud of this piece of work and I hope you will enjoy the film and along with me, thank ESPN for showing it to its worldwide audience.