Chat with De La Salle High's Justin Alumbaugh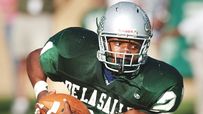 The NFL's Maurice Jones-Drew starred at De La Salle from 1999-2003.
Welcome to The Show! On Friday, De La Salle (Concord, Calif.) High School assistant football coach Justin Alumbaugh will stop by to chat about his team's matchup with Don Bosco Prep (Ramsey, N.J.) on Saturday.
De La Salle (2-0), ranked No. 6 in the ESPN RISE FAB 50, hosts the No. 28 team Don Bosco Prep (1-1). Kickoff is scheduled for 10:30 p.m. ET/7:30 p.m. PT and will be aired on ESPNU.
Alumbaugh is a graduate of De La Salle and, in addition to his duties as an assistant football coach, also serves as an English teacher. He was played at De La Salle during the school's 151-game winning streak that went from 1992-2005. Alumbaugh graduated from UCLA.
Send your questions now for Alumbaugh and join the chat on Friday at 3 p.m. ET!