Chat with De La Salle High's Justin Alumbaugh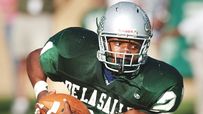 The NFL's Maurice Jones-Drew starred at De La Salle from 1999-2003.
Welcome to The Show! On Friday, De La Salle (Concord, Calif.) High School assistant football coach Justin Alumbaugh will stop by to chat about his team's matchup with Don Bosco Prep (Ramsey, N.J.) on Saturday.
De La Salle (2-0), ranked No. 6 in the ESPN RISE FAB 50, hosts the No. 28 team Don Bosco Prep (1-1). Kickoff is scheduled for 10:30 p.m. ET/7:30 p.m. PT and will be aired on ESPNU.
Alumbaugh is a graduate of De La Salle and, in addition to his duties as an assistant football coach, also serves as an English teacher. He was played at De La Salle during the school's 151-game winning streak that went from 1992-2005. Alumbaugh graduated from UCLA.
Send your questions now for Alumbaugh and join the chat on Friday at 3 p.m. ET!
MORE
Previous chat guests | SportsNation index
Buzzmaster
(2:57 PM)
Hey folks, coach Alumbaugh will be here soon!
Justin Alumbaugh
(3:01 PM)
Hey everyone, thanks for joining me. Let's get started!
Jeremy (Bristol, CT)
What was The Streak like and how much pressure did your guys feel each week? How did you deal with it?
Justin Alumbaugh
(3:03 PM)
The streak lasted for about 13 years, so there was a lot of pressure when we were breaking the national win streak record, but after that a lot oif it died down. Not to say that it all disappeared, but when we focused on things from a day to day basis it took a lot of the pressure off.
Brent
How do you get the team ready for playing on TV? Is it a distraction at all?
Justin Alumbaugh
(3:04 PM)
It is only a distraction if you make it one. We let the kids know we will be on TV, but you make them focus on the minute details of the game. They will only notice the TV when they first walk on the field and then once the first snap goes off all the distractions disappear.
Santa Ana, CA
Do you have any advice for young coaches? What is it like coaching for your old team?
Justin Alumbaugh
(3:06 PM)
Advice would be to focus on the young man instead of the football player. These are impressionable young men and often times I think young cochaces focus on just football and that may cause you to lose a kid when that happens. They may end up feeling used. As far coaching the old team, it is a little weird at times, but it helps me relate because I have been there before. I think I can understand my players' feelings since I have been at this school and been there myself.
Cleveland, Ohio
Why do they call you Butter?
Justin Alumbaugh
(3:07 PM)
Back in my football days, I was about 45-50 lbs heavier!
Becky Smith
With such a difficult schedule to begin the season, do you worry about a let down when you face cross-town, powerhouse Monte Vista later in the season?
Justin Alumbaugh
(3:09 PM)
No we won't worry about a let down. They are one of the best teams in the area and can match up with all the powerhouse teams. They are a great team and we are going into a new league where they are putting up some grat numbers. But that is in the future and we need to focus on right now.
Peter (Danville, CA)
DLS's O-Line, historically, has been undersized but extremely successful. Being undersized yourself, what makes your offensive line so successful?
Justin Alumbaugh
(3:11 PM)
With our O-line we are commonly undersiezed, but we are very strong. The key is a good offseason program. A lot of times we are stronger than other teams we play; and being small it also allows us to be very quick off the ball, which is critical to our offensive system.
Concord, CA
Have you ever considered putting a hit on Coach Lad so that you can take over?
Justin Alumbaugh
(3:12 PM)
No, definitely not! That is a mentor and a great friend! He has helped me too much to think about that.
John (Queens)
Who was the best high school football player you've coached and who was the best you had to coach against?
Justin Alumbaugh
(3:14 PM)
The best I coached is Kevin Simmon who played ILB and RB and who went on to play at Tennessee. He had a lot of physical attributes but was also a great leader. Best player we had to play against, well Matt Leinart threw for about 450 yards against us, so that was difficult. He ranked up there as well as the QB Scott from last season, who could pass and run.
Enefiok from Los Angeles
Does your team have any pregame rituals that help get all the players pumped up for the game?
Justin Alumbaugh
(3:16 PM)
To get our players pumped no, but we do things to keep them focused. We go through commitment cards the night before the game, where players list their goals for the game and the coming practice week and commits it to another player. It holds them accoutable to another teammate and it really keeps them focused. It promotes unity among the team. Whoever gets the commitment card is supposed to keep an eye on that players and make sure he is keeping to those stated goals.
John (Queens)
When you see a guy like Leinart or Maurice Jones-Drew, do you just know they're going to be good?
Justin Alumbaugh
(3:18 PM)
When it comes to an elite athlete, with most of them, you can tell from a pretty early age that they are going to be special. I remember watching Leinart warm up as a sophomore and saying to myself "that kid is going to be dangerous" and then he put up huge numbers against us a year later.
Justin Alumbaugh
(3:19 PM)
Thanks for being here, wish us luck on Saturday night!