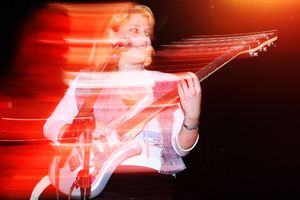 That's not a trick. She really plays that fast.
Welcome to The Show! On Monday, we continue our tour of the music world with a visit from
Marnie Stern
who will stop by to chat about her love of cheesy sports movies, her new album and much more!
Stern is in the middle of touring for This Is It and I Am It and You Are It and So Is That and He Is It and She Is It and It Is It and That Is That which has received rave reviews. The third track on the album is titled "Shea Stadium" and is a blistering example of her virtuoso guitar prowess. As she told Spinner.com, "I try to make [my music] as anthemic as possible and as uplifting as possible. I had been watching a lot of baseball movies like 'The Natural,' and I started picturing Shea Stadium. It evokes the feeling of an actual game."
When Stern chats on Monday, she will have also just completed her Kissing Booth adventure in San Francisco and Los Angeles. Need more details? You'll have to ask!
Send your questions now and join the live chat on Monday, Nov. 17 at 3 p.m. ET!
More: Check out previous music chats with Hold Steady's Craig Finn, Beastie Boy Adam Yauch, Duff McKagan and more!
Buzzmaster
(2:52 PM)
Marnie will be here soon!
Bjorn (Not Sweden)
What's your favorite cheesy sports movie?
Marnie Stern
(3:02 PM)
I do not think they are cheesy, I think they are all good. I love them all. Rudy is one. Who doesn't cry when they see Rudy?
Karl (Minnesota)
What did you want to do with this second album? Not to sound like a tool, but what was the inspiration for it?
Marnie Stern
(3:03 PM)
I wanted to make it as anthemic as possible and I wanted to focus on the songs as much as possible.
Leila (Burlington, Vermont)
Are you sad to see Shea Stadium get shutdown?
Marnie Stern
(3:04 PM)
Yeah, but maybe the new one will be bigger and better!
Zach (LI)
That's awesome that you are perfoming at Daniel St. Cafe in CT...I'll see ya there.
Marnie Stern
(3:04 PM)
Great, cannot wait!
Ike (New York)
What bands do you love to listen to?
Marnie Stern
(3:05 PM)
Ponytail, Krallice, U.S. Maple, Lighting Bolt, Miracle Condition, Zach Hill
John (Danville, KY)
Do you have any advice for learning the guitar?
Marnie Stern
(3:06 PM)
Yeah, do not stop when you get frustrated, just keep working at it. Do not try to learn other people's songs. And remember that it is fun even if you get frustrated.
J.B. (Dunmore, PA)
You'll really miss Shea? I didn't think anyone would miss Shea. It's a dump.
Marnie Stern
(3:07 PM)
It's nostalgic. I grew up in New York. It is from my childhood. I went to the Mets World Series in 1986.
Mike (Ohio)
If you were truly picturing Shea Stadium, wouldn't that lend itself to more of a fuzzy, overdrive, Iggy and The Stooges type guitar sound?
Marnie Stern
(3:08 PM)
Are you saying that because it was not nice? It would, if my tendency was to sound fuzzed out and overdrive like Iggy and the Stooges.
Ollie (Penn)
When did you start playing the guitar? Any reason why you chose it?
Marnie Stern
(3:09 PM)
I started seriously playing at the age of 21, and there was no real reson I can think of. It was just something I wanted to do.
Mitch (Denver)
Will there be more kissing booths?!
Marnie Stern
(3:09 PM)
If there are any takers, there will be.
John (Danville, KY)
If I shouldn't try to learn other people's songs, what do I practice?
Marnie Stern
(3:10 PM)
Okay you listen to the stuff you like and you get the sense for what you think it is like and then try to develop your own style. Of course start with basic chords, but then try to get as inventive as possible.
Matt
Ok, I'm unfamiliar with who you are but promise to check out the music. My question is, what in the heck was the inspiration behind the album title? Very clever.
Marnie Stern
(3:12 PM)
It was an Alan Watts quote. And I like philosophy and thinking about those kinds of ideas, and the drummer, Zach Hill, came up with the title and I liked it.
Peter
How did the Kissing Booth at your show work out? You got guts.
Marnie Stern
(3:14 PM)
Well if someone had paid 100 bucks for tongue, they would have had guts...and I would have as well. We had a lot of 10 dollar smooches. Not as many takers as I would have wanted, but it went pretty well.
Mike
Who are your heros?
Marnie Stern
(3:16 PM)
Abraham Lincoln, Mick Barr, Sylvia Plath, Yoko Ono, my best friend Bella Foster.
Marnie Stern
(3:17 PM)
Thanks everyone for asking me questions. It has been fun!