Chat with AMI's Dr. Aaron Perlut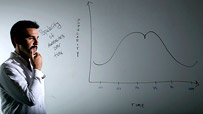 Dr. Aaron Perlut runs the American Mustache Institute.
Welcome to The Show! On Wednesday, Dr. Aaron Perlut of the
American Mustache Institute
(AMI), who blogs on the NBA and other sports ridicularity for
JoeSportsFan.com
, will stop by to talk about a variety of hairy topics.
A proud wearer of the labia sebucula (Latin for "lip sweater") since age seven, Dr. Perlut has fought bravely throughout his distinguished career on behalf of people of Mustached American descent. He has appeared on ESPN's First Take to discuss the benefits of lip curtains in sports, and this Sept. 4 chat was voted one of ESPN.com's Best Chats of 2008.
His position paper on moving the Super Bowl to Saturday is on file with the Smurfs, in the U.S. Library of Congress, and is expected to stir up controversy in the executive bathrooms of the NFL league offices. In the NBA, he's a diehard (Wizards)Bullets fan, has enjoyed watching some of the chemistry explosions across the league, and dreams of seeing Baron Davis' beard explode during a game.
If anything, Dr. Perlut is a man of the people, which is why in December AMI began offering the Mustached American Discount Card to help the Mustached American community during these lean economic times.
Send in your questions now and join Perlut at noon ET on Wednesday!
MORE
Previous chat guests | SportsNation index
Dr. Aaron Perlut
(12:06 PM)
Sorry I'm a moment late. Time zone thing. You should all be grateful you have me to chat with. Let's talk NBA, mustaches, bacon (the mustache of meat) and whatever you'd like.
Rob (Ohio)
Dr. Perlut, I just wanted to thank you for your sound and accurate advice. After your last chat I decided to join the world of the mustachioed and life has never been better. My salary increased, my girlfriend has never been happier, and my career as an anchorman is back on track. Carry on.
Dr. Aaron Perlut
(12:07 PM)
Clearly, Rob, the mustached American people are better for having you amongst our community. Carry on
Scrappy Gaffney (Mexico, MO)
Dr. Perlut - Long time reader first time poster here... You seem fairly knowledgeable on the NBA and I've read on one of your columns that you ball a little yourself. Who's playing style and who's personality (two questions) are most similar to your own?
Dr. Aaron Perlut
(12:08 PM)
Thank you Scraps. I'm kind of a big deal. You can read my most recent piece here (http://www.joesportsfan.com/column.php?postid=5166). I'd say I'm a giver in the Magic Johnson sense in that I'd rather pass first but can score if need be and can't play a lick of defense.
Mike(Charlotte)
Will you be reaching out to Mark Teixeira to keep up the Yankee tradition of 1B with lip sweaters?
Dr. Aaron Perlut
(12:09 PM)
I'm thinking Teixeira is a lost cause. He's got that metrosexual, I'm gonna buy a cat and listen to Dave Navarro feel to me.
Mark (NJ)
How much does your job pay?
Dr. Aaron Perlut
(12:09 PM)
About .12 cents hourly plus a car allowance ('67 El Camino)
dave (nj)
who in the blue hell r u?
Dr. Aaron Perlut
(12:10 PM)
Dave, Dave, Dave, Dave. It doesn't matter who I am. Just what I am. And that is the bravest human being on the face of God's green earth and really, really good lookin' to boot.
Jessie (Cleveland, Ohio)
Cavs, Lakers, or Celtics? Who is the most dangerous team right now and going on through the post season?
Dr. Aaron Perlut
(12:11 PM)
LeBron's antics seem to be growing by the day and I'm thinking the Cavs will implode. I am no Lakers fan but I like Odom as a 6th man to give greater depth to the bench. Kobe is dishing for a change. Chemistry seems solid. Lakers over Celtics in the championship.
Bobby, St. Louis MO
'Stache sensei: a question for you - I am of Irish-German descent and I have a hard time getting any upper lip action. Should I give up the fight or is there a length of time that I should try to hit before shaving? I'm new to the mustache world, so any advice would be great!
Dr. Aaron Perlut
(12:12 PM)
Bobert....if I may call you Bobert. You suffer from BULD. Bare Upper Lip Disorder. This impacts 1 in 17.89 men and women in the U.S. every day and can be dibilitating. Don't fear. Just support the Mustached American people and we'll love you right back.
Matt (Boston, MA)
Dr. Perlut, I would like to say that I am an ardent supporter of your work, and hope you could offer a little recognition for other supporters of the cause. For the past 4 years, I've attended the "'Stache Bash", an annual party at Rutgers University dedicated to the Mustachio'd Gentlemen hosted by several friends of mine. With mustaches grown for, occasionally, years in advance in anticipation of the party, we must know. What style of 'Stache do you most support?
Dr. Aaron Perlut
(12:13 PM)
Matt, I'm a wearer of the "horseshoe" style mustache. Much like the St. Louis Arch. And keep in mind the only real 'Stache Bash is the original run by the American Mustache Institute each Fall in St. Louis. But thanks for supporting people of mustached American descent.
Steiny (NYC)
What are your thoughts on the Lions going 0-16?
Dr. Aaron Perlut
(12:14 PM)
The Lions were built by a mustached American - Matt Millen - who let our people down. But I'm a man of redemption, and Matt is a good man (and for that matter, according to former NFL All-Pro Todd Steussie, so is Rod Marinelli). But there is some talent there and I expect them to win at least 2 - 3 games next year.....errrr
Mark (NJ)
Do you have this info rehearsed or do u just pull it out ur " you know what " on the fly?
Dr. Aaron Perlut
(12:15 PM)
on the fly my friend.
Kev (NYC)
So you just get paid to make terrible jokes?
Dr. Aaron Perlut
(12:15 PM)
Kev, I'm not for everyone - just like monkeys aren't for everyone (I love them). But I think you are kind of swell.
Jason (Pitt)
As a native Pittsburgher, I believe we have the highest concentration of mustaches per capita. Have you done any research in this department?
Dr. Aaron Perlut
(12:18 PM)
Jason, thanks for your note. We've done some extensive research on this subject and Green Bay, followed by Philadelphia, is the leader per capita but Pittsburgh ranks 3rd as of December 2008.
dave (nj)
espn has sunk to a new low a mustache expert pathetic
Dr. Aaron Perlut
(12:18 PM)
Dave, I'm sure you are a really big deal, love soccer - which sucks - and have an enriching life. Carry on.
Brandon (Minnesota)
Im 16 and all I can grow is a goatee, what can i do to grow a full out mustache?
Dr. Aaron Perlut
(12:20 PM)
We do not recognize the beard or goatee as an appropriate form of facial hair. They represent the "spousal compromise" or the half-way meeting point between the utter weakness of the clean shaven and the sheer, unbridled power of the mustached American. It's where your wife or girlfriend says, "you know honey, I can't deal with that bad-ass mustache but a beard or goatee...I can hack that."
Mark (NJ)
Is someone forcably shaving your 'stache considered a crime?
Dr. Aaron Perlut
(12:20 PM)
This is important so please pay attention. When the dead sea scrolls were discovered a few years back, we learned that each time a mustache is shaved, an angel in heaven dies and falls to earth. So that will be on your conscience if you choose to shave.
Corey (St. louis)
Did you enjoy the "Family Guy" Mustache episode, or did it offend you?
Dr. Aaron Perlut
(12:21 PM)
One of the best ever. That show is top notch. TOP NOTCH! I've got my jean shirt, my jean jacket, my jeans.....
Mark (NJ)
So.. do you dig chicks w/mustaches?
Dr. Aaron Perlut
(12:22 PM)
we have worked closely with the 1964 women's East German shotput team. They are one of the American Mustache Institute's strongest chapters, in fact.
Jake (Duluth)
How often do you trim your beard? Do you have like 12 day intervals?
Dr. Aaron Perlut
(12:23 PM)
Jake, see my previous comment on beard, but I trim my lip curtain about every two weeks using nothing but a sharpened pencil while thinking of Chuck Norris.
dave (nj)
soccer is not my game
Dr. Aaron Perlut
(12:24 PM)
Dave, me thinks it should be. Carry on.
Davis, Davenport
Dr. Perlut, what state or city ranks as having the most mustaches per capita? Should that state receive any sort of government funding because of it?
Dr. Aaron Perlut
(12:24 PM)
Double-D, we have extensive research on cities as mentioned previously, but not on state-by-state comparisons. If you'd like to take this project on, please contact us at 877-STACHE-1.
Ronaldo (MO)
In a recent video released by the AMI regarding your discount cards, I noticed you have chin coverage in the video. Can you explain this Mr. Mustache?
Dr. Aaron Perlut
(12:26 PM)
Firm but fair. It's actually research to confirm that chin coverage does promote weakness.....and it does.
Mark (NJ)
Do you consider the "mustache & glasses" disquise an insult?
Dr. Aaron Perlut
(12:26 PM)
Any attempt to further mustaches in American culture works for us. We are very open.
Chris (St Louis)
Who are your votes for best five moustaches of all time?
Dr. Aaron Perlut
(12:28 PM)
Let's stick to sports mustaches and here's 5 in no specific order: Al Hrabosky, Hulk Hogan, Rollie Fingers, Rod Beck, and Goose Gossage. :
Doug, St. Louis
To Mike and anyone else bagging on the bro Mr. Perlut, you should be ashamed. Picking on a mustached guy is like picking on a kid in a wheelchair. They can't help they've got a problem. Damn. So, Dr. Perlut, what can we expect from the mustache community in '09? And is Obama a positive influence on your people?
Dr. Aaron Perlut
(12:29 PM)
Thank you Doug. And yes, President Elect Obama has already nominated the 1st mustached American Attorney General in a century and had a key mustached American on his staff (Axelrod). Like us, he is a freedom fighter and we respect him a great deal.
Dennis Eckersley (TBS)
Where am I on your list?
Dr. Aaron Perlut
(12:30 PM)
Dennis, what I'd really like is for you to come clean about what you and Kyle Petty did about 20 years ago. I wrote about this at JoeSportsFan.com here (http://www.joesportsfan.com/column.php?postid=4563).
Matt (FL)
I wonder what Mort, Thorpe, Kiper & everyone else think of being grouped w/this so called mustache man.
Dr. Aaron Perlut
(12:30 PM)
Matt, I wondered the same thing when you were allowed in the chat room.
Ukulele Girl (YouTube)
Will you sleep with me? Or at least let me comb your mustache?
Dr. Aaron Perlut
(12:31 PM)
I'll need to ask my wife but you're clearly a credit to your people. Gents, check her out here (http://www.youtube.com/watch?v=euf9pyXCboE).
dave (nj)
not picking on anyone,i just dont think talking about mustaches is very entertaining.i would rather be chatting about the upcoming nfl playoff games or nba or other topics
Dr. Aaron Perlut
(12:32 PM)
Well Dave, I write about the NBA for JoeSportsFan.com so fire away. Thanks
Bearded Blake (STL)
So, as a happily bearded man, I appreciate many different types of facial hair. And I am intrigued by the fu man chu, but am a bit cloudy on what is the line that would separate a beard from a 'stache. If it connects, it's a beard? It seems a bit undefined to me. Shed some light for me.
Dr. Aaron Perlut
(12:33 PM)
Beards generally equate to weakness. I'd go with the Fu Man Chu, lose the chin coverage, and pray that God will forgive you for ever wearing a beard.
Joe (Huntsville,AL)
If Obama would grow a mustache, wouldn't the economy be fixed?
Dr. Aaron Perlut
(12:34 PM)
We've actually told the president-elect we'd like for him to grow a presidential lip sweater and that we'd consider reinstituting the FEderal Mustache Tax Amendment.
Jeremy (Boston)
Would you ever shave your mustache for charity?
Dr. Aaron Perlut
(12:34 PM)
It depends on who would benefit but for the right cause, I would actually consider it.
Steve (Miami)
Are you really a dr.?
Dr. Aaron Perlut
(12:34 PM)
as far as you know.
Brandon (Minnesota)
So are you saying that i should be cleanly shaven then rather have a goatee?
Dr. Aaron Perlut
(12:35 PM)
No, Brandon, I'm saying get rid of that weevil infested patch of fur on your chin and man-up.
Matt (FL)
Do you frown on the Hitler Stache?
Dr. Aaron Perlut
(12:35 PM)
There is no such thing as a bad mustache but I have seen a man wearing a "Dictator" style mustache be beaten down by a group of midgets in broad daylight.
Scrappy (Mexico, MO)
I watched your Giambi plug on ESPN 2 and you had the team of anchors rolling. Do you have a hard time going out in public because of your mass popularity?
Dr. Aaron Perlut
(12:36 PM)
Thank you Scrappy. As mentioned prior, I'm kind of a big deal and the ESPN folks are good people who understand that sports is about entertainment. Thus why Lil' Wayne was on "First Take" just yesterday. It's all good.
Purdue Fans
Did you notice our football coaches always have a mustache? Joe Tiller and now Danny Hope. Would you be interested in speaking to the team sometime?
Dr. Aaron Perlut
(12:38 PM)
Since my father is a Boilermaker alum, I should address. We were called in by the school as they were not interviewing people of Mustached American descent up until about 20 years ago. We were worked with their HR department and now a policy is in place at Purdue that they must include on person of Mustached American descent in every hiring effort.
Dee, California
So did you laugh like the rest of us when that dude was heckling Ed Werder outside Dallas' training facility?
Dr. Aaron Perlut
(12:39 PM)
Ed Werder is a brave Mustached American who dared to keep his Labia Sebucula (Latin for "lip sweater") on tv when many other broadcasters ran for their shavers, including Katie Couric.
Steve (Miami)
Why is there a chat about facial hair on a espn?
Dr. Aaron Perlut
(12:40 PM)
Steve, thanks for this question. I also write about the NBA for JoeSportsFan.com and am happy to address that, my Cubs, your love for bacon, my love for bacon, or just bacon.
Taylor Horton (Atlanta)
USC is not as good as everyone says they are. I mean what real top 25 teams do they even play? Now i would like to see them play better out of conferance teams!
Dr. Aaron Perlut
(12:41 PM)
Thanks for bringing up college football. As I wrote today on JoeSportsFan.com, the BCS is ruining college football for me. What a sham. See the column here (http://www.joesportsfan.com/column.php?postid=5166).
Brandon ((Cleanly Shaven) Minnesota)
What are your thoughts on the new bacon and cheese taco at Taco Bell?
Dr. Aaron Perlut
(12:42 PM)
Despite you being clean shaven, I will address this. Bacon is the mustache of meat. I stir my coffee with bacon as it adds niacin, riboflavin, and great taste. The only thing better than bacon is a side of bacon.
David Fairborn, OH
Ah, so we meet again... Any new found respect for soccer my caterpillar lipped friend?
Dr. Aaron Perlut
(12:43 PM)
David, good to see you again as you hail from the mustache loving state of Ohio. I've made some soccer cracks today at another's expense, but I have been trying my best and found a few heavily mustached soccer stars around the world. So I'm making an effort and finding some middle ground.
Joe (Huntsville,AL)
If the Titans meet the Eagles in the Super Bowl whose stache wins?
Dr. Aaron Perlut
(12:44 PM)
I actually interviewed Jesus earlier this fall and he said the Eagles would win the NFC if healthy although he didn't count on Andy Reid's horrific neck beard. See that interview here (http://www.joesportsfan.com/column.php?postid=2704).
Laura (Atlanta)
I think mustache's are HOT!!!!
Dr. Aaron Perlut
(12:44 PM)
And Laura, you are welcome to look at photos of me and feel good about the world. Thanks
Kevin (Columbus)
I've always wanted to grow a mighty 'stache, but i lack the required amounts of lip hair to fulfill this dream.... any tips?
Dr. Aaron Perlut
(12:45 PM)
Drink vast quantities of beer and eat lots of bacon. Then rub bacon strips upon your upper lip.
Scott (Indy)
If you had the choice between thick sliced bacon or honey maple bacon (regular cut), which way would you go?
Dr. Aaron Perlut
(12:45 PM)
I would super glue them together and eat them at the same time.
Jeremy (Boston)
Any qualms with the gay community adopting the mustache?
Dr. Aaron Perlut
(12:45 PM)
Not that there's anything wrong with that.
mitch (wi)
i hate mustaches and i hate the cubs
Dr. Aaron Perlut
(12:46 PM)
Mitch, I'm sorry to hear this. You are clearly ignorant and cannot be that good looking nor powerful. I wish there was something I could do to help you.
RT (boston)
are the Spurs going to win it all this season?
Dr. Aaron Perlut
(12:47 PM)
The Spurs are the best coached team in the NBA. Pop is very solid. But their team speed, despite Parker, is very bad. I think this is the Lakers year. They are very solid, their chemistry is outstanding, and the depth is better than in previous years.
Laura (Atlanta)
What kind of doctor are you?
Dr. Aaron Perlut
(12:48 PM)
Google is a magical tool. As is www.AmericanMustacheInstitute.org
Mark (NJ)
Is Ned Flanders your fav cartoon character?
Dr. Aaron Perlut
(12:48 PM)
Ned is a fine Christian.
David (Austin, TX)
If all soccer players were required to have a mustache, would the combined power of all the 'stache be enough to overcome the inherent suckiness of soccer and make it cool?
Dr. Aaron Perlut
(12:48 PM)
A fine question David. I think you should prepare a White Paper on this for the American Mustache Institute web site which we will publish.
David Fairborn, OH
The Blazers are fun to watch. Do you concur?
Dr. Aaron Perlut
(12:49 PM)
The Blazers are terrific. Brandon Roy is not quite in the conversation with D-Wade and Kobe yet, but give him 2 - 3 years and he will be. They are young but play well together. I question their defense as they don't have that Rodman or Artest type player who can just lock down anyone. But they are good and fun to watch.
Matt (East Hartford via Albany)
What are your thoughts on 'Mustaches for Kids'?
Dr. Aaron Perlut
(12:50 PM)
I'm a big fan and promoter of this charity. If you are involved - kudos to you. Promoting both lip warmers and helping kids out.
David Fairborn, OH
Soccer is a fine sport. Watch it in another country and you'll appreciate it, David. My suggestion is Germany or Mexico.
Dr. Aaron Perlut
(12:51 PM)
I've heard this often David and you are more than likely correct. But my parole officer will not let me leave the U.S. until 2025.
Laura (Atlanta)
How were you able to get to host a chat on ESPN?!?!?
Dr. Aaron Perlut
(12:51 PM)
I walked onto the ESPN campus in Bristol without pants. Case closed.
Joe (Huntsville,AL)
As a red headed American I was wondering if you knew of any great red heads with staches?
Dr. Aaron Perlut
(12:51 PM)
Joe, I'm very sorry you face this affliction and I know of very few mustached Americans who are also red headed. I wish you God speed.
stewmister (maryland)
If you super glued the bacon together you would be eating glue. So you telling me you eat horses?
Dr. Aaron Perlut
(12:52 PM)
A horse steak is very healthy and if you have not tried one, I'd recommend it.
Vinny (nyc)
What is your view on the Milk Mustache ad campaign?
Dr. Aaron Perlut
(12:53 PM)
The Milk Mustache almost killed the Mustached American people.
Dr. Aaron Perlut
(12:54 PM)
Kids, as always this has been fun. A special thanks to Mark from New Jersey who indeed provided much fodder. Hope to see you again online and invite you to check out JoeSportsFan.com and AmericanMustacheInstitute.org. Always remember, the Wizards are the worst name in professional sports and the effort to rename the once proud Bullets was a shame. Go Bullets!