Chat with Billie Jean King!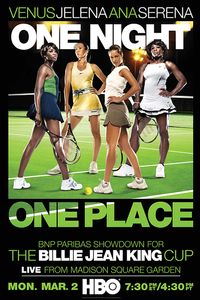 Ivanovic, Jankovic, and the Williams sisters are set to compete.
Welcome to The Show! On Thursday, we have a special guest chatter when tennis great Billie Jean King stops by.
Widely considered one of the greatest tennis players of all time, King won 12 Grand Slam singles finals, including Wimbledon six times and the U.S. Open four times. A pioneer in women's tennis, King's win over Bobby Riggs in the "Battle of the Sexes" was a major event in the development of the sport as a whole.
King will also be on hand to answer questions about the BNP Paribas Showdown for the Billie Jean King Cup. The event is a one-night only special tournament, featuring a showdown at Madison Square Garden between Ana Ivanovic, Jelena Jankovic, Serena Williams, and Venus Williams. Designed to honor King's place in tennis history and promote youth tennis as part of "Tennis Night in America", the Showdown will be broadcast live on HBO at 7:30 PM ET on March 2, 2009.
Send your questions now and join Billie Jean on Thursday at 1 p.m. ET for all the answers.
Billie Jean King
(1:09 PM)
On March 2nd at Madison Square Garden there will be a BNP Pariba Showdown for the Billie Jean King Cup, Four of the top players in the world will be there. Jelena Jankovic, Serena Williams, Ana Ivanovic, and Venus Williams will play for a 1.2 million prize. $400,000 to the winner, $300,000 to the finalist and $250,000 to the other two.
Steven (nj)
Who is the best player in the WTA?
Billie Jean King
(1:10 PM)
I think Serena Williams. She's in the finals of t he Aussie Open and is playing great right now.
Steve
Hi Billie Jean I am a young player just going in to tournaments. What tips can you give me?
Billie Jean King
(1:11 PM)
Don't worry about rankings and just work on developing your game. You have to have some type of weapon to stand out.
Steiny (NYC)
You have had so many great accomplishments over your career. Of all those accomplishments, which one means the most to you?
Billie Jean King
(1:12 PM)
I don't have just one but it's what I've done off the court that matters most to me.
Hank (NY)
Can Andy Roddick ever beat Roger Federer? It seems like nothing he does works against Roger.
Billie Jean King
(1:13 PM)
Roger is the best ever!
Billie Jean King
(1:13 PM)
Roddick is making an effort to be the best he can be and that's great to see.
Steiny (NYC)
Who is a better all-around player. Serena Williams or Venus Williams?
Billie Jean King
(1:15 PM)
Good question! I would say Serena by a slight margin. Venus needs to keep going to the net more with her long wing span.
Kenny (NJ)
Have you been following the Australian Open? What's been your opinion of it so far?
Billie Jean King
(1:17 PM)
I have been watching it on Tennis Channel and ESPN2. The heat has been a factor. Roger, Serena, and Safina seem to be rested and in their best shape. Those three are playing the best.
Jana (MA)
Hi Billie Jean! What do you think about the state of women's tennis today?
Billie Jean King
(1:19 PM)
I think it's in unbelievable shape. These women are incredible athletes and opportunities continue to improve. Total prize money is up 23% from last year and there are more tournament opportunities available for women.
Georgia: Clark, NJ
Billie Jean, would you want to play the winner of this event?
Billie Jean King
(1:20 PM)
(laughing) NO WAY! They're too good and I'm not in my prime.
Lem (OK)
Which of the players competing in the Showdown are you most excited to see? Who do you think has the advantage?
Billie Jean King
(1:21 PM)
I'm excited to see all of them because I know them all. I've known Serena and Venus since they were around 10 years old and Serena is the one to beat.
exo (dc)
What do you think of Dinara Safina? Do you think she'll be a fixture in the top 10?
Billie Jean King
(1:23 PM)
Absolutely because she is paying the price.
Laura; New Jersey
Hello Billie Jean. Just wanted to say I'm a big fan and can't wait to see this event. Will you be announcing?
Billie Jean King
(1:24 PM)
I'll be announing for HBO with John McEnroe and Mary Carillo. There will be many female athletes present for a celebration for women's sports.
Matt (Philadelphia)
Do you think we'll ever see the Fed Cup and Davis Cup played as a tournament over 2 weeks rather than spread out over the year? I would think that be much more fan-friendly but it might not be workable into the schedule.
Billie Jean King
(1:25 PM)
Fed Cup used to be a one week event but people what to see home and away matches.
Billie Jean King
(1:26 PM)
I hope that you are a Freedom fan and I hope to see you in July!
Billie Jean King
(1:27 PM)
I hope everybody in the New York area will some out to the Showdown but if not please watch it on HBO! Thanks for all the great questions!