Chat with Bridgette Gordon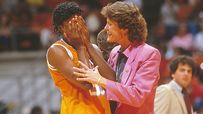 Gordon (left) won 118 games in the '80s with Summitt (right).
Welcome to The Show! On Friday, we'll have former Tenneseee Lady Vol star Bridgette Gordon stop by to chat about Pat Summitt's 1,000th career win.
Summitt earned her 1,000th win Thursday night with a 73-43 win over Georgia. She was already the winningest basketball coach in NCAA history, in either the men's or women's game.
Gordon starred for Summitt and the Lady Vols from 1986-89. She led Tennessee to four straight Final Four appearances, including two national championships in 1987 and 1989. Gordon holds the record for most career steals (338) and is the second all-time leading scorer in school history (2,450 points). During her career, she averaged 18.0 points and 6.7 rebounds in her UT career.
Gordon was inducted into the Women's Basketball Hall of Fame in 2007.
Send in your questions now and join Gordon at 2:30 p.m. ET on Friday!