Chat with Bridgette Gordon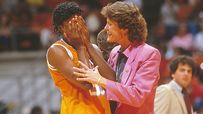 Gordon (left) won 118 games in the '80s with Summitt (right).
Welcome to The Show! On Friday, we'll have former Tenneseee Lady Vol star Bridgette Gordon stop by to chat about Pat Summitt's 1,000th career win.
Summitt earned her 1,000th win Thursday night with a 73-43 win over Georgia. She was already the winningest basketball coach in NCAA history, in either the men's or women's game.
Gordon starred for Summitt and the Lady Vols from 1986-89. She led Tennessee to four straight Final Four appearances, including two national championships in 1987 and 1989. Gordon holds the record for most career steals (338) and is the second all-time leading scorer in school history (2,450 points). During her career, she averaged 18.0 points and 6.7 rebounds in her UT career.
Gordon was inducted into the Women's Basketball Hall of Fame in 2007.
Send in your questions now and join Gordon at 2:30 p.m. ET on Friday!
MORE
Previous chat guests | SportsNation index
Bridgette Gordon
(2:37 PM)
Congratulations to Coach Pat for her 1,000th win! No person is more deserving than Pat! She's touched so many lives over the year and she has turned girls into women.
tullhoma , tennessee
Why do think Pat Summit won 1,000 games?
Bridgette Gordon
(2:38 PM)
She is a great coach and has surrounded herself with a great coaching staff. She recruits great players, he loves that game, and she knows how to bring the best out of each one of her players.
Brad (Gadsden,Alabama)
What was your most memorible game at Tennessee?
Bridgette Gordon
(2:42 PM)
I would say winning our first national championship in 1987 and the championship game against Auburn. In the Auburn game, Pat called a timeout and got on me in the huddle. After the timeout I went at scored six straight points and ended up with 27 points and a second National title.
Evan (Phoenix)
What was the best advice you got from Pat Summitt?
Bridgette Gordon
(2:45 PM)
Besides basketball, she's taught me how to be a lady off the court. That I need to represent myself in a manor that is becoming of a Lady Vol. That has stayed with me throughout everything that I have done in my life. I'm not only representing myself but everybody that has had a hand in helping me get to where I'm at today.
Ryan (Melrose, MA)
More interesting stat for Pat Summitt - that she has 1,000 wins or that her longest losing streak is 3 games?
Bridgette Gordon
(2:47 PM)
(laughing) They both stand out but I think the most significant is the 1,000 wins. I don't know if another coach will ever win 1,000 games. Coaches don't get head coaching jobs at 22 these days.
TJ (Kentucky)
Do you think Pat Summitt could coach a men's team?
Bridgette Gordon
(2:50 PM)
Most defiantly! Men and women are different but Coach Summitt knows how to motivate and teach.
Genie P. (West Warwick, RI)
I wanted to know what it felt like to be voted to the Women's Hall of Fame? (Hi to all US Veterans!!!)
Bridgette Gordon
(2:53 PM)
This is something that you don't dream about but it felt great. It was a great honor to have all my family, friends, coaches, and teammates there to share this with me. This was a tribute to all the hard work that I've put in on and off the field.
Brian (chicago
What did you like most playing for coach Summit?
Bridgette Gordon
(2:55 PM)
Her drive, motivation, toughness, and the way she cares about people. I loved they way she made each player feel important to her.
glenn (Netcong, NJ)
Who's your favorite player of today's era?
Bridgette Gordon
(2:56 PM)
Dwayne Wade and Kevin Garnett.
Bridgette Gordon
(3:29 PM)
Congratulations to Coach Pat Summit on her 1,000th win. It was a great accomplishment and I know that she will continue to rack up the wins. Thank you everybody for all your questions!