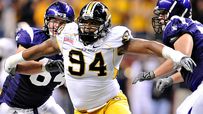 Mizzou DT Evander "Ziggy" Hood.
Welcome to The Show! On Friday, NFL prospect and former Missouri DL Ziggy Hood will stop by to chat about the NFL draft and his time with the Tigers.
Over his career, Ziggy started 32 of 48 career games and was voted honorable mention to the All-Big 12 team in 2007 by league coaches. Hood finished with career highs in every category -- 49 tackles, 8.0 tackles for loss, 5.0 sacks and three forced fumbles as Missouri finished with a 10-4 record and double digit wins in back-to-back seasons for the first time in school history.
According to Hood's Scouts Inc.'s draft profile, he is the fourth best DT in the draft this year. He is also the 54th ranked player overall in the draft. The only DTs ranked above him are BJ Raji, Peria Jerry and Ron Brace.
Send in your questions now, then join Ziggy on Friday at 3 p.m. ET!
MORE
Go to ESPN.com's 2009 NFL Draft index | Previous chat guests | SportsNation index
Steve (Miami)
What would you say to people about yourself don't know who you are?
Ziggy Hood
(3:02 PM)
I'm a really quiet guy. I just relax and enjoy playing the game.
James Howell (Indianapolis)
What was your favorite NFL team growing up? Favorite Player?
Ziggy Hood
(3:03 PM)
The Denver Bronces and Terrell Davis.
Steiny (NYC)
How did you get the nickname Ziggy?
Ziggy Hood
(3:04 PM)
I'm half black and have Mexican and my grandmother on my mother's side couldn't pronounce my name so they started calling me by their favorite cartoon character name, Ziggy.
Doug (New York, NY)
Ziggy, any preferance on what team you get drafted by? What about the Steelers?
Ziggy Hood
(3:06 PM)
It really doesn't matter to me; it's just a blessing to be in this position. As far as going to the Steelers, that would be great to help them continue their legacy of winning championships.
Jordan (Slinger, WI)
What are your personal expectations, heading into your rookie season?
Ziggy Hood
(3:07 PM)
I really want to establish myself as a good player. I want to stay healthy and hopefully make a team so that I can show them what I can do on the field.
Quintin , Chester Va
Where do you expect to be drafted?
Ziggy Hood
(3:08 PM)
I'm hearing late first early second round but I really don't care where I'm picked. I just want to make an impact wherever I go.
Adam (Iowa)
Ziggy, who is the best offensive lineman you went up against in college?
Ziggy Hood
(3:09 PM)
Duke Robinson of Oklahoma.
Joe (STL)
Did you see a change in Coach Pinkel since you started at MU? Is he a better coach now?
Ziggy Hood
(3:11 PM)
I think he has calmed down and relaxed over the years and because of that players can relate to him more.
Jordan (Slinger, WI)
What was your most memorable moment as a Tiger?
Ziggy Hood
(3:12 PM)
I would say getting my first sack as a freshman against Baylor. It was really meaningful to me because my family was there watching.
Kev (NYC)
Are you slated for the combine? How'd you do on the Wunderlich?
Ziggy Hood
(3:13 PM)
The combine isn't until next week. I've been practicing for the Wunderlich so it should come easy for me.
Jordan (Slinger, WI)
Where do you see Favre in the All Time Greatest QB discussion?
Ziggy Hood
(3:14 PM)
He't got to be up there with Dan Marino and John Elway. Favre is one the top quarterbacks to ever play this game.
KG (KC MO)
Did you have any idea that Chase Daniel was hurt? How much do you think that affected his play and your season?
Ziggy Hood
(3:16 PM)
He wasn't during the season but I think he got banged up in the Big 12 championship. I think is throwing was a bit off but everything was taken care of before the big game.
Ziggy Hood
(3:17 PM)
Thank you to my family, my training partners, Mizzou, and all my coaches throughout the year. Thank to the Lord because without him none of this would be possible.