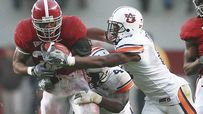 Powers, right, had 47 tackles in 2008.
Welcome to The Show! On Wednesday, NFL prospect and former Auburn cornerback, Jerraud Powers, will stop by to chat about the NFL draft and his time with the Tigers.
Powers finished sixth on the team in the 2008 season with 47 tackles. He broke up seven passes and had two INTs. In the 2007 season, he finished fourth on the team with 63 tackles and led the team with four INTs.
According to Powers' Scouts Inc.'s draft profile, he is ranked as the 13th best cornerback in the draft. Currently, he has a grade of 66 from Scouts, which puts him as an early Day 2 pick.
Send in your questions now, then join Powers on Wednesday at 2 p.m. ET!
MORE
Go to ESPN.com's 2008 NFL Draft index
Buzzmaster
(3:41 PM)
Auburn's Jerraud Powers will be here to talk about his college career and the upcoming NFL Draft, so continue to send in your questions!
Steve (Miami)
What would you tell people about yourself who don't know who you are?
Jerraud Powers
(4:16 PM)
I'm a very humble guy. I love to talk about sports and have fun. I'm just a typical guy!
Steiny (NYC)
What was your greatest memory about playing football at Auburn?
Jerraud Powers
(4:17 PM)
My greatest memory would be in my red shirt freshman year. We were playing Florida and I blocked a punt. That play ended up being the Pontiac Game Changing Performance and we went on to win that game.
Shane (Phoenix, Az)
JP: Understanding that you will be happy to play for any team in the NFL, if you had the choice what would your top 3 teams to play for be?
Jerraud Powers
(4:19 PM)
I would choose the Falcons because it's close to home, secondly the Titians for the same reason and third I would like to play for the Ravens. They have a great defense up there!
Steiny (NYC)
Who has been the biggest influence on your career?
Jerraud Powers
(4:20 PM)
The biggest influence would be my grandfather. He introduced me to football, took me to all my practices, and was always at my games.
Brad (Gadsden,Alabama)
Do you have any pre-game rituals?
Jerraud Powers
(4:22 PM)
At auburn, when I get to the stadium I would walk to the far end of the field and say prey. After that I would walk to the 30 yard line and throw the ball around. Then I would look in the stands for my family. I did that for every game.
Trevor (Fishersville, Va)
What team in the nfl do you feel you could help the most
Jerraud Powers
(4:24 PM)
I think I can help whatever team that drafts me. My position is a high need position and you can never go wrong with a corner.
Kyle (Auburn, AL)
Jerraud, thanks for the good years at Auburn! Did the coaching change have anything to do with your decision to come out early? Do you think your size hurts your draft stock? War Eagle and good luck in the NFL!
Jerraud Powers
(4:25 PM)
The coaching change had no effect on me leaving early. I don't think my size will hurt me. I know if I was taller that would be a plus but I really don't think my size will hurt me in the draft.
Mike (Ohio)
Being an Auburn guy, did you ever have a chance to meet Bo Jackson?
Jerraud Powers
(4:27 PM)
I did get the chance to meet Bo Jackson by mistake. We both had our back turned facing each other and I bumped into him. He's a big legend at Auburn.
Steiny (NYC)
Jerraud, I am sure that you are going to have some very memorable moments in the NFL, but will any of them ever compare to getting bit by a dog?
Jerraud Powers
(4:29 PM)
I don't think anything will compare to getting bit by a dog in the middle of a football game.
Steiny (NYC)
What was the best advice that you ever got?
Jerraud Powers
(4:30 PM)
The best advice that I ever got was do what I have to do now so that later in life I can do what I want to do. That's something that really stuck with me.
Jerraud Powers
(4:31 PM)
Thanks everbody for your questions. See you on Sunday!