Chat with Willie Jeffries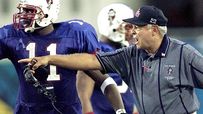 Coach Jeffries compiled a record of 179-132-6 in 25 years of coaching!
Welcome to The Show! On Wednesday, the first black Division I head college football coach, Willie Jeffries, will stop by to chat about lengthy career and Black History Month.
Coach Jeffries coached a total of 19 years at his alma mater South Carolina State University in two stints as well as five years at Wichita State University and five years at Howard University. He won nearly 60 percent of the college games he coached, which made him the "winningest coach" in the 107-year history of SCSU and owner of more MEAC victories than any other coach. Jeffries was also the only coach to coach against both Eddie Robinson and Paul "Bear" Bryant.
Send in your questions now and join Jeffries at 4:30 p.m. ET on Wednesday!
MORE
Previous chat guests | SportsNation index
Buzzmaster
(4:33 PM)
Sorry for the delay folks. Should not be much longer!
Jason, S. Carolina
How closely do you follow college football now?
Willie Jeffries
(4:40 PM)
I follow football really closely, because I still hang around it being a former coach. As a coach, you have to stay around the sport, if not you'll need a psychiatrist. I stick around with the Bulldogs at South Carolina State and do a lot of radio broadcasts. It really helps me to be around the game, because in August I start smelling that grass and I need to be involved with football.
Steiny (NYC)
Is it true that you are the only man to coach against both Eddie Robinson and Paul "Bear" Bryant?
Willie Jeffries
(4:41 PM)
Yes, we played coach Robinson often and when I was at Wichita we played in Alabama and they went on to win the title in '79. So we played one of the good Alabama teams.
Mike
Does college football need a playoff?
Willie Jeffries
(4:44 PM)
Mike you caught me there. I am 50-50 on it. You find the biggest grippers are the ones that get knocked out but the ones who get in are okay with it. I wish we had another way to rate teams. When the talk about strength of schedule, how do you know at the start of the year how well those oppoents will play that season? So your success is based on how well your opponents do. So you don't know if a team is going to do well or not at the start of the season. I often pull for the undefeated team, like Utah this year. But Texas and Oklahoma and Florida all play tough schedules, but I do not like the computer rating.
Steven
How was it to try and gameplan against Bear Bryant?
Willie Jeffries
(4:46 PM)
Well Steven, we decided we would run our offense, we called it the hit option. Other schools installed it as the freeze option. So we ran our offense, and he was not going to change his generic defense and show all his stuff. Now on defense, we really had to plan for some of those great RBs. We thought he would run a lot and not pass, to prevent injuries. So knowing how we felt about us, we were able to gameplan well and played very well.
Matt
Coach, I know you've had a lot of great players over the years. Who would you say is the best? Thanks.
Willie Jeffries
(4:49 PM)
Well Matt you are going to get me in trouble, but I will start with Harry Carson, Donnie Shell. Harry is a HOF, and Donnie Shell won four titles and I hope goes into the HOF. Charlie Brown was another guy. Dextor Clinscale. William Judson. I know I will leave some off. Marvin Marshall was also a great QB for us. Edward Lee is another player that comes to mind, a TE. Also another TE named Jimmie Johnson and a great RB named Havey Reid come to mind. But Matt you have my head on the chopping block. I have to leave it at that.
Riley (San Diego)
What is your take on steroids and sports? Did you ever know of players taking performance enhacing drugs?
Willie Jeffries
(4:51 PM)
Riley, during my coaching tenure, those types of lets say career enhancers were not heard of. I know one school I coached in the late 80s-90s they had this stuff called bee pollen and I thought it came from bees. But from that point forward, we decided that you could not use anything unless the trainer cleared it, and if you did not do that you were suspended. There was not a lot of it around me. I am so happy I came along before the advent of so many of those enhancers.
Daniel (Wichita)
What are your memories of Wichita?
Willie Jeffries
(4:53 PM)
Well my memories of Wichita all revolve around the great people from our school. From the AD and President to great boosters, to the fans we had, and all the Pizza Hut people. Everyone there. The team was great. Also us beating KU was great in 1982.
Steiny (NYC)
What was the most important thing that you stressed in practice?
Willie Jeffries
(4:57 PM)
Steiny, great question. I stressed that we practice like we play. I went full speed almost all of the time to simulate a game, which was not and is not that popular with most coaches. We would go full speed even in shells, as long as no one went low. The main thing I preached was paying attention and grasping what we were teaching. We cannot have a C+ player on Sunday. If you get an F in Chemistry, well that's tough, you have a tough teacher, but if you do it in football, you lose. I stressed that all my players have a good attention span. That is why I went against pretty females being managers. So attention to detail Steiny, is what I think brings victory.
Willie Jeffries
(5:01 PM)
Thanks to ESPN and Joe Farr for allowing us to come here today and having us. It was a great time coming here for Black History month. We are doing a book and a movie on my life and Joe and I are working on it. We are looking for funding so if you wish to cotribute contact Joe Farr at joe.farr@treymojoproductions.com. And in wrapping up I hope that in America we will see more black head coaches in IA football. I feel pretty good when current coaches say "Thanks coach for opening the door." Thank you.