Chat with Sergio Martinez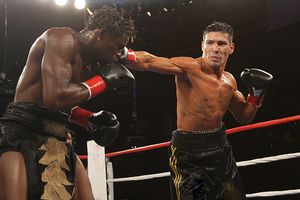 Martinez, right, enters Saturday's fight at 44-1-1.
Welcome to The Show! On Thursday, we'll go inside the boxing ring when light middleweight Sergio Martinez stops by to chat.
Martinez faces Kermit Cintron at the BankAtlantic Center in Sunrise, Fla. Saturday as a part of HBO's Boxing After Dark, starting at 10 p.m. ET/PT.
Martinez is 44-1-1, with his only loss coming back in 2000 to Antonio Margarito. He has won his last 28 fights since his only career loss.
Send in your questions now and then join Martinez at 3 p.m. ET on Thursday!
MORE
Previous chat guests | SportsNation index
Sergio Martinez
(3:00 PM)
Thanks to all the boxing fans out there. Thanks for having me for this chat.
Giovanni (Queens)
Big fan Sergio! Can we get a predicition? KO in round ????
Sergio Martinez
(3:02 PM)
Thank you for your confidence in me. I'm not going to predict a KO and without saying any predictions, they fight won't go 12 rounds.
Michael Bmore,MD
What do you think of Paul Williams and if u win this weekend and he does what he needs to do against Winky is there potential for you two 'lefties' to be each others next opponent?
Sergio Martinez
(3:03 PM)
That's a fight that could happen in the future. Personally I would like that fight to happen.
Steiny (NYC)
What has been the most memorable fight of your career?
Sergio Martinez
(3:04 PM)
June 21, 2003 when I won the IBO World Title agaist Richard Williams.
alex aguinaga -- bushwick, nyc
Sergio who have you been sparring with in preparing for Cintron?
Sergio Martinez
(3:05 PM)
I've beening fighting a lot of guys in my training gym in CA. A lot of tall, strong guys have come forward to spar with me.
walter ayovi
Sergio why did you move to Spain instead of the US to develop your boxing career?
Sergio Martinez
(3:07 PM)
I like in Oxford, CA and I have a second home in Spain. I do feel that I need to be in the US to gain American fans.
Jaime M.( Casa Grande, Az)
What have you done diffrently to train for this fight with Kermit?
Sergio Martinez
(3:09 PM)
I didn't change anything but I did train harder. I'm the most focused that I've ever been. I want to show everyone that I'm the best fighter at 154 pounds.
Joel(Columbus,OH)
When Margarito comes back would you like to have a rematch to avenge your only loss?
Sergio Martinez
(3:10 PM)
I'll fight Margarito on Saturday!
Mario (Htown,TX)
Hey Sergio, I was at your fight with Saul Roman. You looked very impressive. Have you seen videos of Cintron and what do you think of his style?
Sergio Martinez
(3:11 PM)
Thank you for being a fan!
Sergio Martinez
(3:12 PM)
I've seen his last 3-4 fights and studying them have helped me see his weaknesses.
Sebastian (Vancouver, BC)
Sergio, you and Cintron are 0-3 against Antonio Margarito, but your loss was far more competitive. Even though triangle theories are normally wrong, does this give you any extra confidence going into Saturday's showdown?
Sergio Martinez
(3:14 PM)
I fought him nine years ago and he is a different fighter now. He is smarter and stronger and you will see that on Saturday. I think Cintron has recovered well from his losses to Magarito.
Steiny (NYC)
What are you going to do in order to beat Kermit Cintron?
Sergio Martinez
(3:15 PM)
I need to be quicker, faster, and stronger to beat Kermit and I feel like I have all those things working for me right now.
Gerardo (Tempe, AZ)
Sergio, big fan here. Keep up the great work...I hope to see you fight at the highest level pretty soon and for a long time!
Jaime M.( Casa Grande, Az)
Do you have an opinion on what has happend regarding Margarito and his hand wraps?
Sergio Martinez
(3:16 PM)
I don't but I hope everything works out for him. I wish him nothing but the best!
Sergio Martinez
(3:19 PM)
Thank you to ESPN for the chat. Thanks to all the boxing fans for the questions. A big hello to all my friends and family in Argentina. See everybody Saturday night!