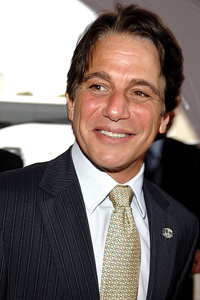 Tony Danza boxed to a 9-3 record.
Welcome to The Show! On Friday, actor and current host of "The Contender" Tony Danza will chat about the season finale of the TV show's fourth season.
The last episode can be seen Wednesday at 9 p.m. ET on Versus. This season featured 16 cruiserweights who faced off in a 12-episode competition. With veteran trainers Tommy Brooks and John Bray, these fighters went through the most intense training and most challenging fights of their careers.
Danza is no rookie to boxing. Before becoming an actor, Danza competed as a middleweight. He fought from 1976-79, compiling a 9-3 record, with all nine wins coming by knockout. However, during a gym workout in 1978, he was discovered for the part of Tony Banta on the TV show "Taxi." The show ran until 1983, when Danza began work on "Who's the Boss?" which ran from 1984-1992. Over the years Danza has starred in TV shows, movies and even Broadway.
Send your questions now and join Danza Friday at 1 p.m. ET!
MORE
Previous chat guests | SportsNation index
Buzzmaster
(12:58 PM)
Tony Danza will be here shortly to take your questions! Send them in now!
Buzzmaster
(1:02 PM)
We just got a call that Tony is running a little late. He'll be here in about 5 minutes!
Buzzmaster
(1:09 PM)
We've got Tony!
Ralph (New Jersey)
What's been your favorite part of the season so far?
Tony Danza
(1:11 PM)
I really really enjoy hanging out with the guys. What I missed about boxing is the comraderie. The days in the gym and the goofing around. I really bonded with the guys. We were in Singapore together and spent a lot of time together. It was a good tournament and no one got hurt.
Terry (Phoenix)
Do you think the show has been better since it's moved up in weight and used boxers in the cruiserweight division?
Tony Danza
(1:12 PM)
I happen to like this division. You really get some incredible athletes. They're really big guys. It's an exciting division. I liked this year. I think it was a good year, not just because I was hosting, but I thought it was shot real well and I thought the tournament had good fights. There weren't too many stinkers.
Steiny (NYC)
Do you believe Ehinomen "Hollywood Hino" Ehikhamenor is going to be a great boxer for years to come?
Tony Danza
(1:13 PM)
I think he has a lot of potential. Obviously, he doesn't have as much experience as he needs, but he's getting it. In the fight against Rico, he showed it. The thing that's got me is I'm not sure who's going to win this fight Wednesday night. I think he'll be around for a long time and will be catapulted to the top echelon of the boxing world.
Andy (LA)
How did you end up getting involved with Contender. Were you a fan of the show when it started?
Tony Danza
(1:14 PM)
Yes, I was. I was one of the original creators. I was involved in pitching the show before it was on the air. When Mark Burnett came on board, they decided to use Sly Stallone as the host.
Wes (Idaho)
What's harder - preparing for a fight in the ring or memorizing lines for a TV show or movie?
Tony Danza
(1:15 PM)
Ha. No contest. I'll study any time. Fighting is a tough way to make a living. There are a lot of similarities, but sparring and getting ready for a fight is tough.
Louie (The cage)
Banta! While watching these fighters work on their craft, do you get a little itchy to get back into the ring?
Tony Danza
(1:15 PM)
Oh yeah. I did box. I boxed a couple of times. The problem was that these guys were 40 pounds heavier and 30 years lighter. But I did get in there a little.
Matt(ohio)
Hi Tony, do you still keep in touch with your old Who's The Boss cast members ?
Tony Danza
(1:16 PM)
Yeah, we do. We all try to keep in touch. It's tough because people have lives and careers. But both Who's the Boss and Taxi, we keep in touch.
Gerald (Chicago)
Have you been happy with being a part of The Contender this year?
Tony Danza
(1:17 PM)
To tell you the truth, I loved it. Not because I'm in it, but I sat and watched every episode. I'm glad to have been a part of it. It's re-kindled my love of boxing. I backed away from it alittle bit. But now I'm back.
Paul (Pittsburgh)
do you still do some boxing work outs?
Tony Danza
(1:18 PM)
Yeah, I do. Every once in a while I go down to Freddie Roach's gym in Hollywood. I also discovered this Cobra bag. You box with this thing. I have it in my garage. You go 12 rounds iwth 30 second rests and I'm winning by close decisions.
Steiny (NYC)
Being a boxing fan, are you pulling for Rourke to win best actor?
Tony Danza
(1:19 PM)
He happens to be a real good friend of mine, so yes, I'm pulling for him big time. I thought the movie was good and his performance was outstanding. And he's an es-fighter.
Dave (Augusta, GA.)
Who is your favorite boxer right now?
Tony Danza
(1:19 PM)
Hmmmm. Let me go with a guy from the show. I'm going to stick them.
Tony Danza
(1:20 PM)
There are a lot of good guys out there. There just happens to not be that one transcendent guy out there...but the one guy I like right now is Paul Williams.
Mike (MN)
Tony, you are obviously a boxing guy and it seems like most boxing purists look down on MMA. What are your thoughts on it?
Tony Danza
(1:22 PM)
I'm drawn to the MMA, because I did a lot of street fighting when I was a kid. I'm drawn to it when they're on their feet. What bothers me about it when they get on the ground and someone starts elbowing someone in the face. I miss the artistry about boxing. It's at a disadvantage right now, they're missing that one personality. And it's not free. You have to buy it. I used to be able to see Muhammed Ali on Saturday afternoons. I'm re-reading "The Sweet Science" and in it he talks about the ebb and flow of boxing. This is normal as far as boxing is concerned. At any minute we're going to have another guy that wants to make us love boxing.
Ericka (Alaska)
What do fans say the most often when they see you or come up to you? What do they want ot talk about?
Tony Danza
(1:23 PM)
Well, I always get the "Hey Tony, who's the boss?"
Tony Danza
(1:23 PM)
I had a guy the other day who picked me up at the airport and drove me into the city. He was from the Ukraine and when he got here in the 90s, he watched my show. He didn't understand English but he thought it was funny anyway.
Tony Danza
(1:24 PM)
I think it's going to be a great show Wednesday night. What I also think is going to be fun is the undercard, we're going to mix and match some of the guys from the tournament. It should be fun. Thanks for watching!