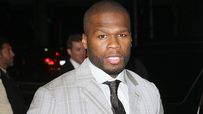 50 Cent's second video game, "Blood on the Sand," hits stores Tuesday.
Welcome to The Show! On Tuesday, rapper 50 Cent will stop by to chat about the release of his video game "
50 Cent: Blood on the Sand
" as well as his upcoming album "Before I Self Destruct," which is due out in March.
In the sequel to 50 Cent's first video game -- Bulletproof, released in 2005 -- gamers play as 50 Cent in a fast-paced action shooter. 50 Cent and the G-Unit battle across two war-torn countries to collect a payday and exact revenge. The game is published by THQ and hits the street on Tuesday. It will be available on XBox 360 and PlayStation 3.
Since his debut album "Get Rich or Die Tryin'," 50 Cent has produced two other albums. His fourth comes out in March. He has appeared in five movies, while he has contributed music to 16 movies.
Send your questions now and join 50 Cent Tuesday at 1:30 p.m. ET!
MORE
Musician archive | The Life | Video Games | Previous chat guests | SportsNation
Buzzmaster
(1:24 PM)
We're anxiously awaiting the arrival of Mr. 50 Cent. Keep your questions coming!
Buzzmaster
(1:40 PM)
Hang tight ... we've got the APB out on 50 ...
Buzzmaster
(1:41 PM)
Just got word from 50 .. he's about 5 minutes away ... so keep the questions coming!
50 Cent
(1:54 PM)
I'm here!
Brian Manson
Are you happy with the way you look in the game? Enough muscles?
50 Cent
(1:55 PM)
I did have final say on all that. They "enhanced" me. I'm stronger in the game than I actually am. They had to create a superhero aura.
J-Roc
What did you learn from your first video game that you used to make this one better?
50 Cent
(1:56 PM)
I learned so much. The technology changed a lot. I had to allow the programmers to take the lead. I injected my ideas as they established the coolest ideas out there.
50 Cent
(1:56 PM)
I had some strong input musically in a lot of areas and in the storyline but I had to allow them to create the activity because they know how to work it already.
Stevenson, Chicago
Do you think you could have been a pro athlete if you had put the same focus and determination on that as you did your music career?
50 Cent
(1:58 PM)
I think so. I really do. I used to train as an amateur fighter and I really think I could have done that as a career. The discipline of a pro athlete is intense. You have to have that passion really early to allow you to be that. I look at the Mannings and they have three MVP trophies in the house and that's because dad showed them early. It's funny but real. Floyd Mayweather is also a reflection of his father. He was just surrounded by it for so long.
JackO
How good are you at your own game? Have you mastered it?
50 Cent
(1:59 PM)
I haven't mastered it but I'm getting better. My son just put a whoopin' on me the other day. He plays the other games that have similar functions like Gears of War. He went right into this like he already knew the game.
Christoper Jeffries
do you ever see yourself investing in a sports team?
50 Cent
(2:00 PM)
To be honest the guys who have investments in pro teams that are in hip hop have mostly vanity deals. Not much actual money involved. Teams are really really expensive.
Ray Ray
What is your high score in Wii bowling?
50 Cent
(2:01 PM)
I don't even know what my high score is. I know people are listening to me that you know I play Wii bowling. I have it in my office and I play all the time. I have Wii fit also. I was curious.
Jason, S. Carolina
50, how you holdin' up in this economy?
50 Cent
(2:01 PM)
I'm doing pretty good. Everybody is making adjustments in the music industry. The mother company got rid of about 60 percent of their staff. I'm not in a hurry to put new material out until people can adjust in their job functions.
Chris from VA
Will this game have a multiplayer mode?
50 Cent
(2:02 PM)
Online there is that possibility.
Steiny (NYC)
I heard that your next studio album could be your last. Please tell me this is not true.
50 Cent
(2:03 PM)
The rumors are there becaue that album is my last requirement for the contract. If the next one is not with Interscope it will be somebody else but it will probably be Interscope. I also owe a Greatest Hits album.
Pete Jackson (Brooklyn)
Which are you more excited about? Tiger Woods returning to golf or Eminem's new album?
50 Cent
(2:03 PM)
You know! Em! Elvis Presley ain't dead. He lives in Detroit. He's the greatest to do it .. a white artist in black music. Em is a monster. Don't get next to him if you aini't on your A Game.
Pete (NC)
With youth violence a hot topic these days, is a game like this a wise thing to distribute? It seems to condone violence rather than to speak out against it.
50 Cent
(2:04 PM)
To be honest, this is not a genre I'm creating. It exists. Me creating a storyline that is fictional shows a seperation between reality and fiction. That's why the storyline is the way it is. I was conscious of that.
Ericka
What's the most ungangster thing about you?
50 Cent
(2:05 PM)
I don't know. Good question. Probably that my Grandmother talks to me exactly the way she wants and I do whatever she says.
Wiley J
50, you seem like a really cool and down to earth dude. Why so many people getting into feuds with you? Do you think they are just jealous of your success?
50 Cent
(2:06 PM)
A little bit of jealousy but it's also the art form. The Ross thing has no motivation for him to come to me like that. It's a publicity event gone bad for him. His album came out and did really low numbers and now everyone knows because of that publicity. Then you really mean nothing. More people are paying attention to the failure.
nyc
what makes this game any different than any other shooting games out there?(i.e saints row, gta..)
50 Cent
(2:07 PM)
The whole concept of me being part of it changes everything. I think it's a better game for sure. You'll have to judge for yourself.
Timo
You vs. Diddy on Celebrity Apprentice. Who wins?
50 Cent
(2:08 PM)
I would absolutely whoop Puffy's ass on that show. And please tell him I said that! I hope you all get a chance to play the game and experience it for yourself and let me know what you think. Take care and sorry I couldn't answer every question.