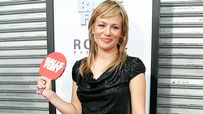 Table tennis champion Biba Golic appears in the new ESPN commercial.
Welcome to The Show! On Tuesday, table tennis star Biba Golic will stop by to chat about her success in her sport, as well as her new found fame by appearing in
the latest ESPN commercial
.
She also recently sat down with Page 2 where she said she was excited to be visiting ESPN.
Golic (not related to ESPN's Mike Golic) has been called the Anna Kournikova of her sport. She is a two-time Yugoslavian champion in singles and mixed doubles, Balkan champion in mixed doubles, and the Mediterranean doubles champion. In college, at Texas Wesleyan University, she won titles in singles, doubles and mixed doubles before transfering to the Illinois Institute of Technology.
Send in your questions now, then join Biba Golic at noon ET on Tuesday to chat!
MORE
Previous chat guests | SportsNation Index
Buzzmaster
(12:04 PM)
Biba Golic will be here in minutes!
Buzzmaster
(12:19 PM)
Hang in there folks. Biba got tied up with the TV folks. She'll be here.
Buzzmaster
(12:21 PM)
We've got Biba!
Gary (Phoenix)
What do you get recognized for more now - playing table tennis or the ESPN commercial?
Biba Golic
(12:22 PM)
I don't know. The ESPN commercial was a big hit. People that I know that are in table tennis are amazed and they just talk about that. I think it's something interesting. A connection. I don't think that table tennis was that much on TV at all.
Evan (Phoenix)
Did you know who Mike Golic was before the commercial?
Biba Golic
(12:23 PM)
No. I didn't. I heard about the show, but I never paid attention to the last names.
Biba Golic
(12:23 PM)
But it was nice to meet them today. We played a little bit in the studio.
Pete (NC)
Here's a serious question for you: Do you actually think you could beat Forrest Gump at a game of table tennis?
Biba Golic
(12:24 PM)
First of all, Forest Gump with the stuff that we saw that he played, it's simulated. So, yes. It's funny to think about, Me and Forest playing.
Phil (LA)
What was your first reaction when you were asked to be in the commercial?
Biba Golic
(12:25 PM)
Cool. First I was a little surprised, because I didn't really know what the concept was. Why table tennis or why me?
john,chicago,il
i just wanted to ask biba how does she like chicago and is it true that she's an often guest at the greenmille?
Biba Golic
(12:25 PM)
I love Chicago. I really like it. I'm dying for spring to come these days.
Will (Denver)
Do you get annoyed when people call your sport ping pong? Which do you prefer, ping pong or table tennis?
Biba Golic
(12:26 PM)
Lots of people call it ping pong. I don't get annoyed by that. Table tennis is the official name for the sport.
Tony, FL
How did you get hooked up with Killerspin?
Biba Golic
(12:27 PM)
I met Robert Blackwell at the European championship in 2003. Through a mutual friend, another athlete who was already sponsored by them.
Bill (St. Louis)
What kind of tournaments are you looking to playing in this year?
Biba Golic
(12:28 PM)
Well, definitely the US Open, one of the biggest tournaments here in the US. That's the main tournament I play. Then there are other smaller tournaments that are challenge tournaments that Killerspin organizes. I might play in a tournament in Miami before the US Open. Lots of players play in that one before the US Open.
Gary (Phoenix)
What's the best venue you've ever played a tournament in?
Biba Golic
(12:29 PM)
The United States. I liked Connecticut, the Mohegan Sun. I would say that's the nicest I played.
John (St. Louis)
What's your favorite part about being an international table tennis player?
Biba Golic
(12:30 PM)
Well, I get to meet different people from different areas of life. To promote the sport. Here in the US, I got that opportunity to help table tennis grow. I really enjoy that. I would like to see table tennis be a bigger sport. Maybe a top 5 or 10 sport that are watched here.
Paul (Connecticut)
How long did it take you to film the commercial?
Biba Golic
(12:30 PM)
It didn't take long. Maybe an hour or hour and a half. But it's not just my part, but cameras from different angles. I would say that I had maybe 7-10 takes, I'm not sure.
Biba Golic
(12:30 PM)
It was pretty fast.
Biba Golic
(12:31 PM)
We had a robot in the commercials. We had to coordinate with the robot. Sometimes it would stop when I was about to finish.
Kevin (New York)
If it wasnt for Table tennis, what other sports were you good at?
Biba Golic
(12:32 PM)
Probably running. Maybe like longer distances. I would say the 10K.
Biba Golic
(12:32 PM)
Maybe shooting too.
Biba Golic
(12:32 PM)
I'm really not good with any other sports.
Lindsey (OH)
What do you think of this new found interest in you and your career, just from being in a commercial?
Biba Golic
(12:33 PM)
It's not that before the commercial that I didn't give any interviews or wasn't doing anything like that. But the commercial is something fresh and something cool to see. The first couple of days the commercial was on so often.
victor monroe,la
how did you get started in table tennis? and can you give some pointers on it?
Biba Golic
(12:34 PM)
I started when I was 9. Before that, I was familar with the racket. I saw how people played. My father was a player. He liked to do sports, and one of the sports he liked was table tennis. He brought me to a club. That's how I started.
Biba Golic
(12:34 PM)
Table gtennis is not about power, it's aobut technique and how to trick your opponent. It's not about going to the table and trying to smash your opponent. Beginners should take it easy.
Gerald (Chicago)
Did you ever think that you could make a career out of being a table tennis player?
Biba Golic
(12:35 PM)
I was a professional back in Serbia. I knew that table tennis would take a big part of my life. It's a big part of my life. It's just a matter of how and what form it's going to be after playing for the national team.
Brian (NY, NY)
How much fun was it being in a movie?
Biba Golic
(12:37 PM)
It was a lot of fun. For Balls of Fury, I was there for just one day. It was the lsat day of shooting. I was an extra in two other scenes. It was really cool. Just to see that many people involved in film making. How every one was lined up and told where to stay and do. Then another movie, Ping Pong Player. That was fun too. It was a smaller movie. It was fun as well.
Biba Golic
(12:37 PM)
It is fun to be an actress. I am not one, but it's fun to see them all and see them do their job.
evan (orlando)
What's been your best career memory?
Biba Golic
(12:38 PM)
I think each time I would win a tournament, especially international. It was a real nice moment to be on the winner's podium and hear the national anthem. I think that's a real nice moment.
Biba Golic
(12:39 PM)
Thank you. For taking your time to show their interest in the sport and in me. Pick up a racquet and play some table tennis and ping pong, for fun.