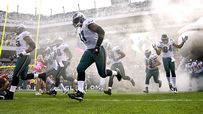 The Eagles fired Dan Leone for his Facebook status update.
Welcome to The Show! On Thursday, Dan Leone will stop by to chat about his firing by the Philadelphia Eagles.
Leone reportedly posted a message on his Facebook page voicing his displeasure with the Eagles letting safety Brian Dawkins go, which led to his being let go. Page 2's LZ Granderson gave his thoughts on the firing.
Leone was a seasonal employee, working as the west gate chief. In a SportsNation poll, 77% think the Eagles were not justified in firing him.
Send your questions now, then join Leone on Thursday at 3 p.m. ET to chat!
MORE
Previous chat guests | SportsNation Index
Henry (Buffalo)
How did the Philadelphia Eagles find read your status? Were you friends with some of the high employees or do you have an open profile?
Dan Leone
(3:02 PM)
It's both. At the time I had an open profile and I also had a few of the management team as friends.
Greggy S (Oaks, PA)
Dan, Now that the you have been fired by the Eagles, how will it change your opinion of the team itself as a fan going forward?
Dan Leone
(3:05 PM)
I think they are a little strict with the rules when it comes to part-time employees but I still will support the Eagles as a fan.
Georgie B (Utah City, Utah)
Mr. Leone........Who do you think was to blame for what happened to you? Personally, I think everything that happens in that organization is Joe Banner's doing but that's just me. Interested to hear your thoughts.
Dan Leone
(3:06 PM)
I don't think it when as far as Joe Banner. I just think is was the management team that was behind my firing.
Kyle C (Abington PA)
DL....sorry to hear about the job. What did you think about these guys letting Tra walk too?
Dan Leone
(3:07 PM)
Tra was a great player but he has aged on. My feelings for him weren't as high as they were for Brian Dawkins but I still think he could have stayed.
Farhan (Milpitas, CA)
Has Brian Dawkins contacted you? He should offer you a job. You clearly got his back.
Dan Leone
(3:10 PM)
Actually, I did here for one of his representatives and he said that once he gets back in the Philadelphia area in April, he would like to sit down and talk to me. Maybe help me out with some things.
Mike Z (Fort Washington, PA)
Dan, Sorry about the loss of your job. I sympathize. Just curious, what do you think of the Birds chances next year? Today's my birthday so if I could get a shout out, I would greatly appreciate it. HOLLA!
Dan Leone
(3:11 PM)
Happy Birthday Mike!
Dan Leone
(3:11 PM)
If they don't improve their offensive and defensive lines, the chance that they will go over .500 is slim.
Chad (Las Vegas)
I think people are more upset at your release rather than T.O.'s from Dallas.
Dan Leone
(3:13 PM)
I guess I'm making more headlines then T.O right now, which is surprising but GO ME!!
Ted (New Jersey)
When you first got that phone call saying that you had been fired, what was the first thing that went through your head? Did you think it was a joke? Did you expect Ashton Kutcher to come out and say "you got Punk'd"?
Dan Leone
(3:15 PM)
(LAUGHING) I was just waking up at the time so I actually thought it was a nightmare. I would rather someone knocking at my door saying "you've been punk'd!"
Chad (Las Vegas)
Over/Under on number of Eagle's management that is monitoring this chat?
Dan Leone
(3:16 PM)
I would say less than a hand full. But if they are reading this chat, I would like to say "please rehire me!"
Brad (Gadsden,Alabama)
Who was your fav. Eagles player?
Dan Leone
(3:17 PM)
My favorite player of all-time is Reggie White but Brian Dawkings was my favorite player of this era.
Perry (CA)
Have you thought about looking for a book deal?
Dan Leone
(3:18 PM)
I've though about. If anybody is interested, please contact me.
Bobby (Pittsburgh PA)
What was your greatest memory with your time with the Eagles?
Dan Leone
(3:20 PM)
My favorite time was the win against Atlanta in the NFC Championship game. Fans were picking me up and throwing me around in all the celebration. What a great time!
Dan Leone
(3:22 PM)
I would like to thank everyone for all the support nationwide. Thank you to ESPN for the chance to chat. And to any of the Eagle management, please hire me back!