Chat with Siena coach Fran McCaffery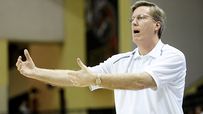 McCaffery played his college basketball as a point guard at Penn.
Welcome to The Show! On Thursday, Siena coach Fran McCaffery will stop by to chat about leading his team to another MAAC title and a berth into the NCAA Tournament.
In his fourth season, McCaffery has led Siena to the first back-to-back appearances in the NCAA Tournament in school history. Siena defeated Niagara 77-70 Monday to earn its fifth conference title. Last year, Siena, as a 13 seed upset four seed Vanderbilt.
For his career, McCaffery has won 223 wins, 84 of which have come at Siena. He has led three teams (UNC-Greensboro and Lehigh are the others) to the NCAA Tournament.
Send your questions now, then join McCaffery on Thursday at 1 p.m. ET to chat!
MORE
Previous chat guests | SportsNation Index
Buzzmaster
(12:54 PM)
Siena Coach McCaffrey will be here at 1 p.m. ET to take your questions!
Buzzmaster
(12:56 PM)
Coach is here!
Kevin (Belchertown, MA)
Great job this season, Coach! How do you prep the team over the next few days, since you don't know who you will be playing yet? Do you focus on your own offense and defense and just try to stay sharp? Are you scouting any potential matchups yet? Good luck!
Fran McCaffery
(1:00 PM)
You're pretty much right. That's what we're going to do. Stay sharp on what we do. Stay in shape. Do a lot of shooting. Get a couple of lifts in and stay sharp physically.
Sean (Fairfield, CT)
Coach McCaffrey, first and foremost awesome job by you and the team this year. I was wondering if you want to avoid a specific conference in your first round match up? Your non-conference schedule prepared you to face whoever you draw but in the back of your head is there any teams you would prefer not to see?
Fran McCaffery
(1:01 PM)
I don't think so. I think we have enough experience, enough size and athleticism to play with anybody. I think we proved that this year. Anybody that we find out about on Sunday that we play would be fine with me.
Tom, Little Falls, NY
Siena alum here coach. just wanted to say congratulations on your success, not only this year, but since taking over the program. I was a student during Lanier's worst season in school history (6-24) and to see where you've taken this program in a few short years is great. Again, congratulations and good luck. Let's win 2 this year.
Fran McCaffery
(1:02 PM)
We're going to try and win more then two. As we approach it, we're going to try and win one and go from there. I think we have a team that's capable of winning. But no matter who we play, it's going to be a very very good team.
SienaMan88 - Wading River, NY
Now that this is your 2nd year in a row in big dance with essentially the same group of kids as last year, will you do anything different to prepare and motivate the team? Or will you pretty much stick to the same script leading up to first game?
Fran McCaffery
(1:04 PM)
We won't deviate very much from game preparation. I think the biggest challenge for a coach is to distinguish the fine line from being ready and not enjoying the experience. I don't want it to be 100% business. I want them to be ready. Having been through it and having the experience we have, we'll be ready to play and play well.
Tom (Albany, NY)
Coach congratulations. Where will the Saints watch the selection show? Will there be a gathering on campus?
Fran McCaffery
(1:04 PM)
There is. It will be at the ARC from 5:30-7:30. Open to the public. Hopefully we'll see you there!
Rob (Wichita, KS)
Coach, congrats on your second straight MAAC Title with the Saints! Last year you said your season turned around with the Boise St win. Was there a particular game or particular moment that you felt you stepped up your game or your defense this year?
Fran McCaffery
(1:05 PM)
I would say this. After we came home from our lengthy trip from Florida. How we responded to losing three in Florida set the tone for the season.
Steiny (NYC)
You guys have five returning starters from a team that won last year. Would you say that is a major advantage for you guys?
Fran McCaffery
(1:06 PM)
It was an advantage in many ways. One of the five you're referring to, Josh Duell, was hurt much of the year. We had to come up with another starter for the year. But now that Josh is healthy, that gives us more of an advantage.
Boone (Albany , NY)
Fran, do you see yourself staying at Siena and building this school into a mid-major program like Gonzaga?
Fran McCaffery
(1:08 PM)
I think that would be great to build this program into one like Gonzaga. At this particular point in time, our focus is on the NCAA Tournament and not my contract status or anything. But I'm happy to say we have something special going at Siena and support from the community and the school. We have good recruiting. We're set for a long time to at least consistently knock on the door for a championship.
Connor (ny)
is connor mccaffery your favorite potential recruit in the class of 2017
Fran McCaffery
(1:08 PM)
The answer is, yes, although he threatened me one time to go play for Wake Forest.
Steiny (NYC)
If you can get Kenny Hasbrouck to shoot a high percentage, do you think you can beat anyone in the tournament?
Fran McCaffery
(1:09 PM)
That was certainly the case last year. When he's shooting the ball like he's been the last two months, we're a pretty hard team to beat. That takes the pressure off everyone else. But we are balanced so that we can win when he's not shooting well.
Brian (Baltimore, Md)
Fran: Congrats on another great year. I really like the way this team plays... except when it comes to shooting free throws. Is this an area of concern for Siena in the tournament?
Fran McCaffery
(1:10 PM)
Our free throw numbers are a little bit down from last year. We have good shooters that make their free throws at the end of the game. I feel good about the shooters going into the tournament.
Cohoes,NY
Did any of the 09'recuits come to the MAAC final?
Fran McCaffery
(1:11 PM)
They did not. There were some recruits from the junior class that came at their own expense. We were happy to have them there.
Tom (New York, NY)
Last year, Tay Fisher gave you a huge lift off the bench in both the MAAC title game and the Vandy game. Do you see Clarence Jackson as filling that role left by Tay?
Fran McCaffery
(1:12 PM)
He certainly did in the title game. Our offense was sputtering until we put him in the game. He has that ability, without question.
Ed, Loudonville
White Magic! With the news of Edwin Ubiles expecting twins, is that exciting or distracting for your team?
Fran McCaffery
(1:13 PM)
I think it's more important about how Edwin feels about it then the team itself. We're all happy for Edwin and he's escatic about it. He's a player that's beloved by his teammates and coaches. Anything that brings him happiness makes us happy.
Will (Mt. Pleasant, MI)
Hey Magic! Tell me, whats your favorite Gymnasium to play in? Is there one in the MAAC that sticks out?
Fran McCaffery
(1:14 PM)
I think probably the best experience of all the other MAAC schools would be Niagara. It's not a big place, but it's always a full house. It's a very intense environment and I Think that's what the players enjoy.
Mike (Clifton Park, NY)
Coach just wanted to say congrats and good luck in the NCAAs!! What seed do you expect us to get?
Fran McCaffery
(1:14 PM)
We don't talk aobut that at all. It's difficult to pinpoint anyway. Any attempt at speculation is a waste of time. We just get ready for whoever we're going to play.
Hank (Princeton, NJ)
Coach - First off, congrats. Can you share your thoughts on what was going through your mind watching the Rider-Niagara semifinal? Do you think that game benefited you guys on Monday night?
Fran McCaffery
(1:16 PM)
I think it took everything Niagara had to get them. There was a lot of emotion in the game. They seemed to ride that emotion at the start of our game. WE were just ready to spurt at that time in our game, than they were. With all the lead changes in our game, the team that got up by more then 4 was going to take it. I think it did take a lot out of them, that game against Rider.
TJ (Austin, TX)
What is the most important thing that you stress in practice?
Fran McCaffery
(1:17 PM)
Concentration. In the course of a practice, you're going from offense to defense, to out of bounds plays. We just want to improve each segment. THat's what we're trying to do, get each of our players to improve in practice.
Paul Albany NY
Fran Do want to play in Phila for the 1st round of the NCAA's since your from there? Your family there..
Fran McCaffery
(1:18 PM)
I think it would be great. I would love to go to Philadelphia. It would be a ticket request nightmare for me. So many of my family and friends would want to go to the game. Seeing them there would be great.
Tom (Buffalo, NY)
Your team got a lot of hype early and came out of the gate with some rough losses. How did you encourage them to stay positive?
Fran McCaffery
(1:19 PM)
I felt like when we lost those games early, No. 1 we lost to some good teams. We were in position to win two of them. My thought was this, let's understand why did we lose games that we were in position to win. Focus on why we lost and put ourselves in a position to not lose again. The players were good. I did not flip out or go crazy. I did not want to put that pressure on this team. They felt just as badly that we lost three in a row.
Josh (Latham, NY)
Hi Coach, in your last two games against Niagara, getting defensive boards was a big problem. How do you plan to deal with the offensive rebounding of bigger, stronger teams in the tournament?
Fran McCaffery
(1:20 PM)
Once we get into tournament play, we're not going to be one of the bigger teams. We need all five to rebound every shot. Fortunately we have guards that rebound. One of the problems we had this week was that Niagara was one of the best guard rebounding teams you'll see. We're going to go against a big strong rebounding team, no matter who it is.
Rich (Utah)
What does Alex Franklin mean to your team?
Fran McCaffery
(1:21 PM)
He's our go to guy in the post. He's a phenomenally consistent player on both ends of the floor. He's a player that we can count on because of his character. He;s not just one of the best players in the league, but one of the best in the country.
Tom (New York, NY)
Why didn't Kyle Downey play in the championship game? Was he hurt?
Fran McCaffery
(1:22 PM)
He was not hurt. I felt really badly about not getting into the game. Clarence gave us a bit lift. I played him in the second half based on how he played in the first. We had Josh Duell and Owen Wignot in there. Kyle has had a phenomenal year for us and he'll play in the NCAA tournament.
bo (albany)
Ron Moore is so quick,who can keep up with him in practice?
Fran McCaffery
(1:23 PM)
Probably the only guy that can stay toe to toe with him is Kenny.
Bryan (albany ny)
I know it may be early, but with Kenny graduating and 4 starters returning to the team, do you plan on sticking Clarence Jackson into the lineup for next year?
Fran McCaffery
(1:25 PM)
I think Clarence would be the logical choice by virtue of being he sixth man of the year in the conference. He'll play no matter what. We have some options. We could play one of our freshman. Maybe one of our transfers. We have a lot of options. We're strong at guard next year. I'm anxious to see how some of the other guys perform. We should have a strong team along with our front line.
Paul (Albany--NY)
Fran Can You coment on how all the players health situation is? Any questions
Fran McCaffery
(1:26 PM)
The great thing about having this week off is they can get healthier then they are now. Our main concerns are Kenny and Josh. Pretty much everything should be taken care of by the NCAA Tournament.
Rich (NYC)
Do you think having the MAAC in Albany is too much of an advantage?
Fran McCaffery
(1:27 PM)
I think it should stay in Albany by the way our fans have supported the tournament. We just broke the attendance record. We had over 9,000 people each game in the sessions that we played in. It shows well on ESPN, our facility. The people that run it make the MAAC tournament a first class event. As far as Albany having an advantage, our location is close enough if Niagara is close. We're equi-distant from everyboyd makes it attractive as well.
Fran McCaffery
(1:28 PM)
I just appreciate the phenomenal support we get. It means a lot to our players. That's the most important thing.