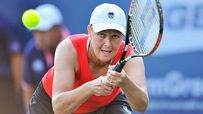 Liezel Huber and Cara Black are the No. 1 ranked doubles players in the world.
Welcome to The Show! On Friday, No. 1 ranked doubles player on the Sony Ericsson WTA Tour Liezel Huber will stop by to chat about this week's tournament in Indian Wells.
Huber along with her partner Cara Black are the top seed at the 2009 BNP Paribas Open which started March 9 and runs through March 22. Leizer owns 36 career doubles titles, including 24 with Black and the two have already started the year off on the right foot with wins at Paris (Indoors) and Dubai.
In March 2008, she opened Huber Tennis Ranch in order to build character in every player, through world-class coaching, enjoyment of the game and giving back to the community. Huber also started a private non-profit foundation called Liezel's Cause, to help victims of Hurricanes Katrina and Rita.
Send in your questions now, then join Huber on Friday at 3 p.m. ET!
MORE
Previous chat guests | SportsNation Index
Liezel Huber
(2:55 PM)
It's fun for me to be here! I'm glad to be here to represent the doubles players on the WTA tour. Let's get started!
Billy Ray (Houston)
I hear that you sometimes travel to tournaments in an RV. Did you drive to Indian Wells? And what has been your favorite trip in the RV?
Barney (Northeast Philadelphia)
You and Cara Black seem to play so well together. What is it about Cara that makes her such a good partner? Good luck this week in Indian Wells!
Liezel Huber
(2:59 PM)
Thank you very much. There are so many good aspects to Cara game but the best thing about her is that she truly believes in our team. So also is a very gute player, she has great hands, and can make plays that I might not be able to make.
Sonny (Surprise, AZ)
Liezel, Congrats on your recent win in Fed Cup here in Arizona. What was it like playing Fed Cup for the American team? And how did that win compare to some of your other recent wins?
Liezel Huber
(3:01 PM)
I don't think I can rank any Fed Cup victory to any other victory. It's not just about how I perform but how the team performs. I'm lucky that I was chosen to play in the Fed Cup.
Liezel Huber
(3:01 PM)
My goal now is to get to the Fed Cup final and I will try my hardest to get there.
Steiny (NYC)
You have had so many great accomplishments over your career. Of all those accomplishments, which one means the most to you?
Liezel Huber
(3:04 PM)
Wow! I don't know if we truly look at the victories as accomplishment. I look at general things in my life as accomplishments. Being able to give back to the community and make changes in my life as well as the lives of others is a big accomplishment for me.
Vinny (New York City)
Liezel, what is your favorite Grand Slam event?
Liezel Huber
(3:06 PM)
The first Wimbledon that we played was very special. Winning the US Open as an American was a very special moment but overall all the grand slams I play in a special.
Patrick O'Shea (Dublin)
What is one thing you can't live without when you are on the road?
Liezel Huber
(3:06 PM)
Good Question!
Liezel Huber
(3:08 PM)
I would say my husband. When we was first married I traveled by myself and six months later I told him that I was quitting tennis. That's when he decided to quite his job and travel with me and that has made me a better person on and off the court. The day that he stops traveling, I think I will stop traveling too!
Evan (Phoenix)
How much time do you and Cara spend together when you're not playing tennis?
Liezel Huber
(3:09 PM)
We spend a fair amount of time together because we are friends off the court. We just try and have lunch together and every now and again we go shopping.
Bud (Milwaukee)
Do you follow any other sports other than tennis? What's your favorite sport to watch?
Liezel Huber
(3:12 PM)
Of course! I was born in South Africa we have rugby and cricket so I have to support that. I'm also a fan of the Houston Rockets and Texans. I go to a couple of games when I'm home. We also support the local hockey team in Houston.
Liezel Huber
(3:15 PM)
It's been overwhelming with all the support I've gotten since becoming an American. We are honored to help make a change with anything that we can do especially with Huber Tennis Ranch. I just want to thank every again for all the support and for the opportunity that I have been given.