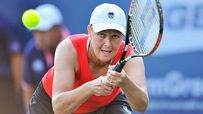 Liezel Huber and Cara Black are the No. 1 ranked doubles players in the world.
Welcome to The Show! On Friday, No. 1 ranked doubles player on the Sony Ericsson WTA Tour Liezel Huber will stop by to chat about this week's tournament in Indian Wells.
Huber along with her partner Cara Black are the top seed at the 2009 BNP Paribas Open which started March 9 and runs through March 22. Leizer owns 36 career doubles titles, including 24 with Black and the two have already started the year off on the right foot with wins at Paris (Indoors) and Dubai.
In March 2008, she opened Huber Tennis Ranch in order to build character in every player, through world-class coaching, enjoyment of the game and giving back to the community. Huber also started a private non-profit foundation called Liezel's Cause, to help victims of Hurricanes Katrina and Rita.
Send in your questions now, then join Huber on Friday at 3 p.m. ET!