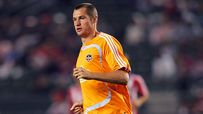 The Sounders' inaugural season starts Thursday at home against New York.
Welcome to The Show! On Tuesday, Seattle Sounders FC forward Nate Jaqua stops by SportsNation to chat about the first ever MLS season for the Seattle club.
Jaqua was selected by Seattle in the expansion draft, after spending the 2008 season with Houston. He was also a member of the 2007 MLS Cup champion Houston squad. He starts his first year with Seattle as the top career scorer. He has 32 goals and 17 assists in six seasons in the MLS.
Send in your questions now, then join Jaqua on Tuesday at 4 p.m. ET!
MORE
Previous chat guests | SportsNation Index
Buzzmaster
(4:00 PM)
Nate will be here soon!
Josh M., Seattle
What do you think of the Sounders FC rave green uniforms?
Nate Jaqua
(4:16 PM)
The green is a little bright, but I think it is a nice uni and we'll look good in it.
Alex Pedraza (springfield, Illinois)
hey I am a big fan! i just wanted to ask you, if you had any tactical offensive advice to share to a fellow attacking player.?
Nate Jaqua
(4:17 PM)
Work on making quick decisions, good runs and getting your shot off quick.
Oreo, NY, NY
Expansion teams usually have a difficult first few years. How do you think the Sounders will perform in 09? What goals has the team set out for itself?
Nate Jaqua
(4:18 PM)
First our goals is to make thewplayoffs, and with the young team we have, it has a lot of potential, and I think we will do better than past expansion teams. I think if we play to out potentail we have a very good shot of making the playoffs.
Amy Files (San Diego, CA)
Nate, with Freddie Ljunberg missing most of the preseason, what adjustments to your game do think you'll need to make when he's fully fit?
Nate Jaqua
(4:19 PM)
I think we have a good lineup we have ready to come out. We have prepared with the idea that he won't be there from the start,. When he comes back it will add to that and be a big boost for us.
Reggie, Boston, MA
As a native of Oregon, Do you have any thoughts on the possibility of an MLS team in Portland?
Nate Jaqua
(4:20 PM)
I think an MLS team in Portland would do well, and I think it would make for a good Northwest rivalry. I think a team in Vancouver would work well. I think the more soccer you get in the Northwest the better. I think the league has realized that with all the support its gotten.
Jake (Seattle, WA)
MLS First Kick is only a few nights away, how prepared and unified do you feel the Sounders are? And how does it feel to be back in the Pacific Northwest?
Nate Jaqua
(4:21 PM)
Well it is great to be back here, close to home and around these great people. I think we had a great preseason and have come together well. I think we will put out a good product and do well.
Ness (Seattle, WA)
Nate, better uniforms - Houston's creamsicle orange or Seattle's rave green?
Nate Jaqua
(4:22 PM)
Those are crazy colors. I like Houston's jerseys, but as a Sounder, I will go with the green. I am pushing for a white kit to have every now and then.
Cesar, Miami, FL
What does a guy like Kasey Keller bring to a young team like the Sounders?
Nate Jaqua
(4:23 PM)
Well he brings all that experience. We can bounce questions off of him and he is also a tremendous goalkeeper. Hopefully he can clean up any mistakes a young team may make and be a unifying presence at the back.
Megen, Portland, Oregon
What is your favorite thing to do in Seattle besides playing soccer with the Seattle Sounders FC?
Nate Jaqua
(4:25 PM)
I've only been here for about a month now and it's been all preseason for me. So I am looking forward to the summer and getting outside and seeing more of the city.
Nate Jaqua
(4:25 PM)
Thanks for all the questions. I am excited for Thursday night. Should be a great one!