Chat with Notre Dame's Leprechaun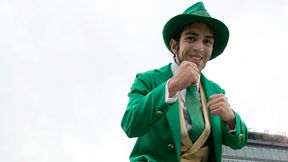 Notre Dame adopted the Leprechaun as mascot in 1965.
Welcome to The Show! Happy St. Patrick's Day! On Tuesday, we'll have the Notre Dame Leprechaun, Juan Muldoon, stopping by to celebrate all things green and Irish.
Muldoon, a senior, was named the varsity Leprechaun last spring, after spending two years as the junior varsity mascot.
According to Notre Dame's Web site, the Leprechaun became the school's official mascot in 1965. It took the place of Irish terrier dogs, which had been the school's mascot since 1930. The Notre Dame logo features a side view of the figure with his dukes up, ready to battle anyone that comes his way, while the live version is a student, chosen annually at tryouts, dressed in a cutaway green suit and Irish country hat.
Send in your questions now, then join Muldoon on Tuesday at 4 p.m. ET!
MORE
Previous chat guests | SportsNation Index
Buzzmaster
(4:01 PM)
We're getting Juan Muldoon, Notre Dame's Leprechaun right now!
Buzzmaster
(4:02 PM)
We're all set!
Mitch (St. Pete's)
Do you taunt opponents during games? If you don't, I think you should start.
Juan Muldoon
(4:03 PM)
We try to keep sportsmanship pretty high. Every now and then, the emotions run high. I'm not about taunting, but I'll celebrate after a big play. I don't mind taunting the other mascots.
Eric (South Bend, IN)
What are the goals/objectives for the leprechaun during initial tryouts and how excited were you to find out you were going to be the next leprechaun for the University of Notre Dame?
Juan Muldoon
(4:06 PM)
That's a great question. Basically, it's like a two week long prospect. We start trying out with the cheerleading team. Just some basic stunts. We have tests along the way. They'll throw you a situation - your team is down by 10 points, you just had a bad crowd. They judge on your reaction. The very last round, they have about 5 or 6 guys from the initial 30 or so. The first part is you get to run a live pep rally. That's one of our most important responsibility to run the pep rally for the football games. The second part is they'll interview you. To see how you react and think on your toes. The third part is they have a panel interview. There are nine panelists. Might be the AD, coaches from other sports, marketing people. They want to see about your character.
Joe (Oregon)
Your favorite cereal is Lucky Charms, right?
Juan Muldoon
(4:06 PM)
Actually, it is. It was before I even became the Leprechaun. I'm a big fan of the sugary cereals.
Anthony (Buffalo, NY)
Hows it feel to be in the green suit on the sideline? and how do u think the Irish will do next year?
Juan Muldoon
(4:08 PM)
Being in the green suit is the greatest thing you could possibly feel. You're a part of the game in a very special way. You're connecting the crowd and the players all at once. You can see how the players and the crowd all react at once. I'm really excited about next year. We have a lot of talent coming back. Last year, our underclassmen were producing a lot. We have another great talented class coming in. The sky's the limit.
Pat (New York)
Do people ever try to fight you, on account of the whole fightin' Irish thing?
Juan Muldoon
(4:08 PM)
Other then the other mascots, not really. The fans usually don't hold back on the insults though.
Mike (Indiana)
Say something disparaging about USC or something associated with them. Wait I'll start: LenDale White is fat.
Juan Muldoon
(4:09 PM)
Nahhh, I would love to. So many things I would like to say, but it goes back to my first point about the sportsmanship.
PLEASE ANSWER! Frank: (midwest city, ok) [via mobile]
Happy st pat's day and in go irish! Who has the better chance, nd in final four this year or nd in bcs game next year...as the favorite?
Juan Muldoon
(4:10 PM)
I'm going to have to go with the BCS next year, because we're going to be tipping off in the NIT in a couple of hours here.
Juan Muldoon
(4:10 PM)
I would like to see a Fiesta Bowl, that would be a lot of fun.
Kevin (New York)
What will be ur signature celebration for the season? Irish JIg, Jumping and pumping of the czne, heel clicks.?
Juan Muldoon
(4:11 PM)
My go-to move is trying to do the pushups in front of the student section. Sometimes I'll try to jump on the students as they do the push ups. I really like to go to the band and steal their instruments, especially the drum line. I love it. We have a good time with them.
Joe McCann (Canton)
Did you at all think they went a little too far with the production of, "Leprechaun in the Hood?" I did. Go Irish!
Juan Muldoon
(4:12 PM)
I'm not the biggest fan of the Hood Leprechaun. I like to keep it the Irish way.
Pete (Boston)
What does a leprechaun do for St. Patrick's Day?
Juan Muldoon
(4:13 PM)
That's a great question. We just finished our spring break. We just started class, so I had three classes. We have our basketball team playing tonight and our baseball team has its season opener. It's the one week where we're demanded everywhere. We do appearances at hospitals and other places. I feel like Santa Claus this week.
RJ (Boston)
Are there any particular foe mascots you enjoy showing up, more than others?
Juan Muldoon
(4:14 PM)
I definitely have a thing against Sparty.
Juan Muldoon
(4:14 PM)
When we played this year, he started to pick a fight but I wouldn't have any part of it.
Aaron (Florida)
So settle a discussion for me, can mascots talk? ARen't you breaking some sort of mascot code or something by talking?
Juan Muldoon
(4:15 PM)
No! Not at all. At Notre Dame, that's a cool thing about it. I think there are only two mascots that talk and that's me and the Mountaineer. That's why I'm just not a mascot, it's a personality, an emblem, a symbol.
Jordan (New York, NY)
LepreJuan!!! What was the best sporting event that you got to take part in this year?
Juan Muldoon
(4:16 PM)
The Hawaii Bowl, for sure. We got to go out there with the team. We had a few days there. We came out really fired up. We didn't have that big of a crowd, but the ones that were there were really big fans. It also made history because we hadn't won a bowl game in a while.
Juan Muldoon
(4:16 PM)
Also the Michigan game at home. A lot of people had doubts about us. Michigan is a big rival. Our guys came out and we crushed them. Our guys were drenched. But it was a cool atmosphere. It was really cool.
Maria (Texas)
so tell me, who is the best sister in the world? :-) GO IRISH
Juan Muldoon
(4:17 PM)
I'm going to say Maria. My very own sister Maria.
JB (Los Angeles)
Where is your pot of gold?
Juan Muldoon
(4:17 PM)
It's always at the end of the rainbow. But I like to think there's a little bit of gold after every touchdown.
Ted (New Jersey)
What is the best advice that you ever got?
Juan Muldoon
(4:18 PM)
The best advice is actually advice I've given too, there's not a bigger play, not a bigger moment, it's all about now. Don't hold out about a bigger moment, a bigger play. Give it all you have. That can be tiring at times, but if you're going to be fired up, that might spark a fire in others and that might turn the season around.
RJ (Boston)
In this day and age, are the players pretty cool with you, and are they still at all awestruck at being a part of the Notre Dame tradition? Do they still covet their golden domes?
Juan Muldoon
(4:20 PM)
Here at Notre Dame, you don't feel a lot of separation with the players and students. Some might think they get treated differently, but they don't. They're in our classes. We have a good time together. We're all classmates. I room with Evan Sharpley. We share a lot of friends. They're not standoffish at all. It's not just because they recognize me, they do that with all the students. The players are great. They're cool, down to earth humble individuals for the most part.
Dan (Kansas)
What's it like on the field or the court feeling the enthusiasm of the fans and students?
Juan Muldoon
(4:21 PM)
It's unreal. You want so badly to be a part of it and contribute to it. You can't just sit on the sidelines and watch. You have to look for what's missing in the atmosphere. Maybe a pause or something and you want to change it. What's going through my mind is this is awesome and I'm having so much fun how can I make it better.
Carlton (Savannah,GA)
How is your favorite Notre Dame football player of all-time?
Juan Muldoon
(4:22 PM)
Of all time? That's a good question. I always like to see Joe Montana. I've seen him on film a whole lot. He had a great attitude. He was a come from behind for the win kind of guy. I've always admired that about him.
Juan Muldoon
(4:23 PM)
I look at some of the young talent right now and it will be hard for me to say. Those guys are awesome and they're breaking every record they can. They'll have great careers. They'll make great things happen for us at Notre Dame.
Juan Muldoon
(4:24 PM)
Thanks for all your support. We're looking forward to a great season. And of course, have a Happy St. Patrick's Day!