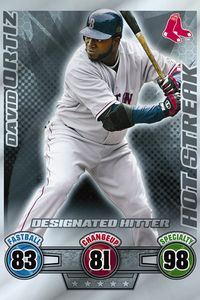 The David Ortiz card in the new Topps Attax game.
Welcome to The Show! On Friday, an extremely special guest stops by when Boston Red Sox DH David Ortiz makes his first ever appearance with SportsNation.
Ortiz, a two-time World Series champion, holds the single season home run record for the Red Sox with his 54 round trippers in 2006. He is sixth all-time in home runs hit as a Red Sox, with 230. He is 12th in RBI as with the Red Sox with 731.
Ortiz is helping baseball card company Topps launch "Topps Attax," a new multi-player, head-to-head baseball card game. The game allows fans to manage their teams, while competing face-to-face or online at ToppsTown.com.
In Topps Attax, players battle, selecting pitchers and batters to "match up," the same way that players do in Major League Baseball games. Once the pitcher's team calls out a pitch and the batting team turns over their batter, ratings are compared. If the batter's rating is equal or higher, the run scores -- if it's lower, the batter is out.
Send in your questions now, then join Ortiz at 12:45 p.m. ET Friday!
MORE
Previous chat guests | SportsNation Index
Buzzmaster
(12:45 PM)
David will be here shortly, everyone!
Justin Behling (Boyceville, WI)
What are your expectations for this 2009 Boston Red Sox club?
David Ortiz
(12:48 PM)
We're hoping everyone will stay healthy. We suffered a lot of injuries last year, so hopefully we'll have a better season this year.
Travis (Boston)
David, thanks so much for your time! How is the clubhouse atmosphere this year in comparison to previous years? I know the media has painted the Red Sox as a slap-stick, fun having bunch in the past, but there seems to be a shift to more intense/serious-type guys (Youk, Pedroia, Lowrie, Drew). Are you still having as much fun?
David Ortiz
(12:50 PM)
It's good, we have a good group of guys. Everybody that comes to our clubhouse from another teams get to see how we do everything, and they usually like it. When a group of guys are together for 3/4 of the year, you need to do something different and go to the field with the same energy every day.
Brian (Scottsdale, AZ)
Big Papi.....Bigger threat to the RedSox. Yankees or Tampa?
David Ortiz
(12:51 PM)
It all depends. The Rays had a really good team last year and had a bunch of young guys able to play the game the way it's supposed to be played. Everyone was surprised about it. Everybody knows that the Yankees, like the Red Sox, will be there competing. You don't know how the Rays will be like this year.
Shelly (Boston)
Are you going to try and get your teammates with the Red Sox to play this new game in the clubhouse?
David Ortiz
(12:52 PM)
Probably...you know how it is, we're like little kids. Whenever we see something new coming out, we want to give it a try. That's when we want to bring things to the next level, and maybe get our kids playing it as well. I think they'll have a lot of fun with it.
Nate (Boston)
Have you ever been on a team with such a deep and talented pitching staff? You might not have to worry as much about scoring this year!
David Ortiz
(12:52 PM)
I don't think I have, to tell you the truth. I've been on a few all-star teams going to Japan, and the WBC teams that had the best of the best, but coming from different teams, not everyone is focused on the same goal like we are right now.
Alex(Detroit,MI)
Papi, What pitcher gives you the most problems?
David Ortiz
(12:53 PM)
All of them always come out with new stuff. It just takes you some time to figure things out. You have to do it on each at-bat, or they will eat you up.
Craig (Norwich, CT)
Do you feel Curt Schilling deserves to be in the Hall of Fame? Also, thank you for 2004 and 2007.
David Ortiz
(12:54 PM)
I think so. I think he should be.
Femi (Hockessin, DE)
how important is having Tek back to the pitching staff and the rest of the team from a leadership standpoint
David Ortiz
(12:54 PM)
Jason is different from every catcher I've seen in my life. He's a guy who, when he's not playing, is taking notes on different hitters or pitchers. You don't get that every day. I'm pretty sure everyone would like to have him on their team.
Jem (Westchester)
WBC--uh, what happened?
David Ortiz
(12:55 PM)
I think it was just a tough time for us to play. Coming from vacation, you're not ready to face pitchers yet. Some guys are capable of doing it, and others aren't. If you don't get it done, the next thing you know, you're home.
Alex MA
Papi hows the wrist feeling? Are you 100 percent going into the season?
David Ortiz
(12:56 PM)
I'm feeling really good. No pain at all. I'm good to go.
Zach (Newport News, Virginia)
The hit you are most proud of in the major leagues was....?
David Ortiz
(12:56 PM)
I don't know---I have a lot of good ones!
Shane (Knoxville)
David, have you given any thought about what you might do after your baseball career?
David Ortiz
(12:57 PM)
I haven't thought about it. I think I could play five, six more years, and then think about what I'd want to do afterwards. I'm not really sure.
Ben (Lincoln, NE)
Are you going to pull a Pedroia and call Topps to tell them that you hit a fastball way better than 83?
David Ortiz
(12:59 PM)
Well, you know how it is. My boy just won the MVP last year, so you're gonna get top play from him all the time. But they know Big Papi.
David Ortiz
(12:59 PM)
Topps is the best in the business. God bless!
Buzzmaster
(1:32 PM)
Just letting everyone know, David wasn't taking questions on Manny Ramirez today. Apologies to those of you who asked those questions.