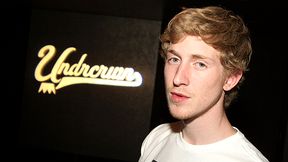 Roth on the comparisons to Eminem: "He made it possible for me to be here, he opened the doors, but we come from an entirely different inspiration."
Welcome to
The Life
! On Thursday, rapper Asher Roth will stop by to talk a little football and chat about the upcoming release of his debut album, "Asleep in the Bread Aisle," which will hit stores April 20.
Roth, a native of Morrisville, Pennsylvania, delved into hip hop as a hobby in high school and began to attract a strong following in college with the help of social networking sites like Facebook and MySpace. He relocated to Atlanta where he found himself rapping in front of Jay-Z and watching his career take off. Roth released "The Greenhouse Effect Mixtape" in 2008 which was made available as a free download on Roth's website, The Daily Kush. His song "I Love College" has been played more than 29 million times on Myspace.com/asherrothmusic.
Send your questions now and join us Thursday at 4 p.m. ET to chat live with Asher Roth!
MORE
Previous music guests | SportsNation Index
Buzzmaster
(4:02 PM)
Asher Roth will be here soon! Keep sending in your questions!
Asher Roth
(4:04 PM)
What up this is Asher Roth, my album is coming out on 4/20, Asleep In The Bread Aisle.
Timmy (Dallas)
Who are your top 5 favorite rappers?
Asher Roth
(4:06 PM)
Tough, because it changes kinda with my mood. But to this date, Mos Def, Notorious BIG, Pharoahe Monch, Black Thought, and today I am feeling Ghostface Killah.
Smoky
Did you see the video of UT coach Bruce Pearl rapping? Got any words of advice?
Asher Roth
(4:07 PM)
I did not get a chance to see it, but why am I not surprised that he is rappin? But Bruce has it all figured out with his exuberance. He is a player's coach. Keep rappin Bruce.
Latham
have you been asleep in a bread aisle?
Asher Roth
(4:07 PM)
Literally, no, unfortunately. But my buddy has and that is where that album name comes from. But, no, not me personally.
Zach (Boston)
Do you get tired of the comparisons to Eminem? What do you think of his new single?
Asher Roth
(4:08 PM)
Yeah, it gets a little lazy and tiresome. But it is what it is. I do not think he needs to play that game with the new single; it is the same old formula.
Brandon, Long Island NY
How much pressure do you feel not only as a new artist, but as a white rapper?
Asher Roth
(4:10 PM)
There really is none. Pressure is created by the person. Yes people have expectations, but I cannot let pressure dictate how I get down, because if I do, it will make the music feel manufactured. When I shoot videos I look at them as 7th grade science projects and I write music for myself. I do know people expect certain things, but all I can do is deliver what I deliver.
Jessica (Indianapolis)
hii =] i like your song. it makes me laugh. and my friend steph told me to give you my number but thats weird lol. so umm ha okay im gonna go now byee.
Asher Roth
(4:11 PM)
Alright, word up. :)
Joe Philly PA [via mobile]
I Love College is the best party song ever, hands down. You feelin an all PA super bowl this year?
Asher Roth
(4:12 PM)
This year, I do not know. I am a 49ers fan, so I rooting for Singletary to restore us to greatness. McNabb had his chance and it did not work out. I am not sure if Andy Reid and Donovan will make it back, but the Steelers are the world champs, sop they can always get back.
Joe T. (Washington, DC)
I heard you wrote a song about the 49ers, did they ever pay your phone bill?
Asher Roth
(4:13 PM)
No they did not. But I did get the bill down. I watched the 49ers game in Rome on my phone and it cost me $1000. But I got that down to a couple hundred dollars. So the 49ers sorta paid my bill.
Bryan (Columbia, MD)
Yo whats the craziest thing you ever done at a party?
Asher Roth
(4:15 PM)
I think destroying sh*t is the craziest thing. Just willin out and then throwing cereal all over the kitchen and having a dance party. I'll keep it pg-13.
Mikey
Do you eventually want to get into acting like every rapper seems to want to do?
Asher Roth
(4:16 PM)
I don't know. Right now we still need to drop the CD. The entertainment industry is always interesting. I do not know if I want to be an actor and play a role that is not me. But I may want to appear in something as myself.
luke miller
which athlete would make the best rapper?
Asher Roth
(4:17 PM)
Michael Phelps.
Troy,Maryland
I love your song I love college. Where did you get the inspiration to write that song?
Asher Roth
(4:17 PM)
From college.
Alex Fisher, LA CA
How high should I draft Alex Smith in Fantasy this year?
Asher Roth
(4:17 PM)
7th round, sleeper.
Richard Bloomington, IL
I can't wait for the cd to hit 4/20. So who is your favorite football team?
Asher Roth
(4:19 PM)
49ers. And in baseball it's the Giants, and I hate to admit it, the Lakers in basketball. But I follow NBA players more than teams. But the 49ers are the team I would choose if I could only go with one. They are the one team I would take with me if I were on a deserted island. That is like a religion to me.
Steiny (NYC)
What rapper has inspired you the most?
Asher Roth
(4:20 PM)
I think it's either the Roots, Mos Def, and Black Thought and Pharoahe as well.
marcus, dallas, tx
if you could be any athlete who would you be?
Asher Roth
(4:21 PM)
LeBron James, or Ed McCaffrey or Wes Welker, but right now James. He scores at will and will be getting his ring this year, too.
Jake - NY [via mobile]
What college did you go to?
Asher Roth
(4:22 PM)
I went to Westchester University in Pennsylvania.
Tmac in philly
what advice would you give an aspiring rapper?
Asher Roth
(4:23 PM)
Just be yourself and keep being creative. It sounds easy, but it is so, so important to be yourself and have fun with it. It is not that serious. So enjoy your time and have fun.
Asher Roth
(4:27 PM)
Thank you, I appreciate the support. There is much more to come. The album comes out on 4/20, and to check out more go to thedailykush.com.