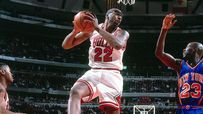 Salley won four rings with three different teams.
Welcome to The Show! On Tuesday, four-time NBA champion John Salley will stop by to chat about the upcoming NBA playoffs.
Salley earned his rings playing for three different teams. The first two rings came as a member of the Detroit Pistons. He was a member of the "Bad Boys" Pistons team that won back-to-back titles in the 1988-89 and 1989-90 seasons. His third ring came while playing on the 1995-96 Chicago Bulls team that set an NBA record by winning 72 games. He also played on the 1999-2000 champion L.A. Lakers team.
Now that his playing days are over, Salley has been working with PETA, urging students to consider vegetarianism. Salley became a vegetarian 17 years ago and now he'll be helping PETA host two veggie-burger giveaways to students in the Chicago area. The students' lunches will be provided by Chicago's Soul Veg Restaurant. Other vegetarian athletes include Prince Fielder of the Milwaukee Brewers, Raja Bell of the Charlotte Bobcats, and Olympic legend Carl Lewis. For more information, go to PETA.org.
Send your questions now and join Salley on Tuesday at 3:30 p.m. ET/2:30 p.m. CT!
MORE
ESPNChicago.com | Previous chat guests | SportsNation Index
John Salley
(3:31 PM)
I'm John Salley and I'm a vegan. I'm a vegan because I'm only four pounds heaver than I was in 1989.
Luke (Charlotte)
How did you make the decision to go vegetarian?
John Salley
(3:34 PM)
I was a vegetarian first. I had high blood pressure at 27, everybody in my family died of cancer and I new it was in the food so I changed my diet.
Evan (Phoenix)
Do you think the NBA has made the rules too easy for the players these days? I think a lot of guys wouldn't have been able to play against your Pistons teams.
John Salley
(3:36 PM)
The Pistons teams made the rules change. We made them chance 10 rules to be exact. Rules were put in because of the way the Piston played. Player have always been able to adapt to the changes so I think some of them would be able to play against us.
karl (WV)
You were one of the original "Bad Boys" so I've always wondered, how did you go to play for the Bulls?
John Salley
(3:39 PM)
I did this for a living so if I was work. If I was working for Apple and Microsoft hired me to do the something for the dame pay I would leave to.
P.S. Ask the Pistons how they can traded me ...wink
fred (TX)
Do you wear any of your title rings?
John Salley
(3:39 PM)
No ...
TJ (Austin, TX)
What kind of work are you doing with PETA?
John Salley
(3:42 PM)
I did a PSA about a year ago with PETA since then they have invited me to speak about the health benefits of being a vegetarian.
Franklin (Los Angeles)
I was diagnosed with Gout a few years ago...would a vegetarian diet help cure my Gout?
John Salley
(3:43 PM)
A vegan will. You can always go through a body detox and visit www.karynraw.com. Check out her detox and it will help heal your gout.
Vicky and Kelly (Los Angeles)
We just love your style. Where do you buy your clothes?
John Salley
(3:45 PM)
My stylist pick all my clothes. It's funny because their name are Vicky and Kelly too!
Brandon Toledo,Ohio
did guys ever mess with you knowing you didn't eat meat
John Salley
(3:48 PM)
No, no one ever really messes with me!
John Salley
(3:49 PM)
Check out www.johnsalleyfoods.com. Live life to the fullest!