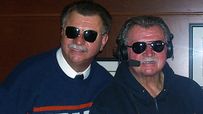 They say imitation is the sincerest form of flattery. That's him on the right.
Welcome to The Show! On Wednesday, lengendary Chicago Bears coach and current ESPN NFL analyst Mike Ditka will stop by to take your questions in a live chat to help celebrate the launch of
ESPNChicago.com
.
Ditka coached the Bears for 11 seasons, but none more memorable than the 1985 campaign that resulted in a 46-10 Super Bowl victory over the New England Patriots. The win immediately immortalized Ditka alongside fellow Chicago greats such as Dick Butkus, Ernie Banks and Harry Caray. In fact, in a recent poll about SportsNation's favorite Chicagoans, Ditka finished third behind only Michael Jordan and Walter Payton (and two spots above deep dish pizza.)
However, "Iron Mike" did more than coach the Bears to a Super Bowl victory. As a Bears player he earned Rookie of the Year honors in 1961 and helped the 1963 team to the NFL Championship.
Send your questions now and join Coach Ditka at 3 p.m. ET on Wednesday.
Buzzmaster
(2:59 PM)
Coach Ditka will be here in minutes!
Chris ( Queens, New York)
Does Cutler have enough offensive weapons (Hester, Olsen, Davis, Bennett) to produce as he did in Denver or do they need to add via Draft\free agent?
Mike Ditka
(3:02 PM)
Cutler's a great talent. He doesn't have the great weapons that he wants right now. But the Bears have the QB they want right now. So, now they'll have to build up that offense.
Jim Bourbonnais, IL
Does all the attention/love/obsession that the '85 Bears get ever bother you, or is it all still fun to you?
Mike Ditka
(3:02 PM)
That was a long time ago. I guess it was fun. It was a good football team. You can't get too carried away with it. People here still remember them because it was a great football team.
Todd Kingwood, Texas
How many games, if any, will the Detroit Lions win this year?
Mike Ditka
(3:03 PM)
They'll win football games. You set up your whole season to get better. I don't know what they're going to do - pick up a QB or what. It's fine to get a Qb, but if you don't have a LT to protect him. You have to change the culture.
Danny Rose (NJ)
NFL schedule released yesterday! Miami Dolphins have the toughest schedule! when do you think they will reach the super bowl next?
Mike Ditka
(3:04 PM)
They've done a good job. They have a real solid football team. It's going to come down to in that division that it's a tough division. The Patriots will come back. Are they good enough to win that division? I don't think so.
Bob Shorewood, IL
DA BEARZ!!! Hey Coach how excited are you for the Bears season...I am stoked!! My question is about the season & home opener. Could any NFL fan have asked for a better start to the season? Bears @ Packers Sunday Night and then Bears vs Steelers to follow it up!! Maybe I am just a homer but seems to me that these are going to be hardnosed football games!
Mike Ditka
(3:05 PM)
That's about as good as it gets. That rivalry is the oldest in the NFL. It's what you want to have. You can't ask for anything better. You have to control your division to win your division. Those are two good football teams.
Dave (Flagstaff, AZ)
What do you think, Coach? Does Kurt Warner have it in him for another SB run?
Mike Ditka
(3:06 PM)
I do. I think they're a good football team. I like them a lot. You give him the weapons around him. They have a pretty good defense now. Ken Whisenhunt brought over the Pittsburgh mentality. I like Warner, he's a class act.
Doug (North Carolina)
What do you think are the chance the Panthers make the playoffs this season?
Mike Ditka
(3:07 PM)
I think that's a solid football team. A lot of their season will depend on what they do with the QB position. I think he's the key to that team.
Matt (Staten Islan NY)
Who will the Giants pick up to replace Burress?
Mike Ditka
(3:07 PM)
He's a big loss. But the Giants are a good team. They have a lot of good components, a great coach. They'll find a way to replace him. I like a lot of the things they do.
Christian (Chicago, IL)
Coach! In your opinion, do you think the Bears should pick up a safety or wide receiver in the second round of the draft?
Mike Ditka
(3:08 PM)
I would take a WR. If you have a QB, you need a WR to get the ball to. The leading receiver was a RB and TE. I don't know who it would be, but they need to get an outside receiver.
Doug (North Carolina)
Coach, who are your favorites as of now to reach the super bowl?
Mike Ditka
(3:09 PM)
I think you have to look at the teams that were there last year. Pittsburgh, Arizona. The Patriots. Somebody will come out of the pack. There's no question. But you have to look at the teams from last year. They're just going to get better.
paul best hamburg arkansas
do you think the colts can make it to the playoff next year without coach tony dungy and marvin harrison
Mike Ditka
(3:10 PM)
Any time you have Peyton Manning at QB and the team they have, they still have the components to be a contender. Harrison was getting a little older. But the key to that whole thing is Manning, period.
Mike (Ohio)
Which do you enjoy more, being on TV or being on the sidelines coaching?
Mike Ditka
(3:11 PM)
I think it depends on the time of your life. I enjoyed when I was playing, I enjoyed when I was coaching and I enjoy what I'm doing now. I hope I impart at least a little knowledge to somebody.
Aaron (Florida)
did you ever watch the SNL skitS?
Mike Ditka
(3:11 PM)
I saw them. As a matter of fact, I'm going to have a reunion with them and I am going to join them. I had a lot of laughs watching them. A lot of the Chicago fans were that way.
Tim (Champaign, IL)
Coach, will the signing of Orlando Pace have a very big impact on the Bears, or do you think their O-Line could still use some re-tooling?
Mike Ditka
(3:12 PM)
I think if he can still play anywhere near the level he has, he'll help them out. He'll line them up on the left side and he'll solidify that line. But he's been around a long time.
Brian (West Lafayette, IN)
Coach, you've been a Kyle Orton supporter historically. I personally like his situation in Denver with the receiving talent around him and offensive system that is supposed to be implanted there. How do you think he'll do?
Mike Ditka
(3:13 PM)
I think he'll do great. I like him a lot. I think he is a heckuva QB. He's got some WRs out there. I think he'll do a good job.
Jake (Philly)
Who would you like to build your franchise around? Matthew Stafford, Jason Smith or Aaron Curry?
Mike Ditka
(3:13 PM)
You better build up the middle. Curry's a great football player, but if you have a guy that could be a franchise QB, you have to go get him.
Duaane (A.C, N.J.)
Coach Ditka, if you were coaching the Eagles, who would you take at the 21st and 28 picks and why. thanx
Mike Ditka
(3:14 PM)
You have a lot of things in place with the Eagles. Things aren't easy in that division. Maybe WR. That might be the one thing. A good DL to put pressure on the QB. that would be a good direction to go in.
Mike Ditka
(3:15 PM)
The one constant in life is change. So expect change.
Buzzmaster
(3:15 PM)
Thanks Coach!