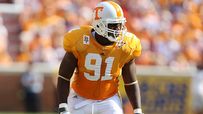 Mel Kiper has Ayres going 11th overall.
Welcome to The Show! On Friday, NFL prospect Robert Ayres stops by to chat about playing at Tennessee, his experience at the combine, and the NFL draft.
Considered one of the nation's best defensive players coming out of Marlboro County High School, Ayers struggled to earn his place with the Volunteers until his senior season. With a new dedication, Ayres surfaced as one of the few bright spots during a difficult season for the Vols. He earned All-SEC honors and shared the Andy Spiva Award, given to the team's most improved defensive player.
According to Ayres' Scouts Inc.'s draft profile, he is a "good natural athlete for his size. Quicker than fast and can beat blockers to the point of contact. Fluid changing directions when attacking upfield and shows good lateral mobility scraping down the line of scrimmage. Has some experience lining up in two-point stance."
Send in your questions now, then join Ayres on Friday at 12:40 p.m. ET!
Check out what other prospects have said in chat!
MORE
2009 NFL Draft index | Previous chat guests | SportsNation Index
Buzzmaster
(12:36 PM)
Robert will be here soon! Keep sending in your questions.
Robert Ayres
(12:46 PM)
He, how is everyone doing? Thank you for having me.
Eric (Long Island, NY)
hey robert, I was wondering how your visit with the Bills went? Would Buffalo be a place you wouldn't mind playing?
Robert Ayres
(12:48 PM)
It went very well. i enjoyed my visit. The coaches seems very interested. Buffalo plays in a good division and it would be an honor to play there.
Erik (LA)
How do you think Lane Kiffin will do at Tennessee?
Robert Ayres
(12:48 PM)
I think he will bring a lot of energy to the games and do his best to bring in the right recruits. He will bring in the right staff and have his guys ready to play.
Tommy (Indiana)
What will you remember John Madden for...announcing or video games?
Robert Ayres
(12:50 PM)
Really both. He was one of the first announcers I've seen growing up and I will always remember his voice and the video games, because that is an all-time great game. But I think he will be remembered as being a great person.
Terry Freeman Bennettsville SC
Robert im from Marlboro County and been a UT fan my whole life. What is your relationship like with coach Fulmer and have you talked with him recently We are so proud of you here... GO VOLS!! GO DAWGS!!
Robert Ayres
(12:51 PM)
Hey how you doing? It is good to see Marlboro country fans. My relationship with coach Fulmer is good, and I look for him doing good things in the future. He is a strong person and I am sure he will recover. Go Bulldogs!
John
Is it common to see Bruce Pearl walking around campus shirtless? And any suggestions you would give him as far as improving his lyrical skills?
Robert Ayres
(12:53 PM)
Coach Pearl is a great guy and works out a lot, with small shirts on. He is a great guy who tries to incite fans. He is a great guy and fans love him in Knoxville. I doubt that he thought he song would be on ESPN.
Jake (Syracuse)
Robert, do you think you can play in a 3-4 and 4-3 or does 1 or the other fit you better?
Robert Ayres
(12:54 PM)
I think I can play any position as good as the other. I am a versatile player and can learn quickly. So whichever scheme I go to, I feel like I can excel in either.
Will (WV)
Robert, what is your best memorable moment in your collegiate career?
Robert Ayres
(12:55 PM)
It was probably my graduation away from football. But going to the SEC title game my junior was a great experience, even though we lost.
Jason (NY)
Do you think you are the best defensive end in the draft?
Robert Ayres
(12:57 PM)
I think so. I feel like every other defensive end in the draft should think the same. That is just part of being a competitor. If you are not striving for that you should probably not be playing football. Every player should try and strive to be their best.
Bryan (Columbia, MD)
where will you be watching the NFL draft from?
Robert Ayres
(12:58 PM)
I will be in New Jersey with my family. I am actually going to try not to watch. I do not want to be stressed. I will just get on the grill and BBQ all Saturday.
Robert Ayres
(12:59 PM)
Thank you for chatting with me. I look forward to helping whatever team I go to and making whatever city I go proud as well as my UT fans, and my high school and all my friends and family proud.