NBA's 65 in 65: Ron Harper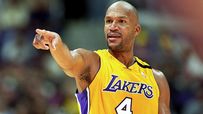 Harper is a 5-time NBA Champion.
Welcome to The Show! On Monday, we continue our 65 in 65. That's
65 NBA chats in 65 days
. We will hold an NBA chat each day through the end of the NBA Finals. We'll bring you players, analysts, writers, anyone who can help you fill your NBA fix. Monday's guest is former NBA player Ron Harper.
Harper was a staple in the league for 15 seasons averaging 13.8 points, 3.9 assists, and 1.7 steals per game. He won five titles, three with Michael Jordan's Bulls and two with the Shaq/Kobe Lakers. Ron is among five players including Dennis Rodman, John Salley, Steve Kerr, and Robert Horry
to win multiple NBA Championships with two different teams.
Send your questions now and join Harper to chat on Monday at noon ET!
Watch the NBA Playoffs on ESPN & ABC and the Finals on ABC.
MORE
65 NBA chats in 65 days | NBA playoff Index | SportsNation Index