NBA's 65 in 65: Ron Harper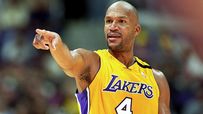 Harper is a 5-time NBA Champion.
Welcome to The Show! On Monday, we continue our 65 in 65. That's
65 NBA chats in 65 days
. We will hold an NBA chat each day through the end of the NBA Finals. We'll bring you players, analysts, writers, anyone who can help you fill your NBA fix. Monday's guest is former NBA player Ron Harper.
Harper was a staple in the league for 15 seasons averaging 13.8 points, 3.9 assists, and 1.7 steals per game. He won five titles, three with Michael Jordan's Bulls and two with the Shaq/Kobe Lakers. Ron is among five players including Dennis Rodman, John Salley, Steve Kerr, and Robert Horry
to win multiple NBA Championships with two different teams.
Send your questions now and join Harper to chat on Monday at noon ET!
Watch the NBA Playoffs on ESPN & ABC and the Finals on ABC.
MORE
65 NBA chats in 65 days | NBA playoff Index | SportsNation Index
Ron Harper
(11:59 AM)
Hello ESPN and NBA basketball fans around the world, baby!
MJ (Palm Beach)
Why are many people not giving the cavs credit for sweeping the Pistons? I don't think the magic or the celtics could have done it.
Ron Harper
(12:00 PM)
Cleveland is a very good basketball team, but if Detroit had Chauncey, I think they'd still be playing games.
Sean (Boston)
Whats up with Pierce? He's killing the C's offense. Ray Allen and Rondo have been playing great and moving the ball, while Pierce won't pass, won't move the ball, and just takes jumpers from the elbow. He's hurting the offense more than the lack of Garnett.
Ron Harper
(12:01 PM)
Paul Pierce has to assert himself without Garnett. He feels that he has to do more than he normally would. He probably feels that he's out there playing by himself, I think. Rondo is playing a great series. I think he'd be the MVP of the series with how he's been playing.
chris (san diego, ca)
i know you had a chance to watch kobe in his younger years. how do you think what lebron is doing compares to kobe?
Ron Harper
(12:02 PM)
They are two different kinds of players. Kobe is more of a shoot-first guy. LeBron is more of a passer, then a shooter. I think at this stage, when Kobe was LeBron's age, he was less about his teammates.
jonathan, Chicago
What's your prediction, bulls or celtics?
Ron Harper
(12:03 PM)
It's gonna go seven, I do believe. Chicago is a young and improving team playing as hard as they can play. I think the Bulls could easily be down 3-1 right now.
Sean
You played on two of the best teams of all time; which was more dominant? Do you think the Kobe-Shaq Lakers would've still won championships with the 96-98 Bulls around?
Ron Harper
(12:05 PM)
No, and no, and no, and no! That team I played on was a very good basketball team. We had three of the best players of all time, and we knew how to play. As a defensive basketball team, I think we could have beaten all of these teams.
Brian, (Cleveland, OH)
What is the most difficult part of the triangle offense to perfect?
Ron Harper
(12:06 PM)
You have to have five players who understand how to play as a team. If you have five players who do know that, you have to move as one team.
Caleb (kansas city)
With the seemingly inevitable LBJ vs. KB24 clash, who do you think will have the upperhand going into the series?
Ron Harper
(12:07 PM)
I think LA will have the upper hand. Cleveland will have home-court advantage, but LA will have beaten better teams. I would love to see Cleveland go do it, but I have to cheer for my old team.
Jason (New York)
After your knee injury did you make a conscious effort to recreate yourself as a defensive stopper or was that something that your particular akillset always allowed you to do?
Ron Harper
(12:08 PM)
I was always pretty good defensively as a player, but I had to change some after the knee injury.
Rosco (Chicago)
Can anybody in the east stop the cavs??
Ron Harper
(12:09 PM)
No. I think the Cavaliers are playing as good basketball as any of these teams are. They're a very good home team, a very good road team, with one of the best players playing right now, and they are hot. I don't expect anyone to stop them in the East.
Jason (New York)
Who is your favorite team to watch these days? Favorite player?
Ron Harper
(12:11 PM)
My favorite teams are L.A. and Cleveland, and I like to watch Yao Ming on the Rockets. My favorite players are Kobe and LeBron.
Ron Harper
(12:11 PM)
I also like to watch Chris Paul play.
Ron Harper
(12:11 PM)
I'd like to thank all the fans out there...I hope your teams play hard. I can't wait to see the championship in June.